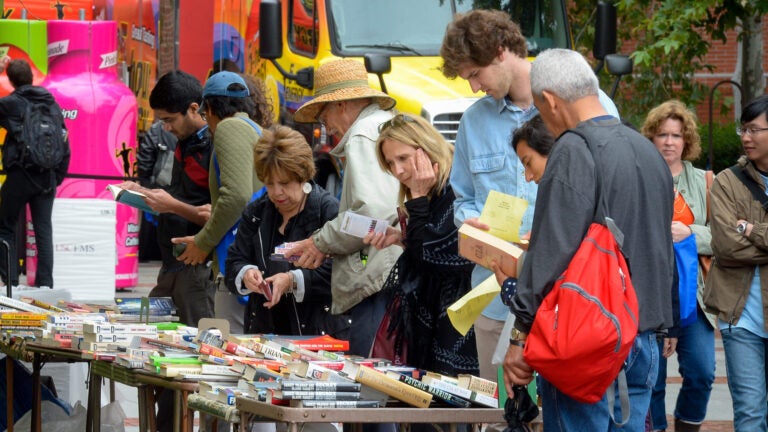 USC hosts L.A. Times Festival of Books this weekend
Now in its ninth year on the USC University Park Campus, the largest literary and cultural festival in the nation is expected to draw more than 150,000 attendees.
The Los Angeles Times Festival of Books, the largest literary and cultural festival in the nation, returns to the USC University Park Campus on April 13-14. The event is marking its 24nd year and its ninth at USC.
More than 200 exhibitors will be on hand with books and merchandise for sale, along with food trucks, L.A.-area vendors selling sustainable and homemade goods, musical performances and more.
USC is planning a number of activities that draw from its strengths in academics, literature, performing arts, health and civic engagement.
USC's events at the L.A. Times Festival of Books
USC panels in Wallis Annenberg Hall include "The Enduring Allure of Shakespeare," "Feminisms in Motion: Intersectional Voices for Social Change," "Print Journalism: Where Do We Go from Here," "Publishing Poets: On the Best American Poetry," "Entertainment, Information, and Addiction: Our New Digital, Social World," "Creating Safe Spaces: Bullying, Violence and Safety," "Aren't We American? Race, Class, Immigration and Citizenship," "Food Justice for All? Food Security in L.A.," and "Showgirls and Superstars: Gender in Music, Dance and Comedy."
Highlights from the USC Communities Booth include book giveaways, activities and prizes and readings by former Los Angeles Dodger Dennis Powell, former Los Angeles Dodger Al Ferrara, USC Department of Public Safety Chief John Thomas and author Sam Renick.
Highlights from the Keck Medicine of USC Health Pavilion include free health screenings for blood pressure, glucose, vision and oral health; interactive health activities by the USC Mrs. T.H. Chan Division of Occupational Science and Occupational Therapy; vision screenings by the USC Roski Eye Institute; health screenings by the USC School of Pharmacy; and dental screenings by the Herman Ostrow School of Dentistry of USC.
L.A. Times Festival of Books' stellar lineup
Among the many authors and celebrities scheduled to appear are Karamo Brown, Chelsea Clinton, Valerie Jarrett, Erica Jong, Dave Barry, Justine Bateman, T.C. Boyle, Eva Chen, DJ Z-Trip, Bret Easton Ellis, Roxane Gay, Sean Hayes, Tayari Jones, Janet Napolitano, Lawrence O'Donnell, Amber Tamblyn, Ngugi wa Thiong'o and Don Winslow.
Admission to the festival is free, though indoor conversation panels require a ticket that can be obtained online; a limited number of tickets will be available at the festival.