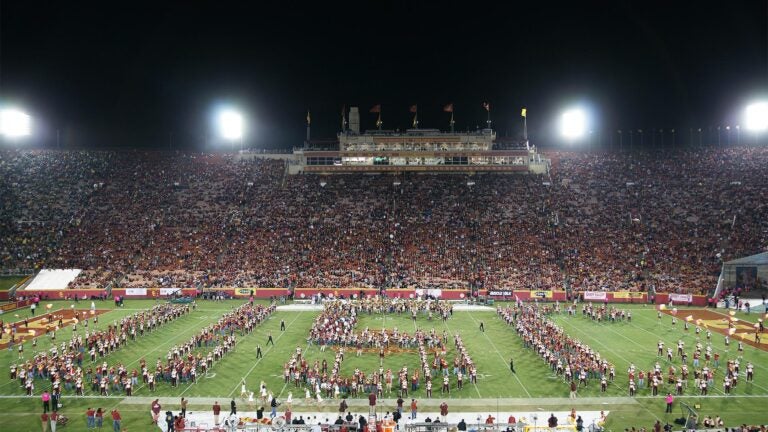 Largest Trojan Marching Band representation ever to perform at Oct. 30 football game
A group of more than 1,100 musicians, including nearly 900 alumni, will take the field at halftime.
A combined group of the current Trojan Marching Band and nearly 900 alumni from the past half-century will perform Saturday at halftime of the USC homecoming football game against the Arizona Wildcats at the Los Angeles Memorial Coliseum.
The halftime show featuring the largest Trojan Marching Band ever assembled — 1,100-plus band members — was originally scheduled for 2020 but canceled due to the coronavirus pandemic. The recently formed Trojan Marching Band Alumni Association was responsible for organizing the massive assemblage of alumni who are traveling to Los Angeles from across the country and as far away as South Africa.
The show will honor Arthur C. Bartner, who retired last year as director of the organization. He will conduct USC's alma mater "All Hail" as the climax of the presentation.
Unlike past homecoming performances, the alumni contingent will play the entire show with the current Trojan Marching Band. The show will feature a super-sized "pregame entrance" from every corner of the field as band alumni perform "Fanfare," "Tribute to Troy" and "Fight On!" The combined band will create a block USC formation and play "Tusk." After USC's alma mater, "All Hail," the show will conclude with the Trojans' battle cry, "Conquest."
"I have the distinct honor to spend my first homecoming as director with such a large group of band alumni celebrating the legacy of Dr. Bartner and the students who performed under him," says Jacob Vogel, Bartner's successor as director.
Bartner arrived at USC in 1970 and the marching band grew from 85 members to 300; the organization turned from an afterthought at football games to a band of world renown. Over five decades, the Trojan Marching Band became known as "Hollywood's Band" for its frequent appearances on silver and small screens. The band traveled to 19 countries on six continents and attended every USC football game from 1987 to 2019.
The band has twice been named the best in college football by USA Today.
The Arizona-USC football game will kick off Saturday at 4 p.m. The halftime performance will begin at approximately 5:30 p.m.