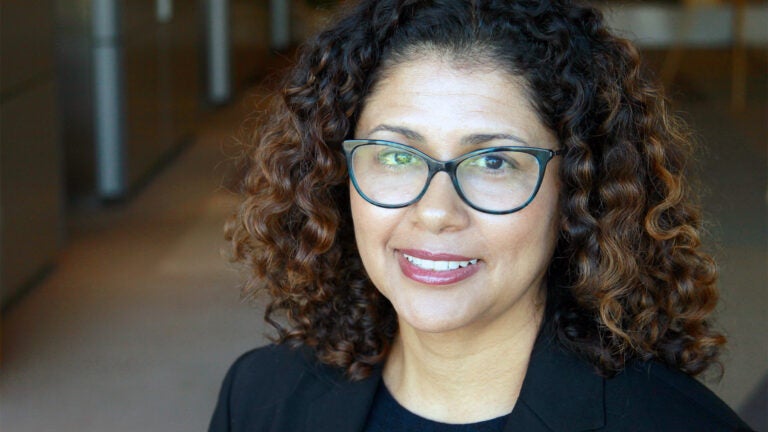 USC Gould alum joins expanding Office for Equity, Equal Opportunity and Title IX
Title IX expert Linda Hoos brings a wealth of experience to a transformed office that seeks to prevent and address reports of discrimination, harassment and retaliation involving all Trojans.
USC is committed to creating a safe and supportive environment where every community member can learn, work and thrive. A year ago, in response to changes in Title IX federal regulations, the university updated its policies and procedures to ensure timely, fair responses to reports of harassment and discrimination based on protected characteristics — including sexual harassment — involving USC students, faculty, staff and visitors and has committed significant resources to support effective education about and implementation of these new policies and procedures. This transformation has gained momentum just in time for the new school year.
USC's Office for Equity, Equal Opportunity and Title IX (EEO-TIX) — which restructured and merged the functions of the previous Title IX Office and the Office of Equity and Diversity to create an accessible, centralized office with consistent processes for resources, reporting, investigations and both formal and alternative resolutions — just celebrated its one-year anniversary. EEO-TIX is responsible for the implementation of the universitywide Policy on Prohibited Discrimination, Harassment and Retaliation launched last August. The new policy provides the framework for how the university will respond to reports of prohibited conduct, provide supportive measures and resolve formal complaints involving members of the USC community.
A cornerstone of this effort is to ensure that the university has the best team of experts from all over the country to lead this charge.
The newest addition to the team, Linda Hoos, recently joined USC as the associate vice president for EEO-TIX and deputy Title IX coordinator. She will provide overall leadership in the unit with a particular focus on the core intake and support and investigation and resolution functions of EEO-TIX's work related to the University Park Campus.
This is an important leadership role for which Hoos is uniquely qualified. A USC Gould School of Law graduate, Hoos comes with years of experience investigating and managing the types of reports handled by EEO-TIX. She previously worked at the California Office of the Attorney General, where she was part of an investigative team. She then moved to another governmental agency and oversaw employment investigations relating to sexual harassment and other forms of protected class discrimination and harassment. From there, Hoos worked for the California State University system, where she was first a Title IX coordinator at the campus level and then the systemwide director of Title IX compliance services. Both of those experiences helped Hoos develop the skill set of not only being a thorough investigator but also knowing how to navigate an institution of higher learning.
"Linda brings a deep knowledge of civil rights law and policy, employment law and regulatory practices to this important work and is very experienced in the California higher education setting," said Felicia Washington, who oversees the EEO-TIX office as the senior vice president of human resources, equity and compliance. "With the addition of Linda to the EEO-TIX team, we are continuing to ensure that our community will have a timely and appropriate response to all reports of protected class discrimination, harassment and retaliation and to foster an environment where we can all learn, work and thrive."
Linda Hoos thrilled to return to USC and help Trojans experiencing harassment or discrimination
According to Hoos, this role presents a unique chance to be at the forefront of a generational shift in a 140-year-old institution. She is particularly excited about USC's move to combine the two offices because the move makes it easier for students, faculty and staff to know exactly who and where to turn if they experience discrimination or harassment based on gender, race, sexual orientation or any other protected class.
"With President Carol Folt, Felicia Washington and Catherine Spear coming in, and the university's Culture Journey underway, I just felt this position presents an amazing opportunity," Hoos said.
Hoos reports to Spear, the vice president for EEO-TIX and Title IX coordinator, who joined USC a year ago. Spear previously served in a similar role at the University of Virginia, led Stanford University's Title IX office and worked for almost 20 years with the U.S. Department of Education's Office for Civil Rights.
"She really checked all of the boxes and gave us a great sense of confidence that she would add a lot of value to this team," Spear said of Hoos.
It is incredibly important to make sure someone who is reaching out … feels as though they are being heard.

Linda Hoos
With Hoos' hiring — along with other key recruitments like Ray Delgado as the new communications and marketing director, Rahel Denboba as the new training, education and prevention coordinator, and Nicoli Richardson as the deputy EEO-TIX coordinator focused on health care issues — the team is energized and ready to serve the Trojan community, Spear said.
In addition, EEO-TIX created a new intake, outreach and care management team that Hoos will oversee. This team expands a proactive focus that is steeped in care for each individual who contacts the office, Spear said.
"We are almost a year in, and I think what we are most excited about is how Linda's hiring reflects the culmination of those efforts," she added.
Hoos plans to keep humanity at the center of the office by ensuring the compassionate treatment of all of those involved in the process.
"When someone seeks assistance from this office, whether it is for harassment or discrimination, an individual is coming to us feeling very disempowered — feeling as though their ability to control their education or employment path is being disrupted for very unfair reasons," she said. "So, it is incredibly important to make sure someone who is reaching out to remedy that feels as though they are being heard."
What to expect from the new Office for Equity, Equal Opportunity and Title IX
What can people expect from this new office? It isn't just about filing complaints and pursuing formal investigations.
EEO-TIX has the following core functions:
Proactive education, outreach and training to ensure all Trojans know their rights and responsibilities under the university's Policy on Prohibited Discrimination, Harassment and Retaliation.
Consultative and analytical services related to equity in employment, including affirmative action planning, and admissions.
Facilitation of support resources and provision of various formal and alternative resolution options to reported protected class concerns.
Specifically, EEO-TIX offers a wide variety of support resources and resolution options — including access to confidential support such as counseling, academic support, workplace modifications and no-cost emergency housing. For example, EEO-TIX has posted a "get help" infographic on its website, as well as sample syllabus language that professors can use to inform students about EEO-TIX resources available to them.
The office also holds training sessions for anyone who asks, from USC schools and faculty to student and staff organizations. The trainings can be tailored to a specific audience and address a variety of topics within EEO-TIX's purview.
Now that the university is welcoming back students, faculty and staff in person for fall semester, the EEO-TIX office is open for in-person visits from Monday through Friday from 8:30 a.m. to 5 p.m. to serve Trojans and other community members. The office remains accessible through its website as well.
EEO-TIX currently is located on the second floor of USC's Credit Union Building. In spring 2022, the office is excited to be relocating to a centralized location on the first floor of King Hall in the University Park Campus. For a more detailed description of resources, visit their website.