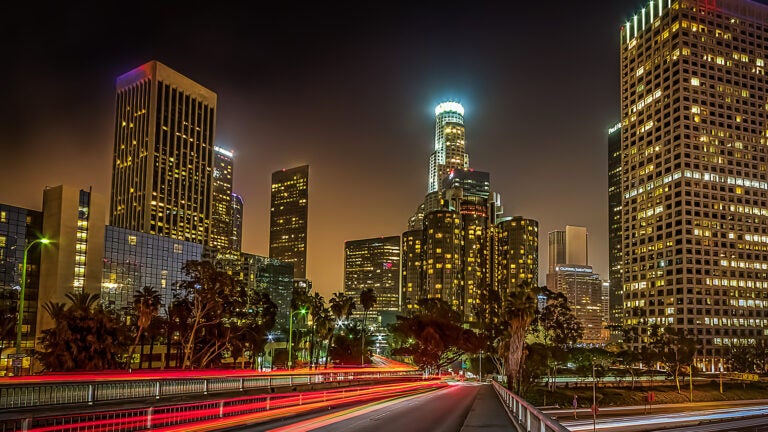 Local leaders consider ways to develop business investment in Los Angeles
USC Senior Vice President Thomas Sayles joins other top-level executives at L.A. Magazine roundtable
How can Los Angeles cultivate a creative culture?
That was the question put to some of the city's most dynamic leaders — USC Senior Vice President of University Relations Thomas S. Sayles, L.A. Rams Executive Vice President Kevin Demoff, Deutsch L.A. President Kim Getty and Los Angeles Magazine Publisher Erika Anderson — during a panel discussion hosted by the magazine.
For Sayles, the answer was clear — education and research — but it came with a caveat.
"Through its universities, Los Angeles produces 5,000 scientists and engineers each year — can we keep them?" Sayles asked nearly 100 civic leaders last week at the iconic Roosevelt Hotel in Hollywood. "Those talented scientists and engineers are going to San Diego and San Francisco."
To stop the brain drain, Sayles said, USC is working with both public and private parties to create a biotech corridor in Boyle Heights.
"USC is trying to build up an infrastructure to retain that talent," said Sayles, who is also the president of the L.A. Chamber of Commerce.
Biotech was just one of the topics addressed during the wide-ranging discussion focusing on "The Innovation Economy: Fostering Business Investment and Talent in Los Angeles," moderated by Los Angeles Magazine Editor-in-Chief Mary Melton.
"Our mayor is constantly talking about how innovation is in our core DNA," Anderson said. "We stand for reinvention and innovation and expect us to be on the cutting edge.
"If we were having this conversation 15 years ago, we would only be talking about the film industry and the TV industry. Now we're talking about the gaming industry, brand agencies, ad agencies, PR firms. We have a bigger talent pool than any other city."
Build up, not out
Demoff added that the region's diversity, in culture, businesses and industry, is its strength.
"L.A. reinvents itself," Demoff said. "I'm part of a team that left and came back.
"Our goal when we bring 80,000 or 90,000 people is that we want them to be reflective of Los Angeles. My favorite memory now is seeing people who grew up as Rams fans wearing an old school Eric Dickerson jersey hand in hand with their kids wearing a new school Todd Gurley jersey."
Panelists talked about startups, Silicon Beach and the trend of building up instead of building out.
"As organizations, we can be a beacon for Los Angeles. We want to be a defining agency for L.A.," Getty said. "Fundamentally we're a town that has always been about creativity. That's the foundation of who we are and the groundswell of innovation emerges from that."