Business degree for vets gets Marine on the ground floor of new L.A. football stadium
Thanks to USC's Master of Business for Veterans degree, former Marine Vincent Marsala is managing more than 100 people at the site of the future home of the L.A. Rams and Chargers.
While in ninth grade, Vincent Marsala attended a family funeral.
During the service, he saw a cousin wearing a dress blue uniform and asked his mother, "What is he wearing?" She informed her son that he was a Marine.
Then and there, Marsala said he had an epiphany: He, too, would be a Marine someday.
Three years later, after graduating high school, Marsala joined the Marines. In 2006, the then-19-year-old would find himself deployed to Iraq in support of Operation Iraqi Freedom and Operation Enduring Freedom, military missions launched that followed the 9/11 terrorist attacks.
Marsala remembers the night his unit landed in Kuwait en route to Iraq.
"It was a heavy sandstorm," he said. "Visibility was low and we all filed out of the C-17 aircraft with our gear."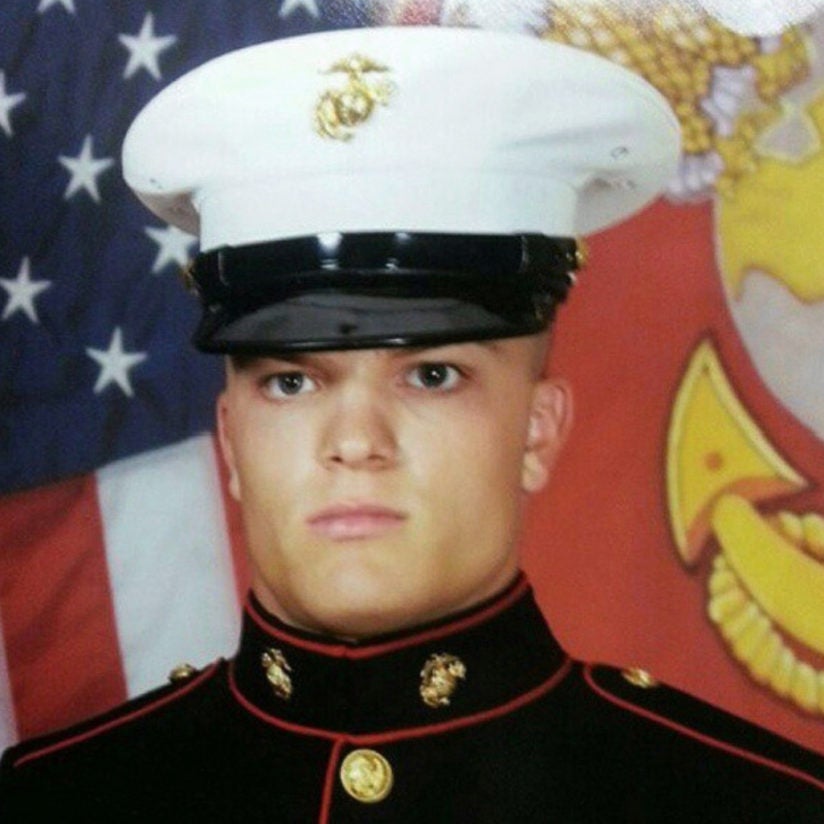 The massive sandstorm forced the Marines to take shelter in a hangar until it passed. They would be trapped for two long and harrowing weeks.
"I remember the feeling of uneasiness, not completely aware of where I was or what was around the area," Marsala recalled.
He would eventually get to know the area well, as he and millions of troops endured the longest war in U.S. history, one that continues to this day. But as Marsala approached his 10th year of service, he made a life-changing decision.
"I decided to get out and go to college," Marsala said. And he wasn't alone.
According to the U.S. Department of Veteran Affairs, more than 200,000 U.S. service members return to civilian life each year.
"I knew that I wanted to be a builder, and construction was an interest to me," he said. "Therefore, I chose an education in civil engineering with hopes of becoming a structural engineer."
How USC's Master of Business for Veterans program translates military success into business acumen
Four years later, the Marine was a college graduate with a bachelor's degree in civil engineering from Cal Poly Pomona. But as Marsala navigated the job market, he felt he was missing something.
"I'm an engineer, but building is a business," he said.
Marsala decided that he needed a master's degree in business, but he wasn't certain what college he wanted to attend. Around this same time, he was invited to a football game at USC.
I was blown away by the level of tradition, camaraderie and family atmosphere. I knew that I wanted to be a part of the Trojan Family.

Vincent Marsala
"I was blown away by the level of tradition, camaraderie and family atmosphere. I knew that I wanted to be a part of the Trojan Family," he recounted.
That's when Marsala discovered the USC Marshall School of Business Master of Business for Veterans program. The MBV degree is a fully accredited, one-year graduate degree that was created specifically for veterans, active duty and reserve personnel.
"I chose the MBV program because it is the only program of its kind, focused on the ideals of what it means to be a veteran, and at one of the most pristine universities in the country," Marsala said.
This specialized degree fills any real or perceived skills gap for service members who are transitioning from the military to the business sector.
"The MBV program helps veterans translate their military experience into business and entrepreneurial success," said James Bogle, director of the MBV program. "But there's one thing that doesn't need translating: their can-do attitude. Service members will always accomplish the mission at hand because failure is not an option. Imagine what that winning mindset could mean for business?"
Exemplifying USC Marshall values
Bogle recalls meeting Marsala for the first time. "There was something really special about him," Bogle said.
In fact, Marsala was special enough to attract the attention of Turner Construction, the company on contract to build the Los Angeles Stadium and Entertainment District at Hollywood Park, which will be home to the Los Angeles Rams and Chargers. Once construction is complete, it will be the largest and most expensive venue in the NFL.
The $2.6 billion stadium is set to open in phases, beginning in the summer of 2020. Marsala, who has been employed by Turner Construction for almost two years, helps keep construction on schedule.
Marsala exemplifies the academic values of the Marshall School of Business MBV.

Mark Todd
"Marsala exemplifies the academic values of the Marshall School of Business MBV," said Mark Todd, vice provost of academic operations at USC. "USC's commitment to educating veterans dates back over 100 years. We know that serving in the military develops unique competencies that are highly valuable, and businesses that hire veterans are often gaining a competitive edge in their workplace."
Marsala has recently been promoted to site superintendent. He manages more than 100 people who are building out the Inglewood stadium site.
"What Vincent is doing — it shows you how the Master of Business for Veterans brings out a veteran's expertise and leadership skills and boosts them with management, marketing and finance skills," Bogle said. "The team is doing really well, meeting and exceeding construction deadlines. It's a tribute to veteran leadership and the Trojan Family."
Marsala's team is made up of three other superintendents who are also veterans, a fact that is not surprising to this former service member.
"There is a great value to hiring veterans," Marsala said. "Their maturity, presence, leadership and respect are rivaled by none. When you hire veterans the job gets done, and done right."