She fights hunger one USC student at a time
USC social work master's student MaryAnn Samson helps other students apply for CalFresh benefits with a smile — and no judgment.
Hannah felt stressed every time she went shopping at the market. The USC student had to be so careful with her tiny budget that she often bought cheap food that offered calories but little nutrition.
Then she learned about a state program called CalFresh that helps Californians pay for groceries. The support — usually between $150 and $200 a month — made all the difference.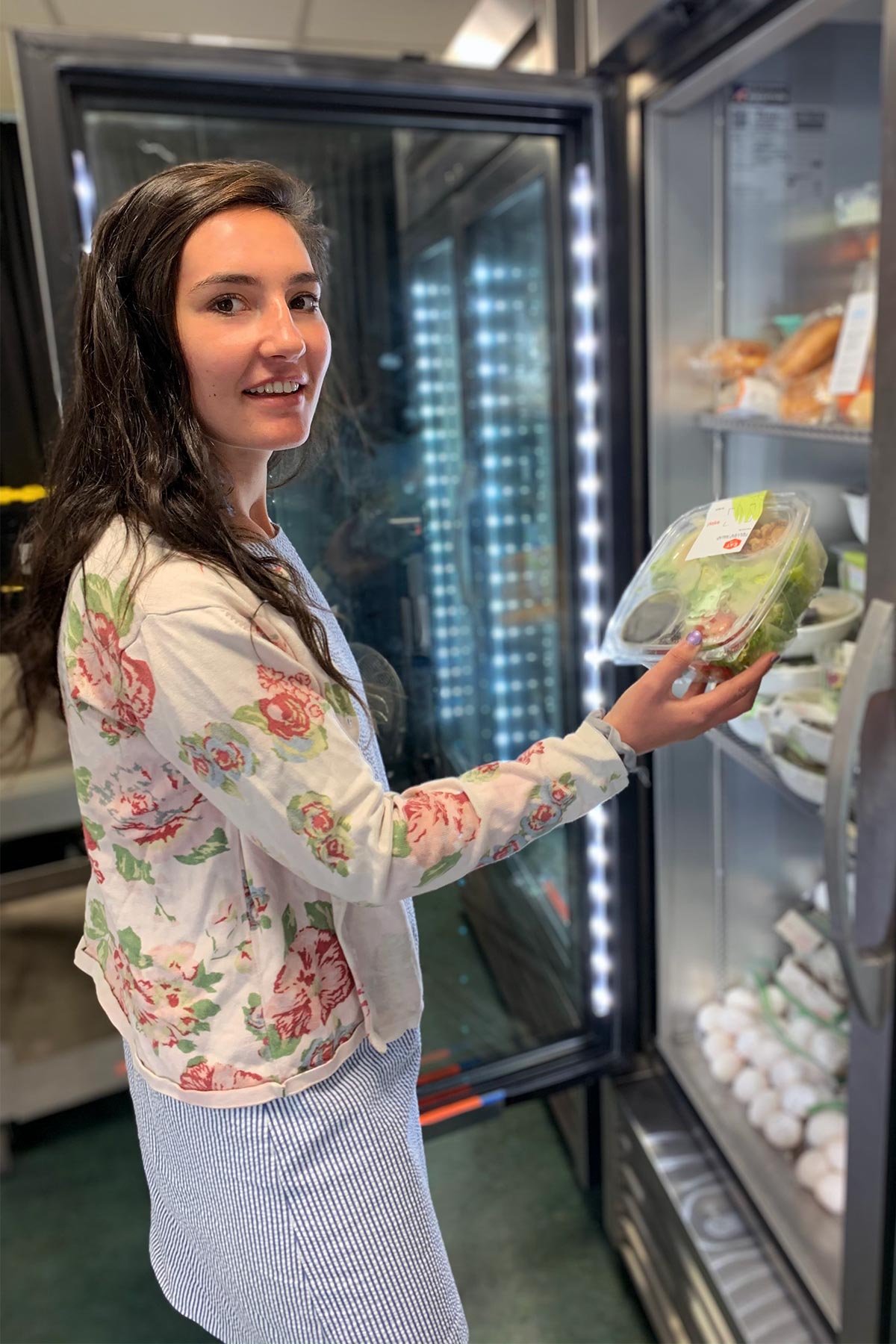 "With CalFresh, I would say I improved my diet a lot, I'm eating more and I have more energy," she said. "It took off some of the financial pressure. Now I can concentrate more on academics."
Hannah, a USC junior who asked to use a pseudonym to protect her privacy, said she would have struggled to figure out how to apply for the program on her own. Thankfully, she had help from a fellow student: MaryAnn Samson.
Samson is studying for her master's degree at the USC Suzanne-Dworak Peck School of Social Work and served as a social work intern with USC's Student Basic Needs office last year. She helped students navigate the CalFresh process and stocked shelves at the Trojan Food Pantry. When her internship ended last spring, she stuck around as a volunteer, continuing to help students sign up for food benefits.
"Without MaryAnn's help, I definitely would have gotten confused," Hannah said. "She made the process really simple. I don't think I would have been able to do it without her."
For her part, Samson is grateful that she could make a difference. She is especially gratified to know that her fellow students felt comfortable sharing their needs and concerns with her without feeling judged.
"It's very empowering," she said. "I'm helping them with the process, but we're in this together. I know some students who wouldn't have done it otherwise. I'm proud that I've been able to help people help themselves."
USC social work student supports peers with food insecurity
Picture a college student. Do you imagine an 18- to 21-year-old with a credit card, a car and little to worry about beyond exams? Alejandra Hong, manager of Student Basic Needs at USC, said that's far from the truth. Many college students struggle to pay for rent, food and other basic necessities.
"We work with students of all ages and students who don't really have family support," she said. "Some students might think, 'My situation is not that bad. I only skip one meal every two or three days to make it work.' That's just not OK for us. So, we try to weave together a variety of resources."
USC opened its Student Basic Needs office in fall 2019 to coordinate those efforts. Hong met Samson their first morning on the job together, and she was impressed by her eagerness to learn and help others.
Samson embraced her role as CalFresh navigator right away, coming up with strategies to encourage students to check out the program — California's version of the federal Supplemental Nutrition Assistance Program, also known as food stamps. She had a tiny office at the Trojan Food Pantry, and she would wait until a student arrived and nobody else was around.
"Then I'd pop out and say, 'Hey, have you heard about CalFresh?'" she said. "It was a little aggressive, but I was super-friendly, and I got a ton of clients that way."
She had appointments with students every week to enroll them in CalFresh. Samson also encouraged and comforted students who seemed anxious. Hong said they seemed more willing to share their concerns with Samson rather than an older staff member.
"She maintained confidentiality with everyone she helped, from our undocumented students to others experiencing food insecurity and homelessness," Hong said. "She was really good about connecting people with different resources."
Helping others is a longtime passion for USC master's student
Samson grew up in Bainbridge Island, a suburb of Seattle. She did volunteer work often as a teenager, and her parents stressed the importance of being grateful for the opportunities she had. Her older brother, Caleb, now a middle school teacher, also impressed upon her the need to work toward an equitable society. It helped her recognize that people don't start life on an even playing field.
"I've always had a passion for equality. It's something I've thought about since I was really young," she said. "And it's not enough to feel bad about it. It's so much more important to do something about it."
I've always had a passion for equality. It's something I've thought about since I was really young.

MaryAnn Samson
During her internship at Student Basic Needs, Samson quickly became an expert in CalFresh requirements. For example, students with work study, certain need-based grants or a history in foster care automatically qualify, she said. When students had to leave campus due to the COVID-19 pandemic, she helped them remotely, even figuring out a way to let her clients control her computer screen so they could fill out forms as she watched.
She remains a firm believer that any student who faces food insecurity should take advantage of the program if they are eligible.
"It's a very efficient way to get resources to people," Samson said. "It's also stigma free, because the CalFresh card looks like a credit card. It only takes like an hour, and then you get $200 a month every month to spend on groceries. Not enough people know about it."
Helpful resources like food benefits available to USC students
Hannah signed up as a sophomore last spring. She remembers seeing a note about CalFresh in an email from USC's Undergraduate Student Government. She made an appointment with Samson in person, then met again on Zoom to complete the application together. With her benefits approved, Hannah said she felt more comfortable buying vegetables and other healthful items rather than processed and prepackaged foods.
She hopes more people realize not everyone has enough resources to buy healthy food all the time, including college students. And she encouraged other students who skip meals or worry about their grocery bills to check out CalFresh.
"It makes a big difference," she said. "The first time you go to the grocery store, you don't have to worry as much about money at the end of the trip. That was something new for me. Since I got CalFresh, it feels like a weight taken off my shoulders."