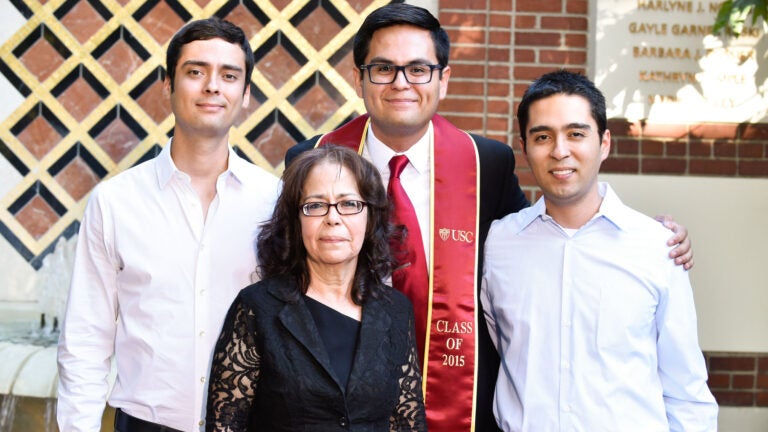 Transfer student moves from L.A. Trade Tech to a PhD program at USC
Against tough odds, Adrian Trinidad makes the leap from a community college to the University Park Campus
It was a small token, handed out to neighborhood third-graders visiting the University Park Campus two decades ago. A simple bookmark with a photograph of Tommy Trojan and "Norman Topping Student Aid Fund" printed on it.
Adrian Trinidad '15 recalled that the person handing out the bookmarks told the youngsters, "You can come here."
He wasn't sure whether he should believe that because the tree-lined campus with its grand buildings seemed impossibly exotic to him. He remembers thinking: "Why does this place look so different even though it's so close to my home?"
Still, he saved the souvenir, using it as intended. Over the years, it became creased and faded as it marked his place in book after book.
He packed it up when his family moved from South Central to Huntington Park. After high school, he headed to Los Angeles Trade Tech College, as his two brothers had before him. It was the community college closest to their first neighborhood, and the higher education institution they knew best. Their hard-working parents, Rosario, who placed tags on shirts in a factory, and Eleodoro, a carpenter who was disabled by the time his sons were in high school, ended their formal education in elementary school. Ever encouraging their sons, they could offer little help in dealing with the college admissions process.
Bucking the odds
Against stiff odds, the Trinidad brothers transferred from LA Trade Tech to USC. Alex, the oldest, graduated with an accounting degree in 2008 and now works in finance. Aldo ended up transferring to California State University, Los Angeles and is graduating this spring with an engineering degree.
Even though his brothers had made the leap, Trinidad found the journey between the LATTC and USC campuses, so close geographically, to be "really, really hard." LATTC counselors were discouraging, and the year Trinidad transferred, he was one of only two LATTC students to come to USC.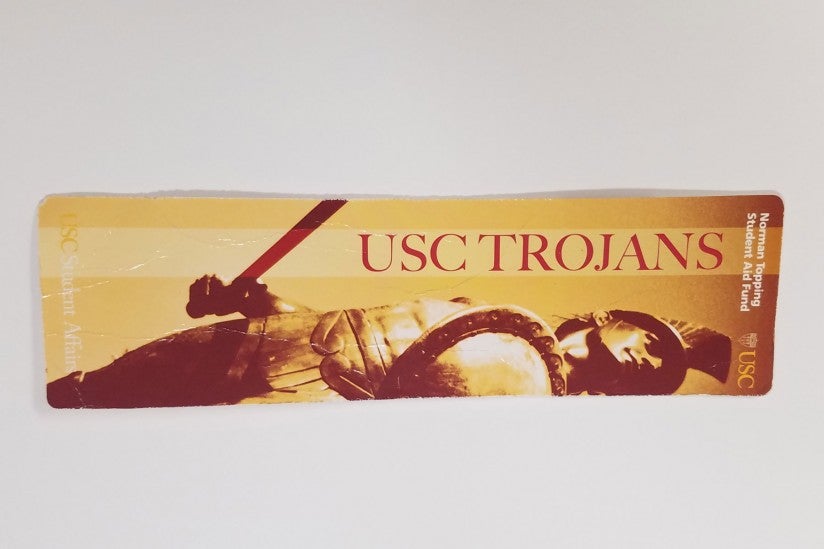 In the end, he did indeed become a Norman Topping Scholar and received scholarship aid from the Norman Topping Student Aid Fund, a program that gives preference to first-generation students and those residing in neighborhoods near the two USC campuses.
Being a Topping Scholar also meant Trinidad was able to take a study trip to Japan with 14 other Topping Scholars. That trip, the summer after he transferred, was not only his first time on a plane, but a culturally rich experience and a chance to get to know USC Dornsife College of Letters, Arts and Sciences Professor George Sanchez, who accompanied the group. (Sanchez is now vice dean for diversity and strategic initiatives at USC Dornsife.)
"It was an eye-opening trip in every way possible," said Trinidad. "It expanded my world."
Working toward a bigger goal
At USC, Trinidad continued to arrange his schedule with his brothers so someone was able to care for their disabled father.
Trinidad completed a degree in sociology from USC Dornsife in December 2015 and is now working toward an even more ambitious goal: a PhD from the USC Rossier School of Education, where he will research policy and institutional barriers for transfer students. He begins coursework in the fall, and in the meantime, has been hired as a researcher at USC Rossier's Center for Urban Education, working with its director, Professor Estela Bensimon, the one who urged him to set his sights on a doctorate.
It was the Topping Scholars program that linked him with Bensimon. The program provides funds for its scholars to take faculty members to dinner, and early in 2015, Trinidad set up a dinner with Bensimon, who studies community colleges and college access and success, especially for Latino and African-American students.
"It turned out to be a rich, three-hour conversation," Trinidad said.
He had considered going for a master's degree, but she encouraged him to aim for a doctorate and then offered him the research position.
"I wasn't expecting that to happen," Trinidad said.
Sink or swim
Since he started at the center, he has written for book chapters and journal publications and has presented papers at national higher education conferences.
"Estela has been amazing," he said. "She threw me right into the water to swim and challenge myself."
Bensimon also compliments Trinidad, who is exceptionally poised and focused, she said.
"When Adrian invited me to dinner, I had no idea who he was or what to expect," said Bensimon, who added that he "turned out to be engaging and very smart."
"In the course of our dinner, I realized that he could be an asset to our research at LA Trade Tech, given his insider knowledge. He is one of our best research assistants, and I feel confident that whatever assignment he is given, he will get it done."
Room for improvement
Trinidad said there is much room for improvement in the way universities deal with transfer students, and every time he returns to LATTC, he collaborates with counselors and does presentations to students about transferring to USC.
Transfers have a different mindset, he said, often thinking of themselves as commuters, not as part of the university community. At the community college level, especially at career and technical schools, there are problems having enough classes that will transfer, he said. There's a lack of full-time faculty to better guide students, few transfer fairs and few counselors aware of the requirements and services offered by selective universities.
Higher ed
USC is a natural laboratory to study and address college success outcomes and equity in higher education, Trinidad said.
USC, with nearly 24 percent of its undergraduates eligible for a Pell Grant, has a far greater share of Pell-eligible students than at almost every other private, highly selective university. And in the 2016 incoming class, one in eight students (13 percent) is from the first generation in their family to attend college.
"There's so much here and so many diverse students," Trinidad said of USC. "I'm able to study something I'm passionate about."
His well-worn bookmark will continue to see use for the next four years — a daily reminder that small gestures can lead to large achievements.