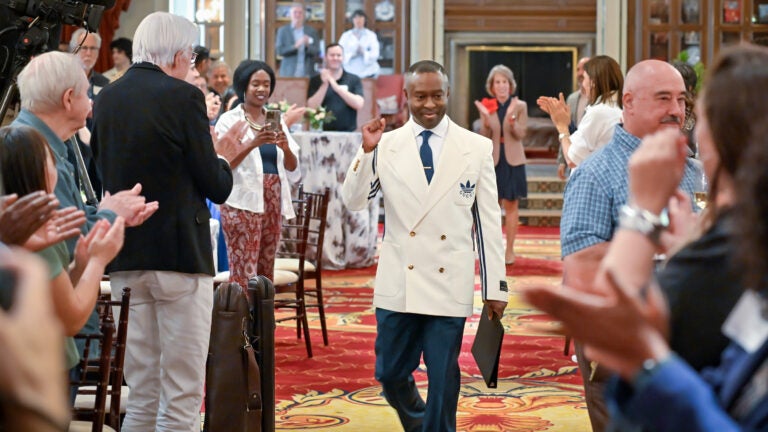 New USC Thornton dean gets official Trojan welcome at installation ceremony
Jason King previously served as the chair of the Clive Davis Institute of Recorded Music at New York University's Tisch School of the Arts.
When Jason King was announced as the new dean of the USC Thornton School of Music earlier this year, the term "multihyphenate" was used to describe his career. It has been almost 10 months since that announcement was made, and on Monday afternoon — in front of a banquet hall of his colleagues, family, students and friends — King provided a little more context on what that word means.
"To be a multihyphenate is now the norm in an age where musicians have to consider diversified revenue streams, and musicians have to understand how to make technology work for them in ways they didn't necessarily have to do before," King said.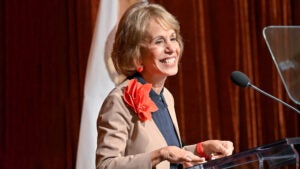 "I believe that the USC Thornton School of Music is uniquely positioned to take advantage of all of this disruption and all these seismic shifts."
King was officially installed as dean of USC Thornton during a ceremony at Town and Gown on the University Park Campus on Monday but assumed the new role on July 1. He succeeds interim Dean Josh Kun, who served in that position following Robert Cutietta's decision to step down at the end of the 2022 academic year.
"We're already seeing what everybody told us — how he creates community, how he reaches out and loves students, and how he really does bring joy in so much that he does," USC President Carol L. Folt said of King. "There's no linear path for a musician these days — a strings player in L.A. may be scoring movies or playing with the L.A. Philharmonic or recording on a hip-hop album — and when you think of all that, there is no one better than Jason King to be an example and a leader given his own multihyphenated life."
Home ties for new USC Thornton dean
Born in Canada to parents from the Caribbean island of Trinidad, King started his speech Monday by highlighting the year 1884. It was the year USC Thornton was founded, but also the year his ancestors immigrated from West Africa to Trinidad. King's ancestors eventually acquired a grant from the British crown to purchase 29 acres of land, where a clearing was created to plant crops and transform the area into a place for families to settle.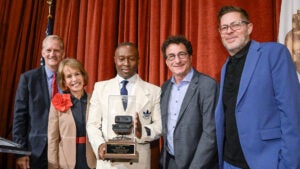 "When I think of the idea of a clearing, I think of the idea of making space for others, to clear what's there and to forge a way out of no way, to foster the conditions by which community can thrive," King said. "To create a clearing is an act of cultivation, to create possibility and to open up space for plenty to take room where there was once scarcity and lack."
Growing up in Edmonton, Alberta, King said he developed a passion for music at an early age by listening to his parents' 8-track player. What started as an infatuation with Sesame Street versions of disco songs eventually led to Michael Jackson's Motown's Greatest Hits and Kool & the Gang's Celebrate! Eventually King began "ransacking" his parents' album collection, at which point they — sensing his passion and talent — enrolled him in piano lessons. The experience gave him an early appreciation for classical music and cinematic scores, which led to a love of everything from Richard Wagner to Prince, Madonna, AC/DC, Leonard Bernstein and Public Enemy.
"I share that personal history with you because I think it's important to note that I grew up with no conventional musical boundaries, no notion of elite musical hierarchies, no artificial or externally imposed distinctions between high and low cultures," King said. "A lot of that comes from this notion of 'clearing space' for creative freedom."
Becoming a multihyphenate
Prior to joining USC, King served as the chair of the Clive Davis Institute of Recorded Music at New York University's Tisch School of the Arts, where he was the institute's founding full-time faculty member and program developer alongside its namesake.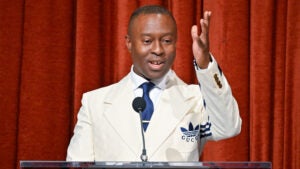 "I had the great benefit of learning directly from Clive Davis, one of the greatest music entrepreneurs in history, and an important figure whom I cherish greatly and from whom I learned so much," King said.
As a noted journalist, author, musician, performer, producer, songwriter, radio and video host and event curator, King has written about, produced and performed music around the world. His written work has been featured in publications such as Pitchfork, Slate, the Los Angeles Times, Spin and Vice. He has also contributed to NPR Music.
King's musical interests and accomplishments span multiple genres, including classical, pop, R&B, gospel, jazz, rock and most notably hip-hop. King is an inaugural member of the Hip Hop Culture Council at the John F. Kennedy Center for the Performing Arts in Washington, D.C.
"There's a huge opportunity for Thornton to lead and to proactively push us forward into a sustainable and robust future of music."

— Jason King, new USC Thornton dean
"That two-decade experience [while at NYU] was also about clearing space, about building something from nothing, creating institutional opportunity and building community," King said. "I say all of that because I want to give the scope of the kinds of things that I've done as a multihyphenate, but also to demonstrate that over the decades music has undergone so many rapid transformations and major disruptions."
Vision for USC Thornton and the road ahead
King understands that music, as with any art form, industry or area of study, is always changing. He sees USC Thornton as the most well-equipped school of music in the country to handle that change.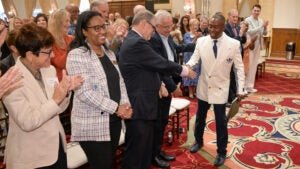 "The Thornton School must be poised to respond and to educate music creators on how to sustain themselves professionally and have established careers in the midst of such unpredictability," King said. "There's a huge opportunity for Thornton to lead and to proactively push us forward into a sustainable and robust future of music."
King said USC Thornton has a unique opportunity to be the leader in teaching at the intersection of music theory and practice.
"We want to make sure we aren't preserving music history just to preserve it, but rather we must make music history active and make it come alive in the present to carve out a better future," he said. "For me, scholarship and the practice of music have always been intricately linked — I've always been a better musician because of my critical thinking skills and my orientation to history, and I've always been a better scholar and a historian of music because of my musicianship."
While he spent a considerable amount of time addressing the road ahead and USC Thornton's place in the future of music, King also made sure to thank those who paved the way. During his speech, King thanked former dean Cutietta and the family of the school's namesake, Flora Thornton, for setting the bar and entrusting him to lead USC Thornton.
"I'm proud to lead a school that bears your family name," King said to the Thornton family. "I promise to elevate it and give it the honor that it deserves."