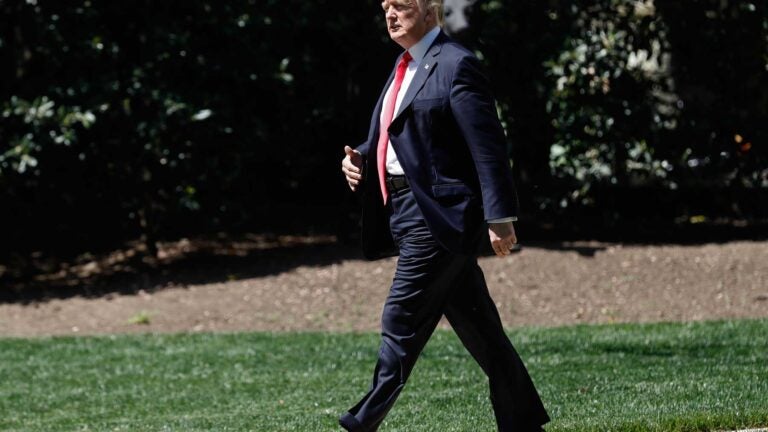 Only 19 percent trust Trump to tell the truth, USC Dornsife/L.A. Times Poll shows
The poll finds Democrats have an edge over Republicans in a generic House matchup — and they say news coverage of the president motivates them to vote
A national USC Dornsife/Los Angeles Times poll finds voters are more likely to back Democrats in their district's election for the U.S. House of Representative, giving Democrats an 8-percentage-point advantage over Republicans.
The most likely voters across the country say news about President Donald Trump from their favorite or trusted news sources motivates them to participate in the midterm elections. Likely Democratic voters were 12 percentage points more likely than Republican voters to report feeling motivated by the news.
"President Trump is certainly the elephant in the polling places in this year's election," said Robert Shrum, director of the Center for the Political Future at USC Dornsife College of Letters, Arts and Sciences. "More than anything else, he's the dominant issue; people are reacting to him more than they are, for example, to the condition of the economy. Other polls show that wages and healthcare are important considerations for voters; but in a very real sense, they too are surrogates for reactions to Trump."
When hearing news from sources that they distrust, Democratic voters are 9 points more likely than Republicans to be motivated to vote (61 percent to 54 percent respectively). Roughly 30 percent overall said such coverage has no bearing on their intention to vote.
"My guess from the polling and the special elections that we had earlier this year is that turnout will be higher than normal for midterm elections," said Michael Murphy, co-director of the Center for the Political Future at USC Dornsife. "What should deeply concern Republicans is that Donald Trump's antics are driving a wave of protest energy, and that is likely to significantly boost Democrat turnout."
The probability-based online poll, conducted from July 16-Aug. 16, asked voters which of these news sources, in random order, they trust: Fox News, MSNBC, CNN, national newspapers such as The New York Times, The Washington Post and The Wall Street Journal, as well as local and regional newspapers, National Public Radio, public television, Trump and his administration and their congressional representative. It also checked the voters' likelihood of casting a ballot for a U.S. House race in November.
The USC Dornsife/L.A. Times poll is a collaboration among researchers at two USC Dornsife centers — the Center for Economic and Social Research (CESR), the new Center for the Political Future and the Center for Economic and Social Research — and the Los Angeles Times.
This nationally representative survey of 5,044 adult residents of the United States included 2,459 likely midterm voters and had a sampling error of plus or minus 2 percentage points for all respondents and for likely voters. For likely Democrat voters, it is plus or minus 3 and for likely Republican voters it is plus or minus 4. (A full report on the poll, which is part of the Understanding America Study at CESR, is available online.)
Which potential voters trust Trump?
Nineteen percent of the public nationwide considers Trump as a source of unbiased and trustworthy information, the poll shows. Half of those who trust Fox News trust the president as an unbiased source. Sixty-two percent of those who trust Trump also trust Fox News.
Trump is trusted by just over half of likely Republican midterm voters (55 percent), and only 2 percent of Democratic voters.
"The voters who look to President Trump as a credible source of information are occupying a unique place in the country right now," said Jill Darling, survey director for CESR. They are the most likely to feel positive emotions and the only group who were not confused about what is real and what is not. No matter what sources you believe, it can be disorienting to hear what you believe to be true called false, and vice versa, but Americans who trust the president seem to be experiencing less of that than the rest of the country."
About 19 percent of the public say they trust their local congressional representative. Around a quarter trust Fox, and a similar percentage trust MSNBC.
So, where are they turning for news? Roughly a third of voters say that they trust other sources: national newspapers, local and regional newspapers, NPR and public television.
"Having trust sink below 50 percent is concerning, especially for media that regard themselves as even-handed and non-partisan, such as National Public Radio and PBS," said Margaret Gatz, a USC Dornsife psychology professor who analyzed the data.
Declining public trust in reputed media outlets may signal a greater problem — increasing polarization and disagreement. "The implication is that the majority of the people may be less likely to agree on a common set of facts," Gatz said.
Darling, Gatz and USC Dornsife Professor of Political Science Ann Crigler onducted a deeper analysis of the responses to questions about trust in the media and the president in a blog post.
One source of news — social media — was not included in the survey questions about trust. Platforms such as Facebook have been the subject of congressional hearings due to the proliferation of fake news and Russian propaganda intended to disrupt elections.
"A key difference between today's media versus previous eras is the diversity of sources, with fewer people engaging each particular source," Gatz noted. "Without common sources, it is more difficult for there to be a common basis of information from which to form opinions."
How does the news affect our mood?
News coverage of the president is affecting people's moods. More than 4 out of 10 in the poll say they are frequently or always worried, disgusted or outraged by news that they hear about Trump from their favorite or most trusted source, and just over half said they feel disgusted.
People who consider Trump a trustworthy source had the most positive outlook: 4 out of 10 say that they frequently or always feel satisfied, 50 percent are hopeful and 44 percent are pleased. On the other side: 78 percent of likely Democratic midterm voters report feeling worried, 83 percent disgusted and 78 percent outraged.
"Frustration often motivates voters in midterm elections," Shrum said. "It happened in 2006, when voters were frustrated with President Bush's handling of both Hurricane Katrina and the Iraq war — and with perceived corruption in the GOP-led Congress. It happened again in 2010 with the Tea Party rebellion against Obamacare and against President Obama personally. And to go back further, it happened in 1994 when Republicans won the House for the first time in 42 years in an atmosphere of depressed approval ratings for Bill Clinton."
Fatigue or annoyance with news coverage is setting in. Across the political spectrum, many say they are tired of partisan coverage. Between 40 to 50 percent of respondents who trust each of the news sources listed in the poll say they always or frequently feel tired of the hyper partisan coverage.
"There seems to be growing evidence of a bipartisan fatigue for overly ideological and one party-friendly commentary passed off as news," Murphy said. "While base partisans enjoy political talk that reflects their respective opinion bubbles, the larger electorate craves honest, civil and respectful information."