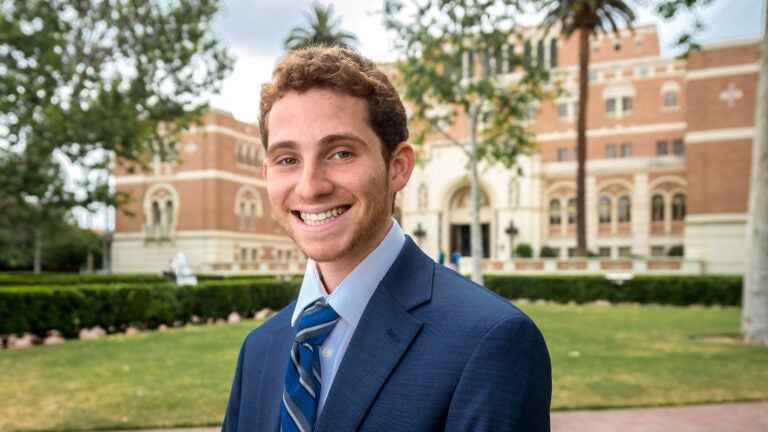 Community outreach inspires salutatorian Sammy Cohen to think outside the clinic
The aspiring surgeon has helped the homeless get to medical appointments and find available resources — and he's just getting started
Every week, Sammy Cohen heads to Skid Row, the part of Downtown Los Angeles known for its large homeless population.
Roughly 5,000 folks live on the streets there, according to a 2017 count.
Working at homeless shelters, Cohen, 21, stands close as doctors perform checkups and give referrals to homeless patients. It's part of the Mobile Clinic at USC program.
"There's not a lot of places you can get those hands-on experiences," said Cohen, a USC senior and one of the two USC 2018 salutatorians, who has plans to be a pediatric orthopedic surgeon.
Working on Skid Row, Cohen noticed that while patients wanted to continue treatment, getting to doctor's appointments across town was difficult.
"They didn't have a way to get there," he said, adding that public transit was unpredictable.
Cohen came up with an idea: What if student volunteers helped them get to the appointments?
"That increased the follow-up rate from 15 percent to over 95 percent now," he said.
They use Uber, which reimburses rides the students take with the homeless patients.
Riding together has been a way to build rapport with the patients, many who have lost trust in doctors or the health care system, said Cohen, who is majoring in health promotion and disease prevention at the Keck School of Medicine of USC with a minor in health care studies at the USC Dornsife College of Letters, Arts and Sciences.
One of the patients I've worked with, I've developed a relationship with him. I've stayed friends with him.

Sammy Cohen
"One of the patients I've worked with, I've developed a relationship with him," Cohen, a Trustee Scholar, said. "I've stayed friends with him. I've worked with him to save money."
The man is in his mid-60s and works a minimum wage retail job, Cohen said, and it's been hard for him to have enough money to stay in housing. But recently, he secured a low-income apartment.
"A lot of the people there who are homeless — you wouldn't think they are," he said, noting one college-educated man he knows who became homeless after his wife died.
USC 2018 salutatorian: Serving the community
Being a part of the community and serving the community has been a big motivation for Cohen.
Cohen co-founded WorldMed at USC, a health organization that has donated clothing to homeless shelters, handed out hundreds of peanut butter and jelly sandwiches on Skid Row and hosted a health fair at the 32nd Street/USC Visual and Performing Arts Magnet.
He's also learned what it's like to serve the families of Los Angeles from the clinical side. Working in the emergency room of Children's Hospital Los Angeles, doctors shared with him stories of families who came in with non-medical needs.
"There was this one time in particular. A doctor was in the emergency department and there was this family that came in very late at night," he said. "The dad kept asking for crackers for one of the kids. Eventually the doctor realized he kept asking for this stuff but that the kid didn't have a medical problem."
The family was hungry and had hoped the doctor would give them a voucher for a meal in the cafeteria.
Non-medical needs
It made Cohen realize there had to be a way to better serve these non-medical needs without taxing physician resources. During his sophomore year, he researched the subject, surveying patients on needs such as food banks and finding doctors, legal services and housing.
That research, which was later presented at the Pediatric Academic Societies Conference in San Francisco, inspired the upcoming launch of a community resources help desk at CHLA. It's going to be part of a new USC biomedical research class.
That's where you can find Cohen after graduation. Before starting medical school, he plans to take a gap year to get the help desk up and running at the hospital. He'll build a staff, oversee it and see if there are opportunities for more research.
These experiences make him want to continue working with under-resourced communities.
"I think that's definitely going to be a big determining factor in terms of where I want to go to medical school," he said.