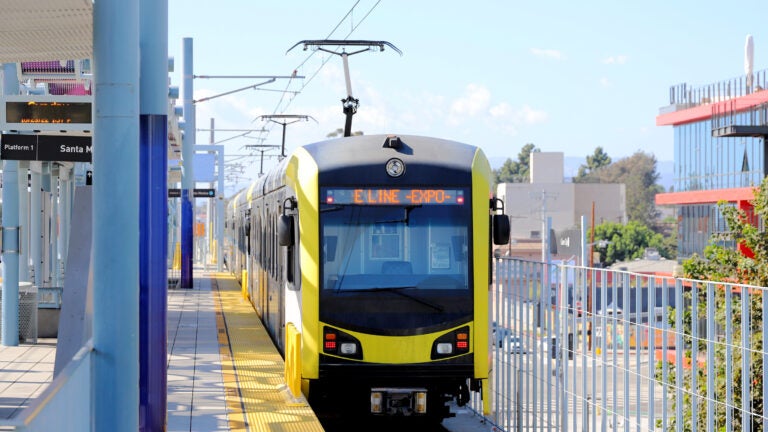 Revamped U-Pass program helps students explore Los Angeles sustainably
Program allows graduate and undergraduate students to get around Los Angeles at no extra cost.
USC students now have a better way to get around Los Angeles, thanks to the combined efforts of the university's undergraduate and graduate student governments, as well as USC Transportation.
The new U-Pass program gives students unlimited rides on the L.A. Metro rail and bus lines for a semester at a time. Students simply register for the U-Pass with USC Transportation and receive the pass at no additional cost. They're then required to re-register each semester in which they want a pass, without needing a new card each time.
"The U-Pass program is a fantastic initiative, enabling students to delve into our vibrant 'neighboring community,'" said Mustafa Ali Khan, a senior with the USC Undergraduate Student Government. "Students are now able to roam the city for free, increasing their mobility at no cost to our environment."
Early versions
Previously, the U-Pass was only available to graduate students, as many live off-campus and tend to use public transit more frequently.
David Donovan, associate director of USC Transportation, said that the program started with the USC Graduate Student Government, who formed a partnership with L.A. Metro over a decade ago. The initial popularity of the program became too much for the Graduate Student Government to handle, which is when USC Transportation took over the processing. Passes were then purchased through the USC Transportation website.
Revised U-Pass
Earlier this year, the university's senior administration approved a new transportation fee for students, which allowed USC Transportation to expand the program to all undergraduate and graduate students.
"We really touted this at orientation this summer, and we've gotten really good feedback from students who just arrived on campus and their parents," Donovan said.
Starting next year, students will also be able to go from Trousdale Parkway to the Los Angeles International Airport once the new K Line is completed.
"It's going to be really exciting to see how many people take advantage of this," Donovan said. "Seeing those positive reactions from students definitely gets us amped up for the program."
Online orders for the current semester are closed, but students can still obtain their U-Pass in person by visiting the USC Transportation office at 620 McCarthy Way on the University Park Campus.