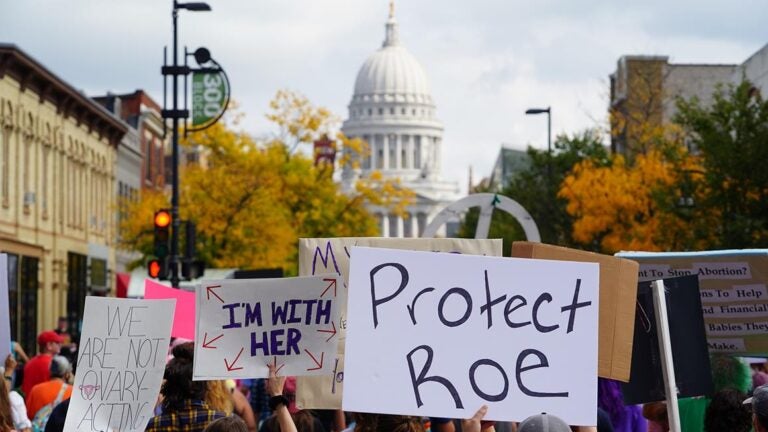 Roe v. Wade: One year later, the impact is still roiling politics and health care
June 24 will mark one year since the Supreme Court of the United States issued its ruling on the Dobbs v. Jackson Women's Health Organization case, effectively overturning Roe v. Wade and its federal protections for abortion and returning the power of regulating abortion to individual states.
As one of the most contentious and polarizing issues in American society, the repeal of these long-standing precedents has reignited fierce debates and triggered an outpouring of anger nationally and globally. USC experts reflect on the current state of reproductive care and the uncertain future of women's rights in America.
Also available: USC experts who can speak about upcoming decisions from the Supreme Court. See below.
Contact: USC Media Relations, uscnews@usc.edu or (213) 740-2215
Unwanted pregnancies likely to go up among trafficked women and girls
"With the overturning of Roe v. Wade, there is an increase of vulnerability to human trafficking — the burden of the inability to control reproductive health falls heavily on poor girls and women and provides opportunities for traffickers to take advantage of their vulnerabilities.
"Childbirth and pregnancy become levers of power for traffickers, especially if the father of the child is the trafficker. Women or girls might be less empowered to leave or escape. Also, this might be an added (incorrect) rationale for their belief that their trafficker may take care of them (because of the child). There will definitely be an increase in unwanted pregnancies as a majority of sex trafficked women and girls are not allowed to use condoms or other birth control.
"Sadly, there will also be an increase in the selling of unwanted children and the trafficking of unwanted babies through illegal adoption or sex trafficking. The lack of safe, legal abortion does not just leave women and girls at risk for human trafficking but puts their whole life at risk as they may turn to illegal, unsafe, even false options. This is an issue of one policy, it is an issue of overall reproductive justice."
Annalisa V. Enrile is an expert on sex trafficking, anti-militarization and exploitative migrant labor. She is a professor of social work at the USC Suzanne Dworak-Peck School of Social Work.
Contact: enrile@usc.edu
Additional abortion bans prompted by Dobbs decision
"Prior to the Dobbs decision, several states across the country were already restricting abortion access via laws regulating abortion clinic practices, mandating ultrasounds and waiting periods, and setting restrictive gestational age limits. However, the Dobbs decision further emboldened these states, resulting in near total abortion bans in more than a quarter of states, which have collectively resulted in a drop in the number of abortions provided nationwide.
"Collaborative research efforts from the Society of Family Planning demonstrate that in the six months after Dobbs, the number of abortions provided dropped by more than 40,000. Meanwhile, the number of abortions in states where abortion remained legal increased by more than 10,000. Clearly, restrictions on abortion access do not influence the public need for abortion.
"Beyond state-wide abortion bans, the SCOTUS decision emboldened lawyers and judges to question the legal status of mifepristone, commonly known as the abortion pill. The social consequence of abortion restriction is the perpetuation of abortion stigma and criminalization of women. The cascade of restrictions occurring at multiple levels of government are evidence of a continuous assault not only on women's reproductive rights, but on women's welfare."
Brian Nguyen is an expert on how men are impacted by and can influence women's reproductive health. He is an associate professor of clinical obstetrics and gynecology at the Keck School of Medicine at USC and is director of The EMERGE Lab (Expanding Male Engagement in Reproductive and Gender Equity).
Contact: nguyenbt@usc.edu
States 'stacking the deck' against popular abortion legislation
"One year later, many states are still in the process of establishing their own new, updated abortion laws. Initiatives continue to play a big role in the 24 states where they are available, as voters use direct democracy to counteract what they perceive as extremism from their elected officials. Ohio is a key state to watch — an initiative is on the ballot in 2024 to bring a more centrist abortion policy, but the legislature is trying stack the deck against the initiative by increasing the approval rate to pass an initiative."
John Matsusaka is an expert on voter referendums and initiatives (direct democracy) and corporate organization. He is a professor of finance and business economics at the USC Marshall School of Business.
Contact: matsusak@marshall.usc.edu
Abortion bans likely to energize Democrats in 2024
"The Dobbs decision changed abortion policy dramatically one year ago. The impact on women and society is significant. The political impact is also huge. The Dobbs decision helped Democrats in the 2022 midterms, and I anticipate the roll back on abortion will energize Democratic voters in the 2024 election as well. Combined with redistricting that was more favorable to Democrats in 2022 than in earlier decades, Republicans may be on defense going into the 2024 elections due to the Supreme Court decision. Trump's three judicial appointees handed anti-abortion activists their most sought-after victory, but there may also be an electoral backlash at the polls in 2024."
Christian Grose is an expert in U.S. politics and government, political reforms and voting rights. He is an associate professor at the USC Dornsife College of Letters, Arts and Sciences and academic director of the USC Schwarzenegger Institute for State and Global Policy.
Contact: cgrose@usc.edu
Additional experts available
As the U.S. Supreme Court enters June, a wave of far-reaching decisions on numerous cases loom. The USC experts listed below are available to comment on these and other related stories.
Impact of SCOTUS decisions on the U.S. political economy
Mindy Romero is a research assistant professor and the founder and director of the Center for Inclusive Democracy (CID) at the USC Sol Price School of Public Policy. She is an expert in political sociology, political behavior, voting rights and civic engagement.
Contact: msromero@usc.edu
# # #
Elizabeth Currid-Halkett is the James Irvine Chair in urban and regional planning and professor of public policy at the USC Price School of Public Policy. She is an expert in economic development, arts and culture, the American consumer economy and the role of cultural capital in geographic and class divides.
Contact: currid@usc.edu
# # #
Pamela McCann is an associate professor at the USC Sol Price School of Public Policy and an expert in American political institutions, bureaucratic delegation, intergovernmental politics, legislative behavior, public policy, and policy diffusion.
Contact: pmccann@usc.edu
# # #
Affirmative Action
The Court will consider Students for Fair Admissions Inc. v. President & Fellows of Harvard College, which will rule on the constitutionality of affirmative action admissions policies utilized by colleges and universities.
Experts from the USC Race and Equity Center can discuss the Court's ruling and its impact on higher education.
Shaun Harper is provost professor of education and business and founder of the USC Race and Equity Center.
Contact: sharper@usc.edu
# # #
Royel Johnson is associate professor of education at the USC Rossier School of Education.
Contact: royel.johnson@usc.edu
# # #
Brandi Jones is research professor at the USC Rossier School of Education.
Contact: brandijo@usc.edu
# # #
Pedro Noguera is distinguished professor of education and Dean of the USC Rossier School of Education.
Contact: pnoguera@usc.edu
# # #
John Pascarella is professor of clinical education at the USC Rossier School of Education.
Contact: pascarel@usc.edu
LGBTQ+ Businesses
The case 303 Creative LLC v. Elenis will decide whether the First Amendment allows businesses to refuse work for LGBTQ+ customers due to conflicts with religious beliefs.
C. Kerry Fields is a professor of clinical finance and business economics at the USC Marshall School of Business.
Contact: fields@marshall.usc.edu
Clean Water Act
In deciding Sackett v. Environmental Protection Agency on May 25, the court limited the jurisdiction under the Clean Water Act over neighboring wetlands.
Robin Craig is Robert C. Packard Trustee Chair in Law at the USC Gould School of Law.
Contact: rcraig@law.usc.edu
(Photo/AdobeStock)
###