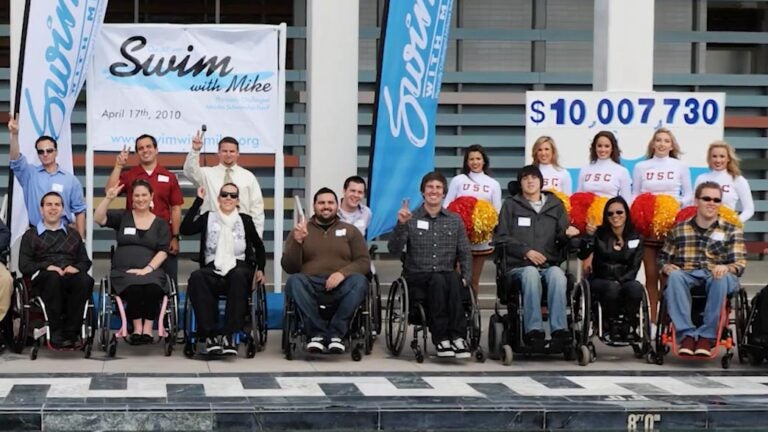 Swim With Mike scholarship program for athletes with physical disabilities grows stronger than ever
Hundreds of students have benefited from the USC initiative, now in its 38th year. The annual fundraiser kicks off Friday.
When three-time All-American USC swimmer Mike Nyeholt was paralyzed in a motorcycle accident in 1981, his friends rallied around him.
A swim-a-thon fundraiser brought in more than enough to purchase an accessible van for Nyeholt. So he suggested launching a scholarship program at USC with the leftover proceeds. Nearly four decades later, Swim With Mike has raised millions to provide collegiate scholarships to student–athletes with physical disabilities.
"We planned to do it for just one year to help Mike, and now it's 38 years, 218 recipients and $20 million bucks later," said Ron Orr, the program's founder and executive director.
This year's Swim With Mike
This year's annual fundraiser starts Friday at 1 p.m. with a wheelchair basketball tournament at the Lyon Center on USC's University Park Campus. The swim-a-thon opens at the USC Uytengsu Aquatics Center on Saturday at 7:30 a.m. It will feature swim relays, water polo exhibitions, a barbecue feast, a silent auction and other festivities.
"It's a great family day on campus," Orr said. "It's a celebration of these kids who have gone through so much."