Mayor Eric Garcetti tours USC Village, complete with student selfies
USC President C. L. Max Nikias joins the city leader at the residential colleges, the community room, the dining hall and Trader Joe's
Students likely did a double take at USC Village on Wednesday when they saw Los Angeles Mayor Eric Garcetti noshing on a Nutella and strawberry crepe in the dining hall.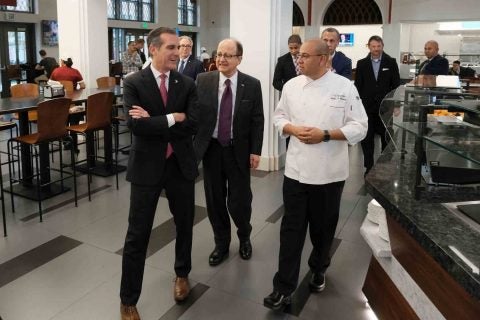 He was a freshman for a day, hanging out in the residences at McCarthy Honors College with USC President C. L. Max Nikias and, of course, posing for selfies with students.
But he also got to see how the community takes advantage of the new development, perusing Trader Joe's and stopping by the community room, which was hosting local high schoolers creating banners that will go up on the University Park Campus in honor of Black History Month in February.
Even though Garcetti, who previously taught at USC, gave remarks at the USC Village gala in October, it was his first official tour of the development, which has seen several new retailers open in recent months.