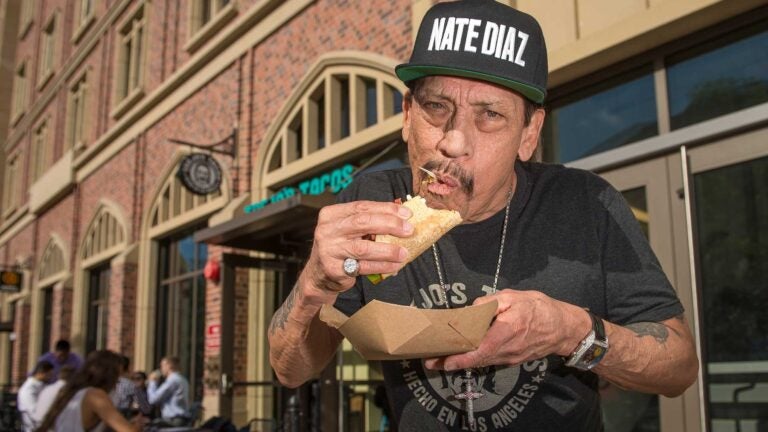 Trejo's Tacos sees opportunity to serve the community with new shop at USC Village
The eatery combines food, philosophy and entrepreneurship for actor Danny Trejo, who teams up on it with two Trojans
Actor Danny Trejo draws a crowd.
When he showed up for this week's opening of Trejo's Tacos at USC Village, an impromptu line quickly formed and Trejo happily posed for photos. His friendly demeanor contrasts with the menacing characters he's played on screen.
"I'm so glad we're opening here at USC Village in South L.A.," Trejo said. "I was raised all over Los Angeles. I used to ride the streetcars around Hoover and Jefferson, so it feels like home."
The Trejo's name is popping up across Southern California only two years after it was first seen on a food truck. Trejo's offers traditional Mexican fare and creatively healthful variations like cauliflower and fresh jackfruit tacos.
"We've got an obesity problem, not just in the Latino community, not just in South L.A., but everywhere," Trejo said. "So here's some good-tasting food that's not fattening."
Longtime roomies
Trejo's partners are Jeff Georgino '90 and Ash Shah '89, former college roommates who've been working together off and on for three decades.
"We worked a lot [while at USC]," Shah said. "We both had full-time jobs, and we were making movies. An actor didn't show up one morning, and I woke Jeff up and made him fill in."
Shah met Trejo in 2009 while making independent films.
"There's a lot of sitting around and waiting on those sets," Shah said. "Danny and I would eat and talk. Jeff and I had thought about restaurant ideas. Jeff and I literally ate Mexican food every day while we were here at USC."
Shah was drawn to USC Village in part because of its location in South L.A.
"This is a university in the middle of an urban environment, and it's allowed us to open in an area that's underserved when it comes to healthful food," Shah said. "I think you're going to see better food coming into neighborhoods like this."
Education over incarceration
The persona Trejo projects on screen is derived from a life experience that included more than a decade cycling in and out of prison. It was there that Trejo came to understand the importance of education.
Education is the key to anything you want to do.

Danny Trejo
"When I was at San Quentin, I was turned down for a job in the laundry because I didn't have a high school diploma," he said. "Education is the key to anything you want to do."
Trejo takes that message to at-risk youth and has spoken publicly about his belief in "education over incarceration."
"The first question I ask is 'Do you have a high school diploma?'" Trejo said. "After I see some hands go up, I ask about college experience."
With a restaurant at USC, Trejo has a place to bring his philosophy, food and entrepreneurship together.
"I like being in business with two Trojans," Trejo said. "They were always telling me, 'Let's open at USC Village,' and now we're here."