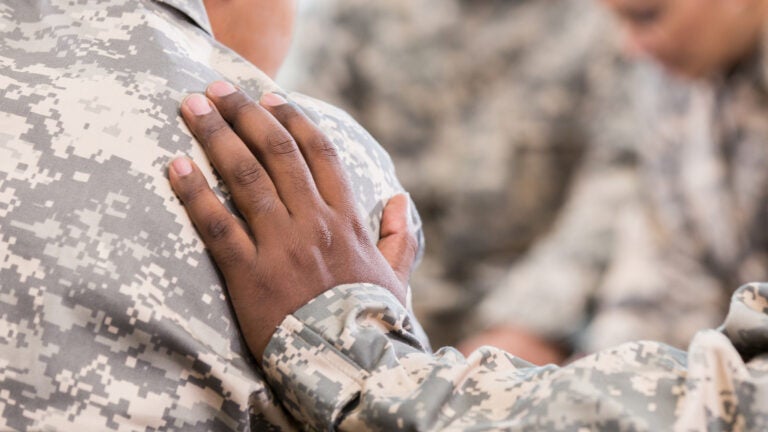 Trojan veteran brings expertise in mental health to those who served
Social work alum and Afghanistan veteran Dylan Moore says his real-world experience informs his role as an on-campus therapist.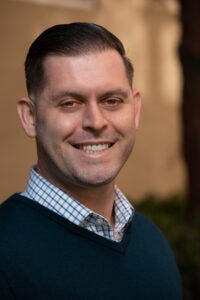 While some USC students find their career inspiration in a class or in a club on campus, Dylan Moore found his 7,700 miles away: on a battlefield in Helmand Province, Afghanistan. This epiphany happened almost five years before Moore even set foot on USC's campus, when he was a sergeant in the U.S. Marine Corps Reserve.
Though only deployed once during his enlistment — from October 2009 to May 2010 — Moore saw six of his fellow Marines killed by Taliban forces.
Moore watched as the rest of his battalion began struggling with all that they'd seen, which only worsened upon returning home.
"I knew a lot of Marines were not doing so well when they came back from Afghanistan, and I started hearing about people I knew that died by suicide," Moore said. "That's actually what propelled me into the social sciences, because I feel like I was doing relatively well considering I had all those same experiences."
Moore knew that he wanted to help other veterans transition back to civilian life, especially in an academic setting. After earning his master's degree in social work from the USC Suzanne Dworak-Peck School of Social Work, Moore held positions with the U.S. Department of Veterans Affairs and numerous social programs. Last year, he returned to his alma mater as a therapist with USC Student Health's Counseling and Mental Health Services unit, with an appointment as clinical faculty in the Department of Psychiatry and the Behavioral Sciences in the Keck School of Medicine of USC.
"For student veterans, the number-one challenge that they're going to experience in the academic environment is readjustment — the loss of identity as a service member and trying to gain a new sense of identity as a college student," Moore said. "There is already a very robust clinical counseling department at USC, but as an alum and with my experience in the Marine Corps, I thought it was a really nice opportunity to give back."
The call to serve
Raised in Torrance, Moore notes that his only connection to the military growing up was his grandfather, who had served in World War II. But his high school had a robust Junior ROTC program; initially intrigued by the U.S. Army, Moore said he quickly realized that the Marine Corps Reserve was the right fit for him.
"There was just something different to me about what the Marine Corps recruiter symbolized and how he carried himself," Moore said. "That really kind of drew me in, and I signed up almost right away out of high school."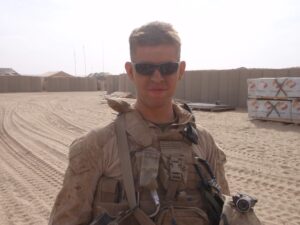 Moore joined the Marines in July 2007 and served in a reserve unit out of Camp Pendleton. While in the Marine Corps Reserve, Moore attended community college and worked at a nearby Target. Then, in 2009, he was called to full service and deployed to Afghanistan.
"We had an idea that deployment was going to happen based off the training that we were doing, but it's still surprising nonetheless, especially when you have to put college, work and life on pause," Moore said.
Transition to civilian life and path to USC
Given his work with electrical systems during his time with the Marines, Moore had originally anticipated a career in security and defense with companies like the Raytheon Co. or Lockheed Martin Corp. But that exposure to war and seeing its effects on his fellow Marines pushed him toward the social sciences. He reenrolled at El Camino College before transferring to California State University, Northridge, where he graduated in 2014 with a sociology degree with an emphasis on social welfare and social justice. At Cal State Northridge, he founded a coed veteran fraternity — Sigma Tau Alpha — and began volunteering with the Veterans Resource Center on campus.
"A lot of veterans are unsure of what they want to do after their enlistment," Moore said. "Historically, veterans have higher rates of attrition from college settings than their nonmilitary peers. At CSUN, it was important to help veterans know what resources were available to them at the school."
After graduating from Cal State Northridge, Moore faced a choice: reenlist in the Marine Corps Reserve or attend graduate school. Since he knew his chosen career path required higher education, he chose the latter, and was admitted into the USC Suzanne Dworak-Peck School of Social Work in fall 2014. He eventually began interning at the local office of the U.S. Department of Veterans Affairs as a social worker.
Moore graduated in 2017 with his master's degree in social work, and became a social worker with the Dignity Health-California Hospital Medical Center in downtown L.A. before getting a job with the U.S. Department of Veterans Affairs in 2018.
Trojan helping Trojans
Moore's journey back to a university setting started in 2022 when he began working for California State University, Los Angeles, as a counselor in the student health center. Then, later that year when an opening at his alma mater came up, Moore jumped at the opportunity. He started as an embedded therapist with USC Student Health Center for the USC Dornsife College of Letters, Arts and Sciences, providing triage services.
"Dylan has been a tremendous value to the university community," said Broderick Leaks, director of student counseling and mental health services at USC Student Health and vice chair of college mental health in the Department of Psychiatry and the Behavioral Sciences in the Keck School of Medicine of USC. "His clinical experience and expertise in supporting veterans, as well as his lived experience as a veteran himself, have enhanced the service we are able to provide the student-veteran community at USC."
Eventually, Moore transitioned to the role of veteran-identified therapist for the USC Veterans Resource Center, part of the Student Equity and Inclusion Programs in USC Student Life. Though he said there have been major improvements and cultural shifts, the topic of mental health among veterans still carries a stigma. Moore knows he can't solve every problem, but what he can do is listen and advise; he notes that many veteran students benefit from knowing there is someone on campus like them — someone with shared experiences.
"You very rarely work individually in the military, and it's important for veterans to feel a sense of connection," Moore said. "My hope is to do research with USC veterans on what impact friendship has on overall academic outcomes, because we know that support systems are vital to help veterans feel more connected to their college — and turns out that this translates to higher academic achievement as well."