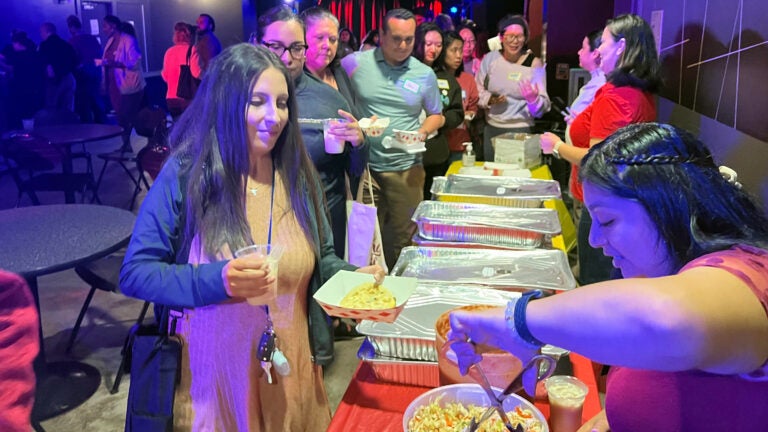 'Unity, Prosperity & Culture' celebrated with food, fellowship during USC Latinx/e Heritage Month kickoff
Trojans share personal stories and pay tribute to those who support their academic dreams.
USC Dornsife College of Letters, Arts and Sciences junior Galilea Marquez joined her friends Friday in quickly pulling several high-top tables together so the group could feel connected during the USC Latinx/e Heritage Month kickoff event.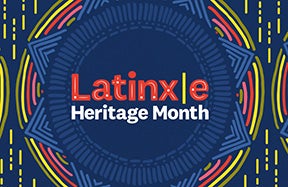 "Conviviality is such a big part of Latino culture," Marquez said, cutting into a Salvadoran bean and cheese pupusa covered with salsa and pickled cabbage. "Getting together, sharing food, it feels like us."
Marquez and her group were among the more than 175 people who gathered at Tommy's Place for a lunch of Mexican and Salvadoran food. The meal was served before the screening of a virtual program featuring a dozen Trojan students, faculty, staff and alumni sharing their thoughts around this year's theme of "Unity, Prosperity & Culture."
During the program, graduate student Jose Lozano of the USC Rossier School of Education paid tribute to his grandmother, who immigrated to the United States alone from Jalisco, Mexico, at the age of 12 and built a life for herself. He said she is a big reason why he has pursued higher education and why he celebrates the heritage month.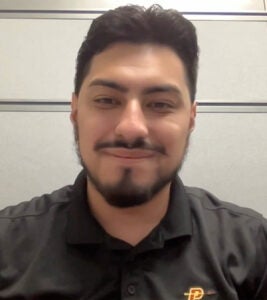 "Growing up with my grandmother, I was able to hear stories about her home back in Mexico," he said. "I was able to get some of that culture embedded within myself, and it's how I live today."
Lozano said he has been "thrilled" to be able to interact with so many other Latino Trojans "because that means that we are representing our culture."
"When a [heritage] month like this comes up, we're celebrating those who have sacrificed so much to be here and for us to get education," he said. "I think that is really great that we are celebrating, that we are able to come together as a culture and unite and just be really a family."
Latinx/e Heritage Month: Celebrating 'an unbreakable bond'
That sacrifice was also celebrated during the program by Keck School of Medicine of USC graduate student Karla Padilla Leon, who is originally from Tijuana, Mexico. She moved to San Diego as a girl with her parents specifically so she could get a quality education and one day attend USC.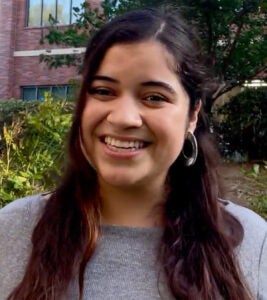 "It is always so inspiring to see other Latinos thriving here and pursuing what they're most passionate about," Padilla said. "Because of my background, I feel very connected to my culture. And I love to see celebrations like these that honor our beautiful heritage."
USC staff member and alumna Lizette Zarate said during her remarks that diverse communities share "an unbreakable bond" with a "rich tapestry of traditions, languages and histories that make our story so vibrant and unique."
"Strength lies in our unity and that we are all connected by shared experiences and aspirations," said Zarate, USC's program director for K-12 educational partnerships. "Love is the thread that weaves together our stories. It is a force that drives us to support and uplift one another."
What it means to be Latinx/e
The name of the heritage month at USC was changed this year from Latinx Heritage Month to Latinx/e Heritage Month to reflect a decision earlier this year by the Latine Student Assembly to stop using Latinx in its title. Students felt that the term Latinx was outdated and left out native Spanish speakers.
In his video, USC Rossier Dean Pedro Noguera reminded the audience that Latinos have been in California since even before the founding of the United States. He encouraged people to use the heritage month as a moment to reflect on what it means to be Latinx/e.
"How do we continue to lift up our community, particularly now through education?" Noguera asked. "How do we ensure that future generations will be able to continue to have a life in this country where they cannot only contribute, but they can thrive?"
"How do we ensure that future generations will be able to continue to have a life in this country where they cannot only contribute, but they can thrive?"

— Pedro Noguera, USC Rossier dean
USC Chief Inclusion and Diversity Officer Christopher Manning took to the stage at Tommy's Place to welcome the crowd and thank the organizers. He joked about how difficult it would be to compete with the delicious food, which included taco plates and aguas frescas from MX 30-30 and a selection of pupusas from Delmy's Pupusas.
Manning remarked that among that "diverse array of gifts" that Latino people bring to the campus and the nation are "a strong work ethic, valuing the family, centering faith and celebrating a wide range of colors, cultures and national origins."
Latinx/e Heritage Month celebrates the histories, cultures and contributions of Americans whose ancestors came from Spain, Mexico, the Caribbean, and Central and South America. It began as Hispanic Heritage Week in 1968 with a proclamation signed by President Lyndon B. Johnson; in 1988, President Ronald Reagan expanded the celebration to a month, through Oct. 15.
Sept. 15 is the anniversary of independence for Costa Rica, El Salvador, Guatemala, Honduras and Nicaragua. In addition, Mexico and Chile celebrate their independence days on Sept. 16 and Sept. 18, respectively.
Friday's event kicked off a monthlong celebration at USC, which will conclude with an outdoor closing event featuring special guests, music and food at Founders Park on Oct. 11. Check the USC event calendar for a full list of events.