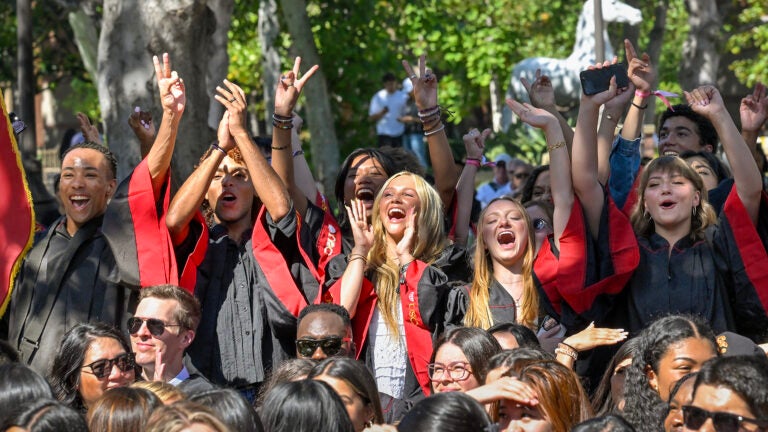 A Trojan welcome: Convocation speakers encourage new students to take in all USC has to offer
USC President Carol L. Folt and the university's deans welcome nearly 13,000 new undergraduate, graduate and transfer students and their families.
The beginning of a new school year is both a vibrant and hectic time for students and their families. Nowhere was that more evident than at the University Park Campus on Thursday morning. New students shuffled to find their places, and families scrambled to get the perfect view as convocation kicked off in all its pageantry.
As the USC Trojan Marching Band played "Tribute to Troy" and students and faculty filed into Alumni Memorial Park sporting full academic regalia, a sense of calm permeated the crowd, as if the university itself were telling new students and their families, "You belong here."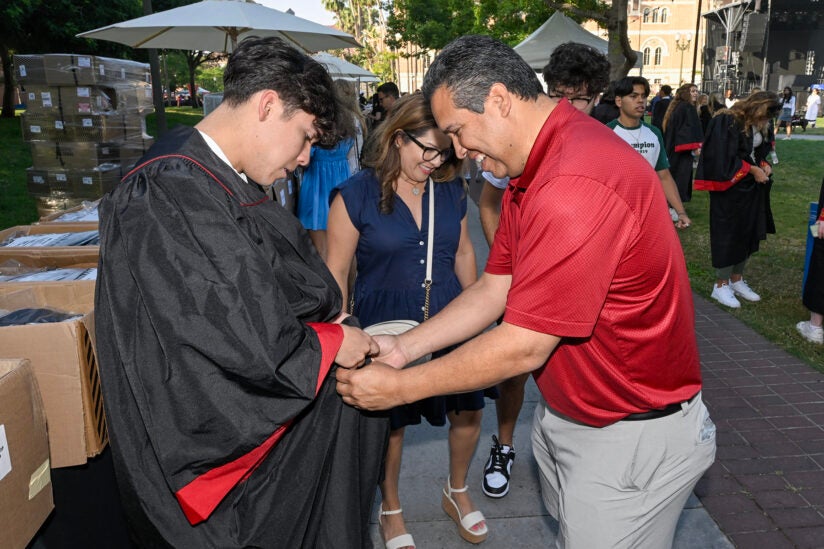 "Start by absorbing all of this, the beauty of our campus, standing with thousands of fellow students, all dressed up and ready to go — remember it, and be inspired by it," USC President Carol L. Folt said from the podium. "You won't see this much brainpower and creative talent in a single place again … until your graduation."
The sun peeked through the clouds as Folt, along with Provost and Senior Vice President for Academic Affairs Andrew T. Guzman and the university's deans, welcomed nearly 13,000 new undergraduate, graduate and transfer students and their families from all 50 states, three territories and 85 countries.
Folt, herself a transfer student who moved across the country to attend school in California, talked to the new students and their families about taking that leap and accepting the failures and successes that come with it.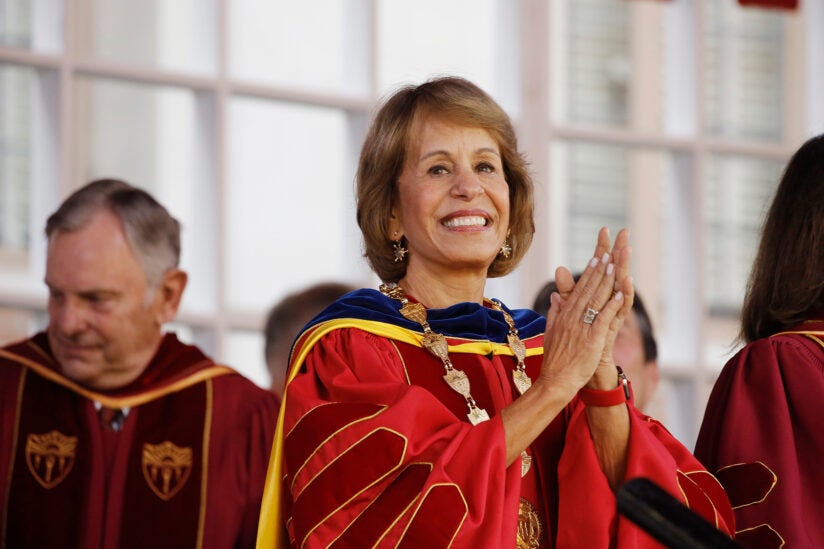 "Many of my best decisions followed my biggest mistakes," Folt said. "Remember that your setbacks become your setups — they are often what you need to really push you to where you were meant to go."
Peer-to-peer advice at USC new student convocation
USC Undergraduate Student Government President Divya Jakatdar encouraged new students to pursue all of their interests and take advantage of USC's interdisciplinary experiences. As someone who is pursuing a political science major from the USC Dornsife College of Letters, Arts and Sciences, an artificial intelligence minor from the USC Viterbi School of Engineering and involved in a club associated with the USC Marshall School of Business, Jakatdar credits her USC experience with challenging her and forcing her to never get too comfortable moving in one direction.
"The opportunities here are limitless, and it's important to track down the ones you want to pursue," Jakatdar told the audience. "My only suggestion to you all is that you should totally feel free and welcome to seek guidance, but don't seek answers — you'll come up with those yourself."
Jose J. Scott, a first-generation college graduate and USC Graduate Student Government president, reinforced to the new students that they "belong here." Scott has been admitted to USC twice, as a graduate and a doctoral student. He told the crowd that the second time was just as exhilarating as the first.
"As a Black, first-generation college graduate from a low-income family, it was difficult to fathom that I could be accepted to one of the best universities in the country and in the world," Scott said.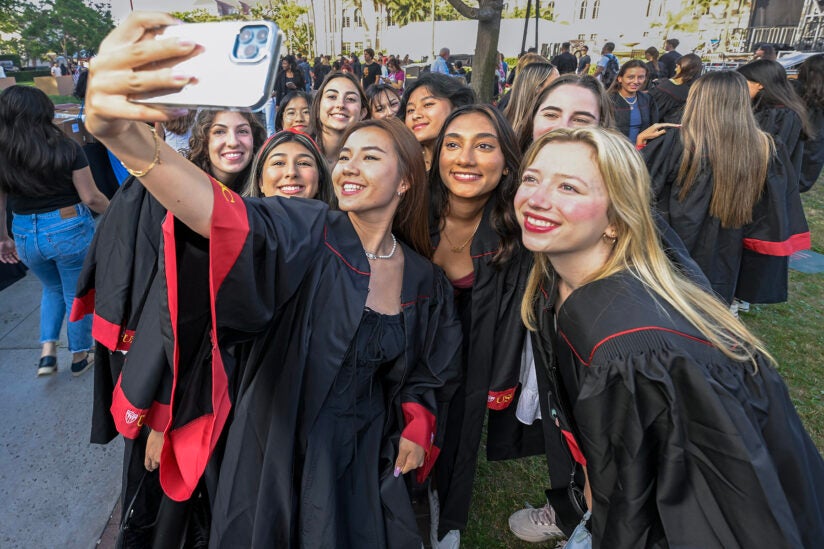 "Although impostor syndrome may try to convince you otherwise, you were not admitted here by mistake. You are here because of who you are, your experiences, your academic achievements, your athletic prowess and your inherent powers — you are here because you deserve to be here."
Alumna encourages students to embrace the Trojan Family
Kaitlyn Yang, a visual effects professional and 2011 graduate of the USC School of Cinematic Arts, reassured students that they are all high achievers, and that every now and then it's OK — even encouraged — to "stop and smell the roses."
"The pauses are so important for us to take it all in," Yang said. "You all have accomplished something incredible just by being here."
Much like Jakatdar, Yang talked about the benefits of jumping into courses and organizations outside of her major. Whether it was an improv class or business lecture, or attending dress rehearsal of a fall production, Yang said those varied experiences will make you a much more well-rounded professional — and a more empathetic person.
"I hope when you find yourselves in classrooms all over this campus, you'll question who's missing," Yang said. "Who are the few in that room? Give them the floor and actively listen — kindness, empathy, adaptability and creativity are the true signs of emotional intelligence.
"I hope when you go out and about and others see you giving a 'Fight On' sign, they'll know that you are first and foremost kind," she added.