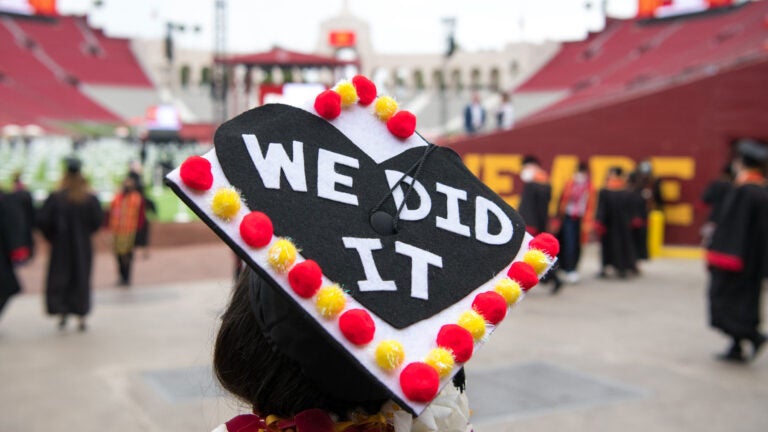 USC's monumental commencement effort unleashes celebrations and makes history
As California emerged from the pandemic, the university staged seven days of ceremonies for the classes of 2020 and 2021 — and President Carol L. Folt was determined to make it happen.
USC senior Rajiv Sheth stepped on the stage in his cap and gown, clutched his diploma and beamed. His grandmother, Bharti Sheth, watched him during USC's May 14 commencement ceremony from her seat at the Los Angeles Memorial Coliseum and fought back tears.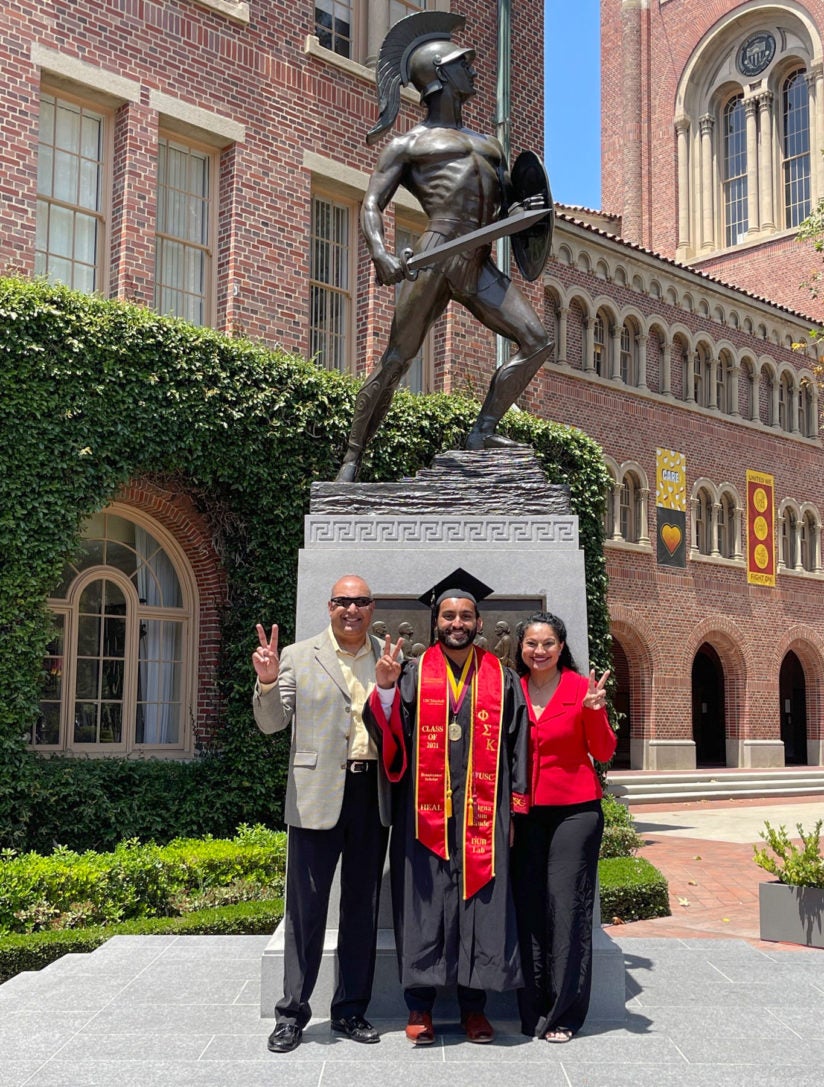 The moment represented more than the completion of her grandson's undergraduate degree. It also marked 60 years since her late husband and Rajiv's grandfather, Harshad, graduated from USC.
Witnessing Rajiv's graduation day "was one of the highlights of her life," said George Sheth, Rajiv's father and a USC alumnus himself.
But the ceremony almost didn't happen.
Mere months ago, the idea that nearly 15,000 graduates and their family members would gather for a weeklong celebration of the classes of 2020 and 2021 on May 14-20 seemed farfetched. COVID-19 cases had spiked, especially in California. Few vaccine shots had been doled out. Health officials strongly cautioned against unnecessary travel, and some universities already settled for online-only festivities.
USC President Carol L. Folt refused to give up on her vision of an in-person commencement ceremony, though.
"I've been around students for a long time and knew how important commencement is to them," Folt said. "As the year developed, it became clearer to me that commencement had grown even more important. People wanted to mark their memory of this time, and we needed to have a commencement that was much more like the USC experience they knew and loved."
We needed to have a commencement that was much more like the USC experience they knew and loved.

Carol L. Folt
After countless hours of planning, a major vaccination campaign in Los Angeles aided by USC health workers and many meetings and phone calls with local and state officials, it all came together. In 14 ceremonies spread over seven days in the Coliseum — with strict social distancing and sanitizing protocols — Trojan graduates joined loved ones to revel in their accomplishments.
The Sheths and other families finally celebrated together after a tough year apart.
For George Sheth, it was especially important to share the experience with his mom, the wife of the family's original Trojan: "We were so incredibly grateful to have this opportunity."
How USC pulled off its commencement celebration despite COVID-19
When USC students first started their fall classes last August — mostly remotely — one USC administrator was already thinking about commencement.
As associate vice president of cultural relations and university events, Adam Rosen oversees major USC gatherings. None is more prominent or logistically challenging than commencement, with its thousands of celebrants.
This time around, he faced a major unknown variable: COVID-19.
USC leaders had already sacrificed the in-person event in May 2020, opting for a virtual graduation celebration. USC promised an in-person ceremony for the Class of 2020 when the pandemic eased.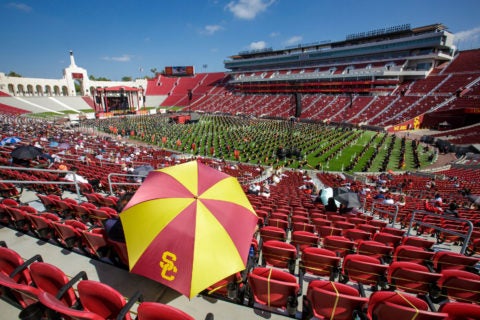 Rosen's team devised various scenarios for this year's event, including a partially in-person ceremony and another virtual celebration. Their plans for an in-person ceremony targeted an unusual site: the Coliseum. The sprawling stadium hadn't seen a USC commencement since 1950, but its many seats could keep everyone at a safe distance, Rosen thought.
Still, at that time — early 2021 — prospects for in-person festivities looked dire, Rosen said. "We were in that spike that felt like it would never end," he said.
But Folt grew more confident. Vaccinations mounted so quickly that she believed in-person gatherings would be possible by May, even as others warned her that they saw no path forward.
"I wanted to hear what people thought, and they frequently did say, 'We can't do it, it won't work,'" Folt said. "A little bit more than I might have in other circumstances, I said, 'Yes, you can. Go back and find a new way.' … It was about energizing the incredibly creative people we have."
As they adjusted their plans, USC leaders watched the COVID-19 infection rate. They waited and hoped.
The numbers began to fall.
That's when Rosen got the phone call from Folt. "I really think we can do this now," he remembers her saying. "What's it going to take? How do we make it happen?"
Holding an in-person commencement meant prioritizing safety
In part, the ceremonies depended on adhering to safety guidelines for social distancing and capacity, which evolved by the day. The university's government relations team reached out to state and local officials to assure them USC could stage the events safely. But USC needed their approval by mid-March.
"It was about constantly emailing, texting and phoning the governor's people to the point that, for a while there, I thought I might be making a pest of myself," said Martha Escutia, vice president of state relations and special counsel. "It was nonstop."
Then state leaders gave the Los Angeles Dodgers permission to allow some spectators at their opening baseball game of the season. That gave Escutia hope. She wondered: If the Dodgers can have an opening day, why can't we have a commencement at the Coliseum?
Hope soon turned to optimism when federal health experts eliminated their quarantine requirement for out-of-state travelers who had been vaccinated. USC leaders submitted their plans to state and local officials, and Escutia waited nervously. Thankfully, officials signed off, giving parents and others just enough time to make arrangements to attend.
Now the pressure shifted to USC's events team.
The challenge of staging a weeklong commencement in the Coliseum
USC usually holds commencement in Alumni Park, in front of Doheny Memorial Library. Event organizers this year grappled with a much different location. They also had to stage 14 ceremonies across seven straight days and ensure that cleaning crews had enough time to sanitize every surface in the Coliseum between events.
"We completely redesigned everything," Rosen said. "We had to figure out things we'd never done before in a space we've never used before."
We had to figure out things we'd never done before in a space we've never used before.

Adam Rosen
They built a new stage structure and dotted the Coliseum field with 1,335 strategically spaced chairs. They collaborated with fire, police and parks officials, along with USC safety experts, to ensure visitors' safety.
Organizers also thought about those watching commencement from afar. To ensure a memorable experience for people watching on a live stream, event organizers rigged speakers, microphones and cameras, including a 360-degree camera that remote viewers could control.
"Our goal no matter what is always to make it special and meaningful as we celebrate the achievements of all these students," Rosen said. "I feel like we did that, and we did it pretty well."
A Class of 2020 graduate shares her memories of commencement
To Pennie Douglas, the ceremony was worth the wait.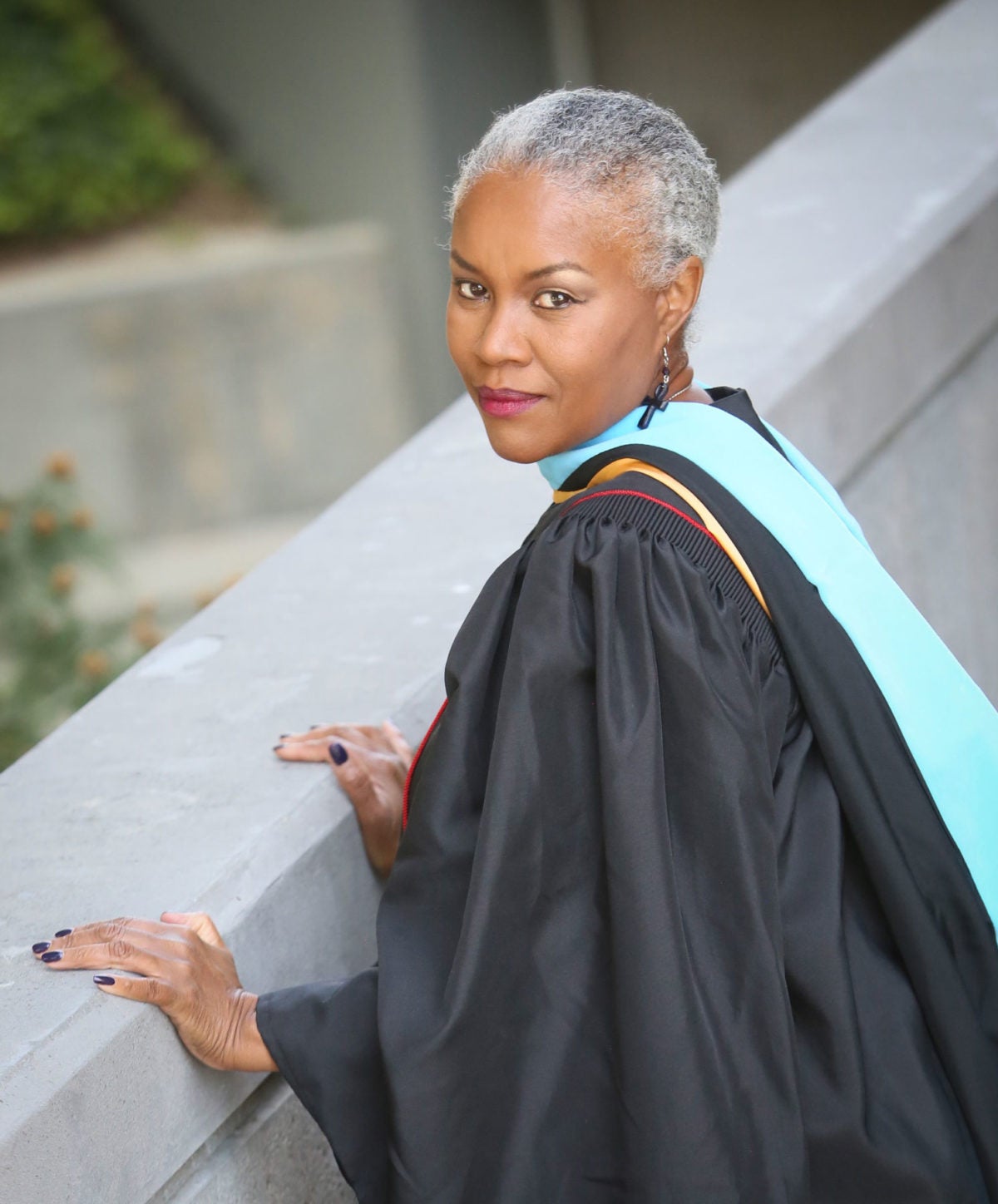 She finished her master's in postsecondary administration and student affairs at the USC Rossier School of Education last year. But because of a commitment to a nonprofit she oversees, she missed watching last year's conferral of degrees online.
"Not having a celebration after all that work was kind of disheartening," she said.
When she got an email announcing that this year's commencement would be held in person — and would celebrate the Class of 2020 as well as the Class of 2021 — she got the closure she had missed last year.
"I felt like, finally!" she said. "I want to go for my doctorate, and it felt like I didn't really end my master's program. It was like being in limbo."
Douglas arrived at the Coliseum early on Sunday, May 16, and nabbed a seat in the third row of chairs on the field. She felt grateful to be so close to the stage. It gave her a good vantage point to watch the speakers, and she could make eye contact with Folt.
Then as she rose to cross the stage, Douglas spotted five classmates from her USC Rossier program, and they let out a whoop of support.
"In that moment, we were all together," she said. "I was teary-eyed. That was a special moment."
A personal touch makes all the difference for USC graduates and their families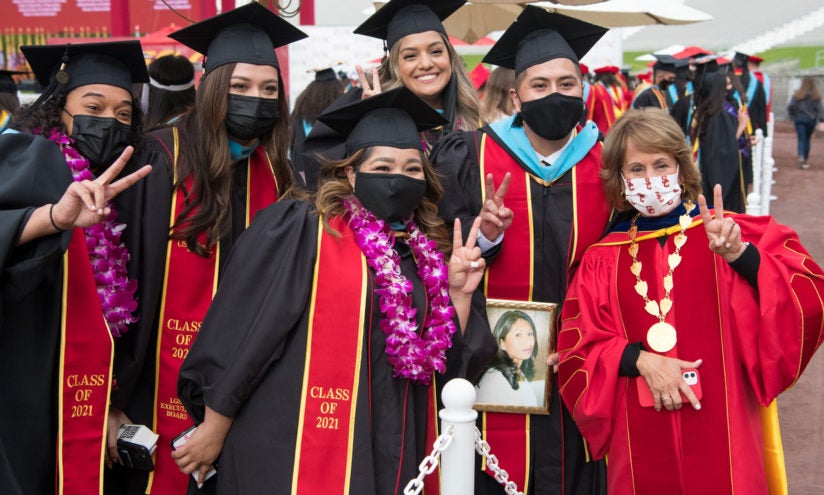 Before the first ceremony started on May 14, Folt stepped onto the Coliseum field to speak with students and share her congratulations. Then she climbed into the stands to meet with parents, who showed her photos of their graduates.
She met several students with the flag of India pinned to their stoles. They told her their grandparents were watching with pride from half a world away. And she spoke with several USC football players, who said receiving their degrees in the Coliseum felt like winning a home game.
"All the beautiful human things that take place on a small scale were taking place on that large scale with a sense of real pride and accomplishment, with the lighting of the torch," Folt said. "Seeing that come true was so exciting."
The Sheths had similarly meaningful moments as they celebrated their youngest Trojan graduate's achievements.
Rajiv Sheth had finished his degree — in health promotion and disease prevention studies at the Keck School of Medicine of USC — with honors. He graduated as a Renaissance Scholar thanks to a minor in performance science at the USC Marshall School of Business, where his father earned an MBA in international business education and research in 1996.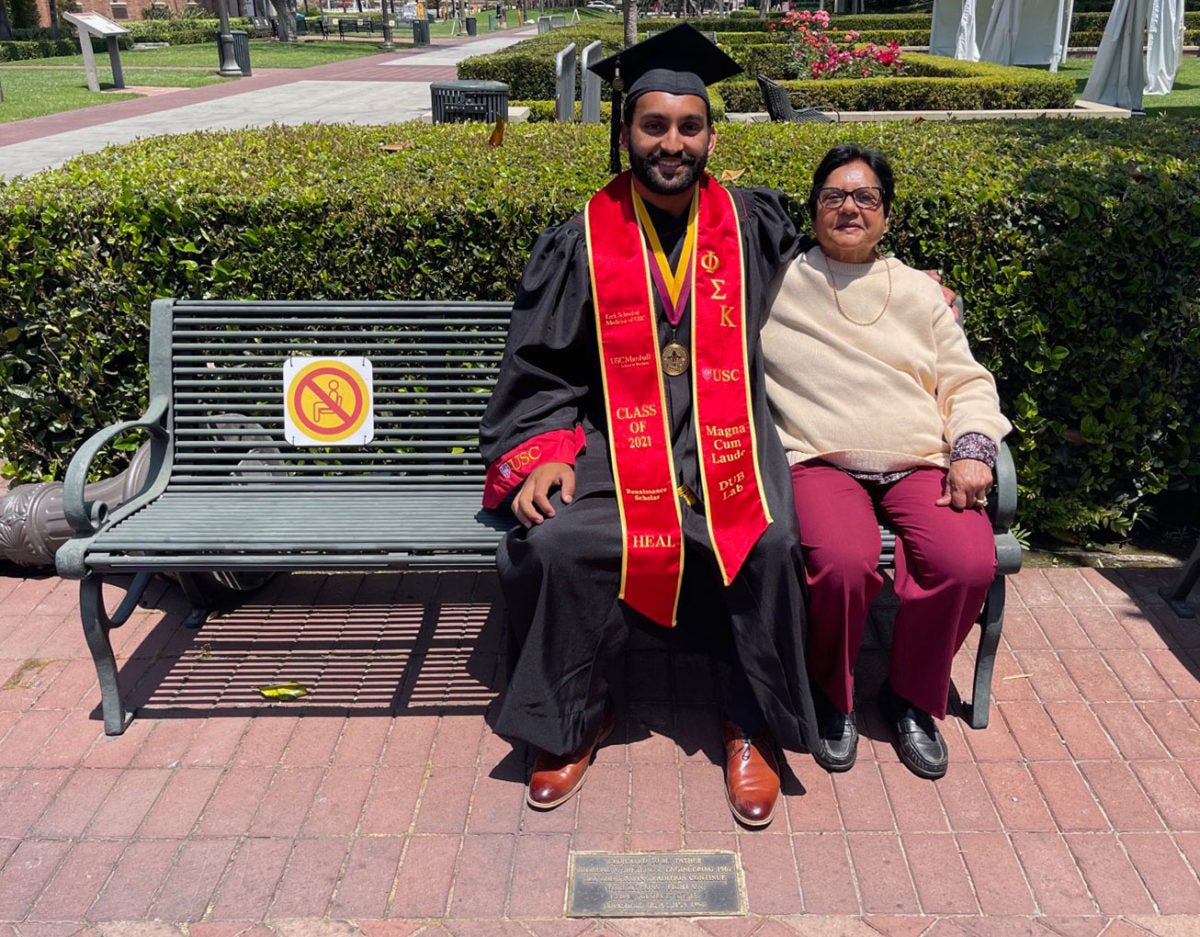 But most importantly, he had honored the legacy of his grandfather, who had immigrated by steamer ship from India to attend USC. Harshad Sheth completed his mechanical engineering degree in 1961 and enjoyed a successful career in the steel industry. He passed away in 2013.
In a message to their son, George and Vandana Sheth expressed their pride in his accomplishments and encouraged him to look to the future: "Commencement is both an ending of a chapter and the beginning of the rest of your life. May you continue to knock it out of the park. Grandpa, our first Sheth family Trojan, is smiling down on you."
After the ceremony at the Coliseum ended, the Sheths went to the University Park Campus to take photos together. They gathered at a bench with a plaque dedicated to their family in recognition of a donation to USC Marshall. The engraving includes Harshad's and George's names and degrees, along with a short message expressing hope that future Sheth generations will continue the Trojan tradition.
Never forget USC, because it will always give you more than you give.

George Sheth
They reflected on a place that has played such a big role in shaping their lives.
"We get so much out of the Trojan Family and USC, and it's so important for us as a family and for all who graduate to always remember to give back in different ways, whether it's through mentoring or helping someone out with their first job or making a donation," George Sheth said. "I would encourage all the new graduates to consider that as they get busy with their new lives: Never forget USC, because it will always give you more than you give."