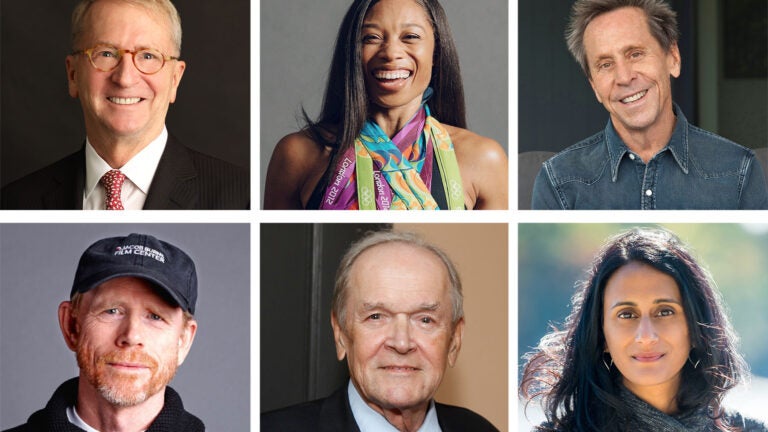 6 distinguished figures to receive honorary degrees at USC's 2022 commencement
COMMENCEMENT 2022: The well-known names include leaders from the worlds of philanthropy, entertainment, sports and journalism.
Leaders from the worlds of philanthropy, entertainment, sports and journalism will be honored at the ceremony on May 13, the first in-person commencement event on the University Park Campus since 2019.
The names of USC's six 2022 honorary degree recipients are well-known within the Trojan family and beyond. In an age-old commencement tradition, honorary degrees chosen by a committee of students and faculty are conferred on remarkable individuals who have made exceptional contributions to the university, industry, education, philanthropy, athletics and other fields.
Among 2022 recipients are alumnus and trustee David Bohnett, whose generosity supports research and various philanthropic endeavors. The university's 2022 commencement speaker, alumna Allyson Felix, will be acknowledged for her accomplishments as an Olympian and her work to advance college access for students of color.
Three honorary degrees will go to entertainment industry legends. Brian Grazer, Ron Howard and Frank Price are being recognized for innovation and efforts to expand industry inclusion.
Journalist and author Bina Venkataraman, the university's 2021 commencement speaker, rounds out the impressive list of those being honored.
---
David Bohnett
USC Trustee David Bohnett is a philanthropist and technology entrepreneur committed to community building and social activism. He serves as trustee of Brookings and the Los Angeles County Museum of Art and is vice chairman of the board of the Los Angeles Philharmonic Association.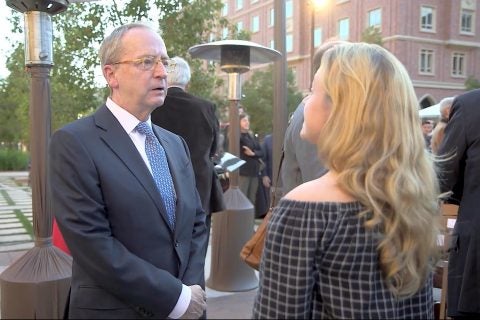 Bohnett is a generous supporter of research and public policy initiatives aimed at reducing firearm violence, public service leadership training initiatives, LGBT-related causes, social equity transportation objectives, and animal language research and rights. The David Bohnett Foundation has supported social service, arts, educational and civic entities in Los Angeles including USC, the Los Angeles Philharmonic and LACMA since 1999.
As managing partner of Baroda Ventures, Bohnett oversees a technology fund focused on seed and early-stage investments in the internet and other technology-focused ventures.
His awards and distinctions include Los Angeles Business Journal's Technology Leader of the Year, Time Digital's Top 50 Cyber Elite and Entrepreneur of the Year for Southern California.
In 2016, Bohnett pledged $15 million to endow and name the David C. Bohnett Residential College at USC Village.
Bohnett graduated from the USC Marshall School of Business in 1978 and earned his MBA at the University of Michigan. He has also received an honorary doctorate degree from Whittier College.
---
Allyson Felix
Winner of seven Olympic gold medals and the most decorated U.S. track and field athlete in history, Allyson Felix has used her platform in support of women's health and equality.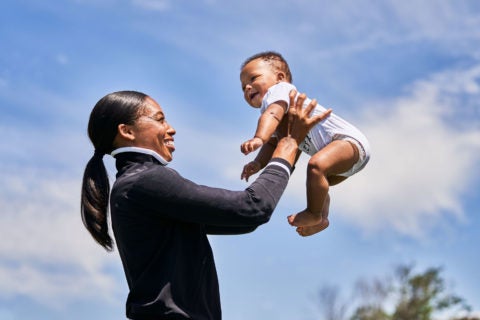 The daughter of an ordained minister and an elementary school teacher, Felix first connected with track and field at Los Angeles Baptist High School.
Felix turned pro in 2003, the same year she enrolled at USC. She became an international track star, winning her first Olympic medal in 2004 in Athens — a silver in the 200-meter dash — as a sophomore. Shortly after earning her bachelor's degree from the USC Rossier School of Education in 2008, she won her first Olympic gold, in Beijing.
In the Tokyo Games last year, Felix ran her last race as an Olympic athlete at the age of 35. The wins brought her career total to 11 Olympic medals — seven gold, three silver, one bronze — making her the most decorated U.S. track and field athlete ever, surpassing famed sprinter Carl Lewis.
Felix joined the board of College Track when the program, which helps students of color get to and through college, opened a new center in the Crenshaw District last year.
---
Brian Grazer
Brian Grazer is an Oscar, Golden Globe, Emmy and Grammy award-winning producer. His work has been nominated for 47 Oscars and 202 Emmys. He won the Best Picture Oscar for A Beautiful Mind and is the No. 1 New York Times bestselling author of A Curious Mind: The Secret to a Bigger Life and Face to Face: The Art of Human Connection.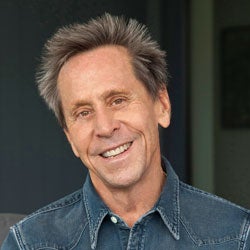 Grazer has been honored by numerous organizations and Time magazine named him one of the "100 most influential people in the world."
Grazer produced the films tick, tick…BOOM!, Apollo 13, American Gangster, 8 Mile and Liar Liar, and the television series Wu-Tang: An American Saga, Empire, 24, Arrested Development and Friday Night Lights, among others.
Current film and television productions include Thirteen Lives, directed by Ron Howard; The Beanie Bubble, starring Zach Galifianakis; the documentary We Feed People, profiling renowned chef José Andrés; the series Under the Banner of Heaven; and the docuseries The Dynasty, chronicling the New England Patriots.
Grazer co-founded Impact, a content accelerator whose mission is to discover and cultivate creative global storytellers and that has built a community of over 65,000 writers across 140-plus countries.
Grazer and longtime friend and business partner Ron Howard founded Imagine Entertainment in the 1980s, embarking on one of the longest-running partnerships in Hollywood. They continue to run Imagine together as executive chairmen.
---
Ron Howard
Academy Award-winning filmmaker Ron Howard is one of this generation's most popular directors. From the critically acclaimed Oscar-winning dramas A Beautiful Mind and Apollo 13 to the hit comedies Parenthood and Splash, he has created many of Hollywood's most memorable films.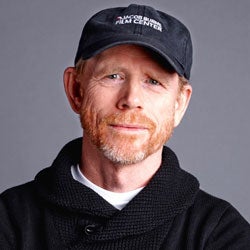 Past films include Hillbilly Elegy, Rebuilding Paradise, the Grammy-winning Best Music Film The Beatles: Eight Days a Week, Solo: A Star Wars Story, Rush, The Da Vinci Code, Frost/Nixon, How the Grinch Stole Christmasand Backdraft.
Howard has also produced a number of award-winning productions including the Lin-Manuel Miranda feature tick, tick…BOOM!, as well as the Emmy-winning series Arrested Development, the award-winning anthology series Genius, and the upcoming series Under the Banner of Heaven, from Dustin Lance Black.
Current productions include Thirteen Lives about the rescue of 12 boys and their soccer coach from a flooded cave in Thailand and the documentary We Feed People profiling the humanitarian work of renowned chef José Andrés.
Howard made his directorial debut in 1977 with the comedy Grand Theft Auto and began his career as a child actor, featured in The Music Man, and later, on the long-running and popular television series The Andy Griffith Show and Happy Days.
Howard and his longtime friend and business partner Brian Grazer founded Imagine Entertainment in the 1980s, which they continue to run together as chairmen.
---
Frank Price
As one of the most influential producers and studio executives in the entertainment industry, Frank Price is widely recognized for innovations including the made-for-TV movie and the miniseries. His television credits include landmark television productions including The Virginian, Columbo and Rich Man, Poor Man.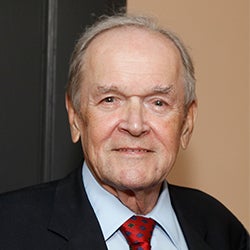 His films, including Kramer vs. Kramer, Gandhi, Ghostbusters and Back to the Future, have collectively earned 20 Academy Awards.
Price served as chairman of Columbia Pictures and MCA/Universal Motion Picture Group. He was also president of Universal Television.
In 2006, Price was confirmed by the U.S. Senate for a six-year term as a member of the National Council on the Arts.
A champion of diversity and inclusion, Price's films like The Tuskegee Airmen and Boyz n the Hood helped refocus the American cultural lens. His support of emerging filmmakers fostered the creation of works with an authentic presentation of diverse communities and experiences.
As the founding chair of the USC School of Cinematic Arts' Board of Councilors, Price mentored filmmakers who went on to become leaders in the industry. He has served on the USC Board of Trustees for more than 25 years.
---
Bina Venkataraman
Science journalist and policy expert Bina Venkataraman served as USC's 2021 commencement speaker, inspiring graduates with a message of optimism grounded in contemporary realities.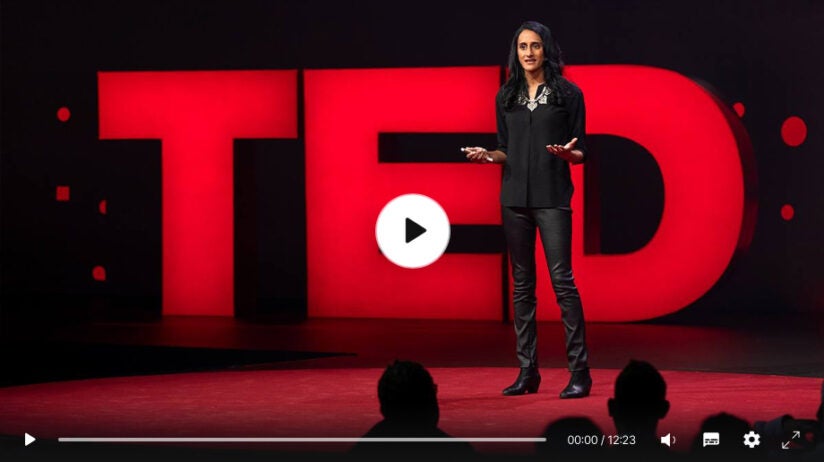 As a journalist, Venkataraman has written for The New York Times and The Boston Globe. At the Globe, she served as the editorial page editor from 2019 to 2022 and now is editor-at-large. Her highly influential 2019 bestseller, The Optimist's Telescope: Thinking Ahead in a Reckless Age, was named a best book of the year by NPR.
Venkataraman served as senior adviser for climate change innovation in the Obama White House, where she forged partnerships across communities, companies and government to prepare for climate disasters.
Venkataraman also served as director of global policy initiatives at the Broad Institute. Since 2011, she has taught in the program on science, technology and society at the Massachusetts Institute of Technology. Her 2019 TED main-stage talk, "The Power to Think Ahead in a Reckless Age," has been watched more than 2.5 million times.
Venkataraman's endeavors have also included translating Spanish and English in emergency rooms, teaching writing to Harlem high school students, lobster fishing in Baja California Sur, working the graveyard shift at a hotel in the Arctic wilderness and cataloging films for a cinema critic in Havana. She was born in a small town in Ohio.