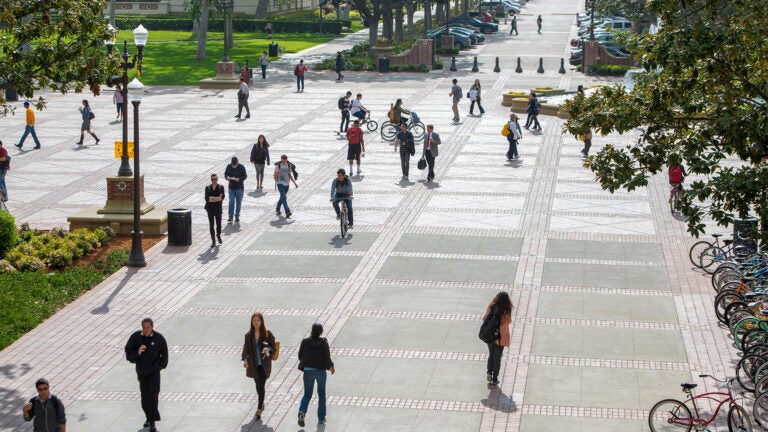 Early Action admission offers a timely alternative for would-be Trojans
It may be a good choice for those who are set on USC and like to get a jump on things. For others, the standard process remains the way to go.
As high school seniors and other prospective college students prepare for the rigorous college
application process, the doors at USC are opening sooner than usual. The Early Action option, also
known as E.A., gives applicants the chance to get the work done a month before the traditional deadline.
Those early applicants must complete USC's application process by Nov. 1, and they will receive a decision of acceptance or deferral into the Regular Decision (R.D.) pool by the end of January. They'll also be considered for USC's merit scholarships.
USC's early option is less restrictive than the Early Decision (E.D.) plans offered by some peer universities. USC's Early Action is non-binding, meaning applicants who are accepted are not obligated to attend. Applicants are also free to apply to other schools and can wait until the traditional May 1 decision day to choose.
USC Dean of Admission Timothy Brunold offers an insider's view on USC's new Early Action option.
How long did USC Admission explore Early Action?
Early admission programs are nothing new and have been a well-established feature of the college admission landscape for decades. Over the years, we have noted their increased popularity and have periodically considered whether USC should offer such an option.
What prompted the decision to implement it?
We are always seeking ways to adjust our processes to ensure that they meet the needs of our constituents. As USC has become more popular and increasingly selective, growing numbers of prospective students, their families, high school counselors and other stakeholders have expressed a desire for USC to offer an early admission option. We know that we are many applicants' top choice and, among other things, we wanted to provide a concrete way for those students to signal this to us.
What is the difference between Early Action and Early Decision?
A fundamental difference is that E.A. does not require students to enroll at the institution that accepts them, whereas E.D. does.
There are also procedural differences between E.A. and E.D.
E.D programs typically have the earliest decision notification dates. Since E.D. admission also requires enrollment, students choosing this option significantly restrict their college options, and must comply with accelerated deadlines.
Some other colleges' E.A. programs are "restrictive" or "single-choice," meaning those institutions only allow students to participate in one early admission program — theirs. USC's E.A. program has no such restrictions; our applicants are free to apply to whichever other colleges or universities they'd like.
What's in it for the applicants — how can Early Action benefit them?
Since E.A. offers are non-binding, students will have more time to contemplate and compare their college options before making a final enrollment decision. Finally, at USC, all E.A. applicants will be automatically considered for our extensive range of merit scholarships.
Are there any drawbacks?
Because of the earlier deadline, early applicants will need to complete their applications sooner. This might be especially challenging when considering the pace of a student's senior year, the availability of recommenders, the time needed to craft personal statements and research academic programs, etc.
Also, because our admission committees will be wrapping up their E.A. reviews in December, the early applicants won't benefit from strong first-semester senior year grades since those grades generally won't be available until we've already decided. They will also need to complete their SAT or ACT sooner so they can submit the scores by the early deadline.
Does applying earlier affect someone's odds of acceptance to USC?
Applying early will not significantly improve one's chances of admission. While it is true that there might be slight differences in admission rates, we believe that both E.A. and Regular Decision (R.D.) rounds will produce very similar outcomes.
---
RELATED: See USC Admission data and statistics for fall 2021 and spring 2022.
---
Can transfer students apply through the Early Action program?
No. Early Action is offered only to first-year applicants. The only decision plan available to transfer students is R.D., with a deadline of Feb. 15. (Dec. 1 for some visual and performing arts majors). All transfer applicants will be considered for merit scholarships.
Will Early Action applicants receive a decision early?
Yes. In mid-to-late January, all early applicants will either be informed of their admission to USC, or of their deferral into our regular decision pool, which receives news of a decision by April 1.
Do students have to apply early to be eligible for merit scholarships?
Yes. About 20% of USC's first-year admits will be awarded merit scholarships. Recipients will be selected through a holistic process that may include an interview. Our merit scholarship program is independent of the university's need-based financial aid offerings, which has its own process and deadlines. It is possible for students to receive both merit-based and need-based financial assistance from the university. However, to be in the running for a USC merit scholarship, first-year applicants must apply early by Nov. 1, except for our visual and performing arts majors, who must apply by Dec. 1.
(The schools that remain on the Regular Decision deadline of Dec. 1 include the USC schools of Architecture, Cinematic Arts and Dramatic Arts, as well as the USC Jimmy Iovine and Andre Young Academy, Kaufman School of Dance, Roski School of Art and Design, and Thornton School of Music.)
Will early applicants who are accepted receive information about their financial aid packages sooner than other applicants?
Admitted students with complete financial aid applications will be informed of their USC financial aid eligibility during the first week of April, giving them several weeks to consider their choices and make an enrollment decision by the May 1 commitment deadline.
We hope some early admits will be informed of their financial aid eligibility sooner. However, news of their aid packages will depend on how quickly students complete their financial aid applications and respond to our requests for additional information.
Will applicants who submit their application for the regular deadline be at a disadvantage?
All applicants, whether they apply early or by the regular deadline, are held to the same standards and will be considered equally. It is worth noting that most USC admission offers will be made in the R.D. round, so we do not imagine that there will be a significant difference in the admission rates. Furthermore, none of our visual and performing arts programs are participating in our early application option this year. This means applicants to the USC visual and performing arts schools will apply for the regular decision by Dec. 1.