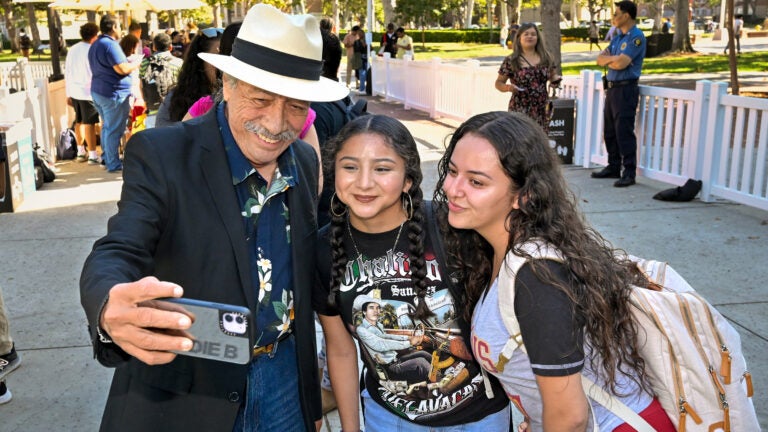 Edward James Olmos inspires crowd at USC's Latinx/e Heritage Month closing event
"Don't walk on this earth without giving hope to another person," the actor says.
If there were any students who didn't already know who Academy Award-nominated actor Edward James Olmos is, they certainly did after his powerful, emotional and sometimes funny address during Wednesday's closing event for USC's Latinx/e Heritage Month, Noche de Cultura ("night of culture").
"I haven't seen this many Latinos in a long time," Olmos joked as he took the stage at the afternoon event, which drew approximately 1,500 people to Founders Park over a three-hour period. "I'll tell you this right now: I am so proud to celebrate culture at this university."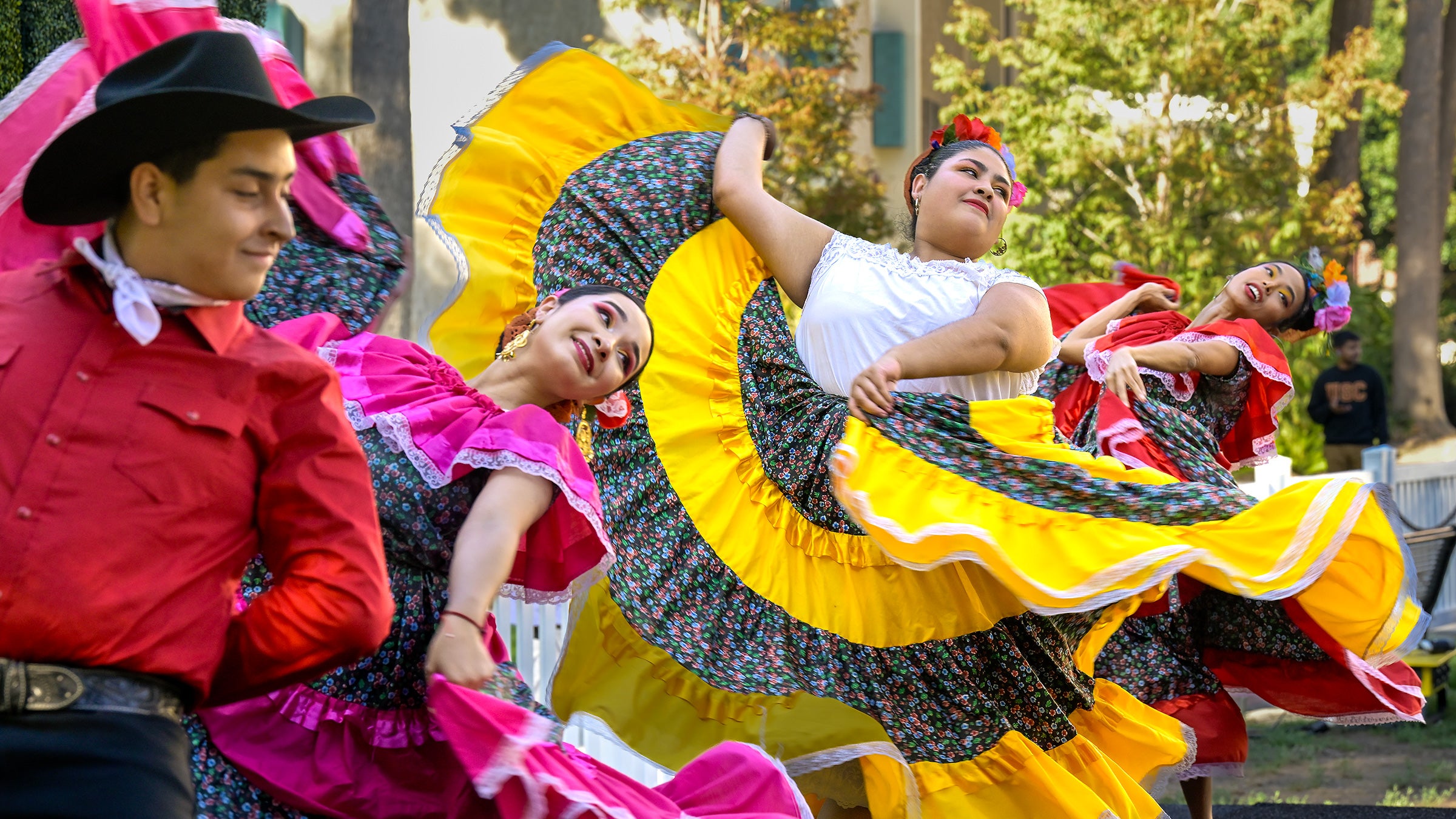 Best known for his performance in the 1988 film Stand and Deliver, Olmos, 76, shared with the large audience of students, faculty and staff that he has been battling throat cancer for 10 months "and [he's] winning!" He said he did not hesitate to accept the invitation to be the featured speaker at the event with the theme of "Unidad, Prosperidad y Cultura (Unity, Prosperity and Culture)."
When USC President Carol L. Folt introduced Olmos to the crowd, she praised the actor and activist for pushing for more diverse voices in the entertainment industry in front of and behind the camera, including founding Latino Public Broadcasting to bring authentic stories and diverse perspectives of multicultural communities to public television.
The actor shared that he had applied at USC but didn't get in, so he completed his education at California State University, Los Angeles. He joked to Folt that he would now be open to receiving an honorary doctorate from USC.
Advice for Trojans at USC Latinx/e Heritage Month closing event
Sounding like a teacher himself, Olmos urged students to "love yourself" and to always lean toward "dignity, integrity and kindness" even when faced with bigotry, prejudice or being stereotyped.
"Every single one of you guys are a breath of hope for the future, man," he said, growing emotional. "I am so happy I'm crying. I'm crying because I'm happy that I can see so many faces."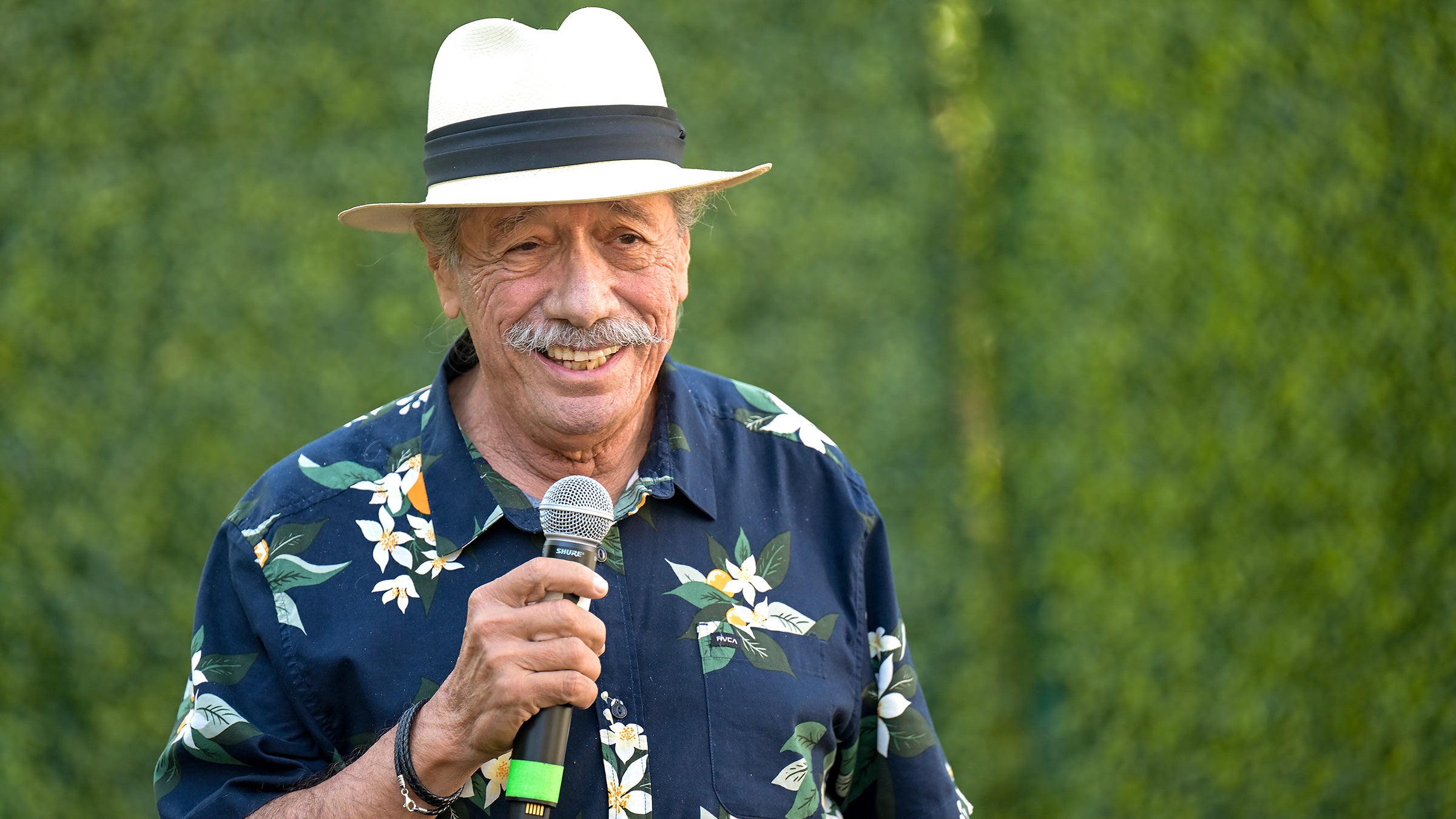 Olmos said the key to his being able to succeed in life is "discipline, determination, perseverance and patience." He urged students to do more than just strive for academic and professional success, but to try to give other people hope along the way.
"Don't walk on this earth without giving hope to another person," he said. "Every day, give hope. Make sure that you give it — and you can."
After Olmos left the stage, a large line of students quickly formed to get selfies with the actor. Wearing a USC cap presented to him by Folt and Vice President for Student Life Monique S. Allard, Olmos smiled broadly in every selfie and even held the camera for most of them.
'A beautiful sight'
When she took the stage, Folt looked out at the crowd and described the event as "a beautiful day, a beautiful sight."
"This is a fantastic chance to get together after an amazing month of events and activities, and most importantly, building beautiful, beautiful community," she said.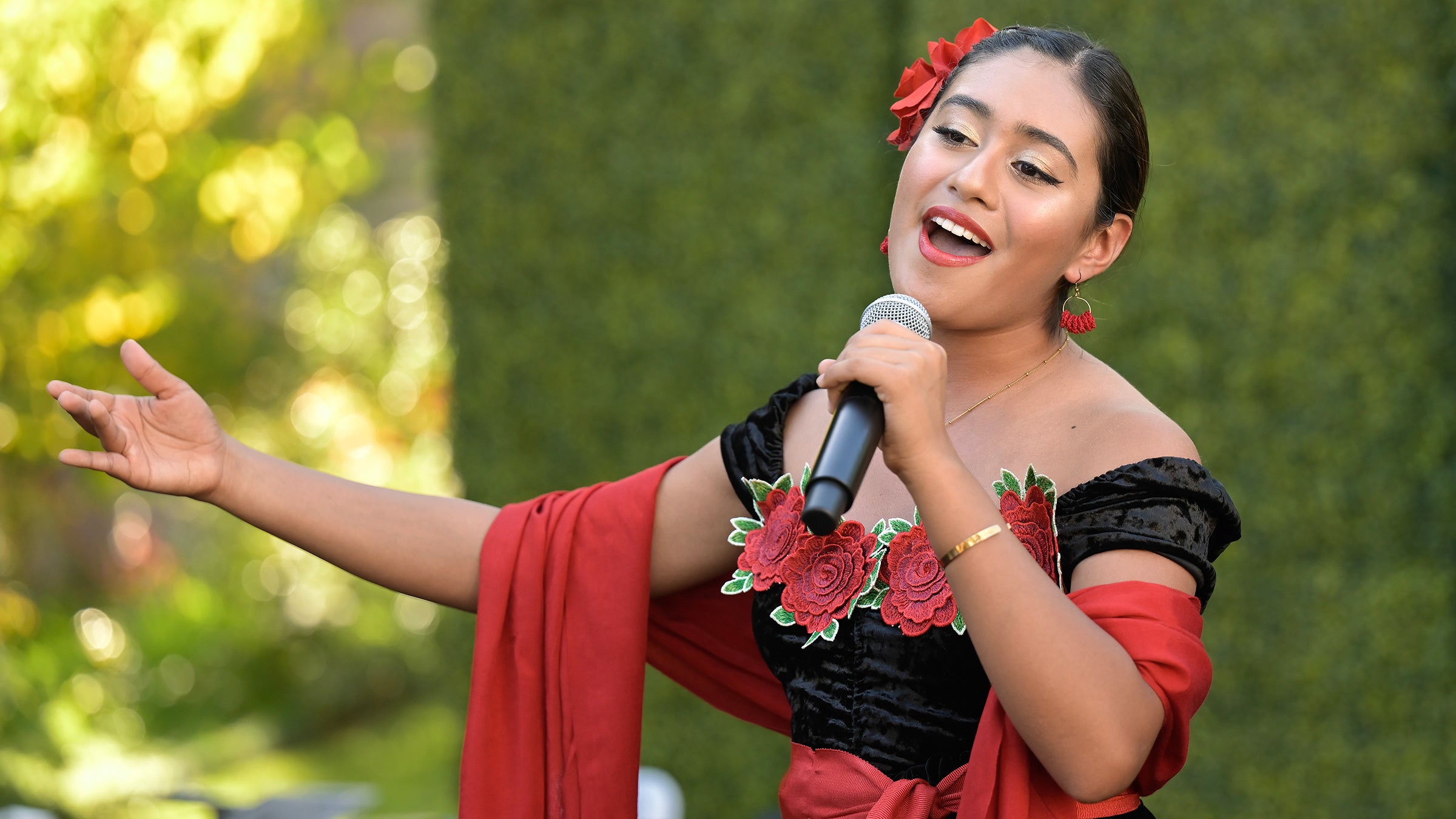 Folt pointed out that it is the 50th anniversary of the USC Latino Alumni Association, which now has an endowment fund of $12 million and gives out 300 scholarships to students every year. Folt also shared that the meeting space has just been doubled for student group La CASA, which provides empowerment through cultural identity, leadership and social consciousness development, as well as community building for undergraduate and graduate students at USC.
Sharing their stories at USC Latinx/e Heritage Month closing event
Speaker Melissa Gonzalez, a student at the Keck School of Medicine of USC, shared how her journey has been shaped by her background as the only daughter of two Mexican immigrants and from witnessing the disparities in health care that her community faces.
"We are a testament to the power of determination, of pushing through obstacles and drawing motivation from our family stories of resilience," said Gonzalez, whose parents were in the audience. "There was a time when impostor syndrome had me believing I would not become a doctor. Thankfully, I had my parents and Latino community supporting me every step of the way."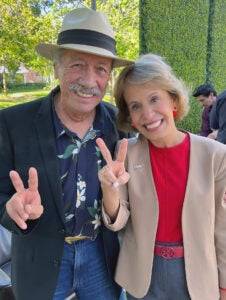 Sergio Brown, USC baseball director of player development, said the sport has always been his way of "celebrating our heritage, sharing our culture and contributing to our community."
Brown reminded Trojans to keep others in mind as they achieve success in school and in their professions.
"The only way we move forward is by bringing others with us," Brown said. "We get more out of our own success when we bring others with us, and we lead them to prosperity."
Other speakers included students Michelle Zapata Riveros of the USC Dornsife College of Letters, Arts and Sciences and Ernesto Corona of the USC Price School of Public Policy, as well as faculty members Tatiana Melguizo of the USC Rossier School of Education and Lourdes Baezconde-Garbanati of the Keck School of Medicine.
Celebrating with music and food
The program kicked off with a dance number from Grupo Folklórico de USC, which was created in the early 1970s to help facilitate the learning of cultural dance traditions and to continue to represent Mexican cultural pride at USC. Other live performers were Rachel Cervantes, a student at USC Dornsife, who belted out the songs "Canción Mexicana" and "El Toro Relajo," and Mariachi Los Troyanos de USC, which presented a trio of songs.
The late afternoon celebration also included free taco plates and aguas frescas from MX 30-30 and lomo saltado (beef with potatoes) and chicken from Peruvian restaurant El Pollo Inka.
USC Dornsife sophomore Lina Urquiza, a transfer student who has only been on campus for two months, was delighted to be at the closing event.
"This is just so much fun," she said. "I'm walking around, speaking Spanish with people and the food is actually really good. It's just a nice environment."
USC Dornsife junior Edwin Dominguez was at the event working a table with fellow members of the fraternity Sigma Lambda Beta, which he said focuses on brotherhood, scholarship and community service.
"I think it's just important for USC to have these inclusive environments for people to feel welcome — especially here at a predominantly white institution," Dominguez said. "I think it's really important that we're allowed to express who we are and express a piece of our culture and identity and just share it with the rest of community here."