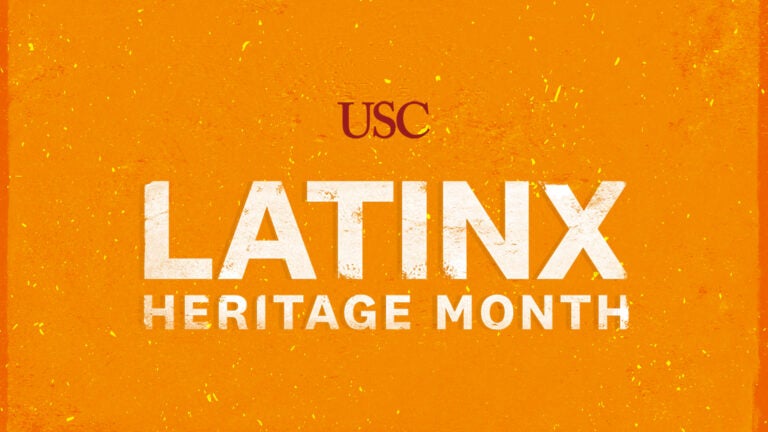 USC Latinx Heritage Month to celebrate inclusivity starting Thursday
"This is a great opportunity to come together as family," says La CASA supervisor Leticia Delgado.
A monthlong celebration of Latinx Heritage Month begins Thursday with USC President Carol L. Folt, students, faculty and staff sharing their thoughts around this year's theme of Unidos — Inclusivity for a Stronger Community during a virtual kickoff event.
The kickoff has a unique hybrid element this year in the form of an in-person viewing party hosted by Latinx Chicanx Center for Advocacy and Student Affairs (La CASA), USC's first cultural center, which is celebrating its 50th anniversary this year.
"This is a great opportunity to come together as family and also an opportunity to educate others on who we are," La CASA Supervisor Leticia Delgado said. "We welcome anyone who wants to join and watch together."
Latinx Heritage Month celebrates the histories, cultures and contributions of American citizens whose ancestors came from Spain, Mexico, the Caribbean, and Central and South America. It began as Hispanic Heritage Week in 1968 with a proclamation signed by President Lyndon B. Johnson; in 1988, President Ronald Reagan expanded the celebration to a month, through Oct. 15.
Sept. 15 is the anniversary of independence for Costa Rica, El Salvador, Guatemala, Honduras and Nicaragua. In addition, Mexico and Chile celebrate their independence days on Sept. 16 and Sept. 18, respectively.
Juan De Lara, director of the Latinx and Latin American Studies Center at the USC Dornsife College of Letters, Arts and Sciences, said the month is an ideal opportunity to place Latinx communities on a national stage.
It's really up to us to decide how we decide to use this platform.

Juan De Lara, USC Dornsife's
Latinx and Latin American Studies Center
"But it's really up to us to decide how we decide to use this platform," said De Lara, an associate professor of American Studies & Ethnicity at USC Dornsife."Institutions, including universities, can use it as an opportunity to discuss what we can do as individuals and as an organization and as a society to make sure that Latinos and Latinas have what they need in order to flourish and to thrive in however way they decide to do that."
Latinx Heritage Month: Nearly half of L.A. County residents are Latinx individuals
De Lara explained that Latinx individuals make up about 48% of the population in Los Angeles County. That's 4.9 million people, about 3.7 million of whom are of Mexican descent and about 800,000 of Central American descent.
"That's a significant population to consider when we think about things like diversity, equity and inclusion and when we think about racial justice," he said. "Latinx Heritage Month is about issues related to social change and transformation and social equity. We want to recognize how far we've come and also make decisions about how to reconcile some of the issues and inequities that continue to exist."
Watch Latinx Heritage Month event online or in person
The Latinx Heritage Month kickoff will begin at 12:15 p.m. Thursday. Those attending virtually can view the event on Zoom.
The in-person viewing party will take place from noon-3 p.m. on campus at Tommy's Place, USC's concert venue in the basement of the Ronald Tutor Campus Center. Appetizers from different Latin American countries will be served.
In addition to Folt and several USC students, kickoff event speakers will include: Darline Robles, USC Rossier School of Education associate dean for Diversity & Community Engagement; USC head baseball coach Andy Stankiewicz; associate athletic airector (Diversity, Equity & Inclusion) Julie Rousseau; and USC alumna Xiomara Mateo-Gaxiola.
There will also be a musical performance by Afro-Latin American Jazz Enemblefrom USC's Thornton School of Music.