Amid COVID-19, USC's mindfulness classes bring peace via Zoom
Now more than ever, people need a way to de-stress and lessen their anxiety. For many at USC and beyond, the answer has been practicing mindfulness.
When COVID-19 abruptly forced college classes online, some USC professors may have been unsure what students thought of their lessons in a newly virtual world. Not Professor Allen Weiss, the architect of meditation classes offered through the growing initiative called Mindful USC.
"People love it. They absolutely love our classes," he said. "It doesn't bother them at all. I know many people are Zoom'd out, but the Zoom experience that people have in our classes is completely different from anything else that they're doing."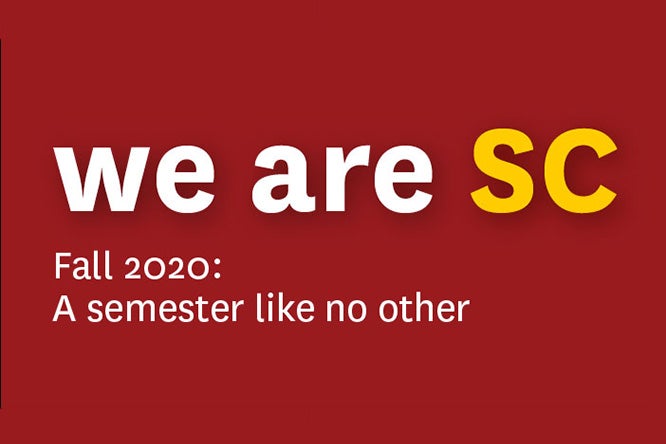 Weiss, a professor of marketing at the USC Marshall School of Business, founded the free-of-charge Mindful USC program in 2014 and has received enthusiastic responses from satisfied pupils ever since. Though the not-for-credit classes — a service of the USC Office of the Provost — quickly grew popular, even he couldn't have predicted the interest, commitment and relief he saw from the hundreds of USC students, faculty and staff who embraced mindfulness this past spring as the pandemic upended how we live.
"You should see the emails we're getting: 'You've changed my life,'" he said. "They don't say, 'This is really good.' They say their lives have changed."
As COVID-19 increases stress, the USC community pursues mindfulness
It's no surprise that many in the USC community are looking to steady their minds as the world struggles with the ongoing pandemic. Many are taking — or teaching — online classes for the first time, and plenty of people have an elderly family member or child at home to worry about. But according to Weiss, COVID-19 is also exacerbating serious stressors that we've needed to address for quite a while now.
An American Psychological Association report found that Gen Z adults — who make up the majority of today's college students — have the highest stress levels of any generation. At the same time, about 4 in 10 U.S. employees say their job has caused them anxiety. "Now, you throw COVID-19 in and you just know that people are even more stressed out," Weiss said. "We may even be on the brink of a mental health crisis."
But practicing mindfulness practice gives people tools to counter stress and boosts mental and emotional health, he said. "So what's happening is, people who are struggling to deal with all this uncertainty hear about mindfulness and say, 'This is something we really need to try.'"
The classes' teachers — many of whom were trained at local mindfulness center InsightLA — usually teach in rooms at USC. When the stay-at-home order started in March, Weiss helped the instructors transition to teaching online.
Katherine Butler, a 2020 master's grad in strategic public relations from the USC Annenberg School for Communication and Journalism, took both an in-person and online mindfulness course while at USC. She said the online offering provided a huge benefit during a period of serious uncertainty.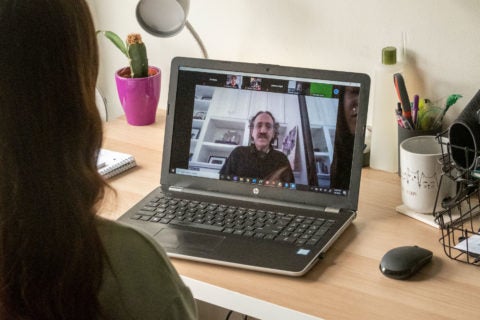 "The spring class was so valuable to me because it created a space on my schedule where I could purposefully slow down my mind when I was particularly worried and stressed," she said, adding that the ease of accessing the class made it easy to carve out the necessary time.
Class participants benefit from more than just being instructed in mindfulness. They also have an opportunity to discuss their well-being in the digital space.
"Everyone spends an hour with each other, with very like-minded individuals," Weiss said, "talking about their emotional and mental state with a supportive teacher looking on."
Though younger generations may be more familiar with mindfulness than their older peers, they're not the only ones seeking self-care during COVID-19. Over the summer, Weiss taught a mindfulness class online for alumni of the USC Dornsife College of Letters, Arts and Sciences. He expected about 60 applicants. Instead, more than 250 alums signed up, enough that organizers had to add another class section.
"You used to have to explain what mindfulness was, how it could help, why it matters," he said. "Not anymore. We didn't explain anything; people just said, 'I need this.'"
When the summer classes ended, Weiss noted that many of the alumni were "visibly and vocally sad" that their foray into mindfulness was over: "That shows you the power of what we're doing."
What's up next for mindfulness at USC
With USC students returning for fall semester, Mindful USC is returning as well. As usual, the program will offer what's known as the Mindfulness Lab — an introduction to mindfulness for the uninitiated — on Mondays, Tuesdays and Wednesdays. More specific workshops will focus on writing, creativity, self-compassion and parenting, and weekly group sessions offer an opportunity for students, faculty, staff and alumni to drop in for a brief 30 minutes of practice.
The USC Pacific Asia Museum also has started a mindfulness events series, dubbed Mindfulness@PAM, which includes sessions on creative writing and other mindful practices. In addition, the Rev. Jim Burklo of the Office of Religious and Spiritual Life will be hosting weekly sessions on meditative and contemplative practices of Christianity.
This is a way to provide help to people all the time.

Allen Weiss
Weiss believes mindfulness's popularity will only continue to grow now that offerings are widely available on Zoom.
"Even when this pandemic is over, we're still going to have online classes," he said. "Before, a lot of staff members at USC couldn't get to the classes we offered at noon or 5 p.m. because they were working or needed to get home. This is a way to provide help to people all the time. And students have been able to sign up from all over the world."
The pandemic has taken lives and sickened thousands, and the economy has suffered, so COVID-19's effects remain profound. But the movement to take education online has offered some benefits, as well. When it comes to mindfulness education, he said, "in a way, this has been a blessing in disguise."