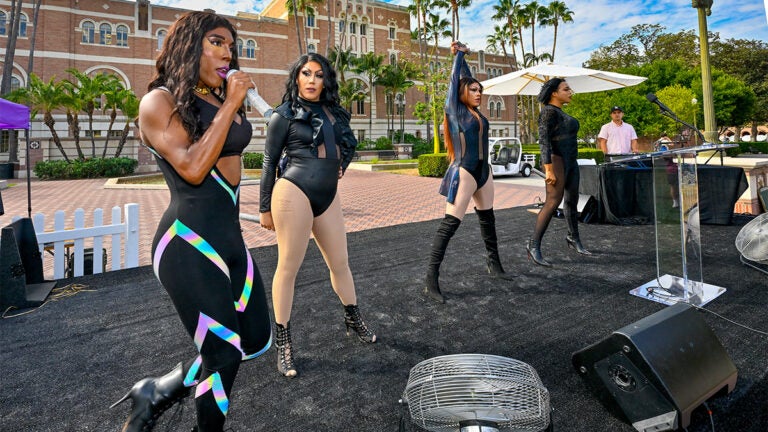 USC students to kick off LGBTQ+ History Month events with 'unapologetically queer' PrideFest
ONE Archives exhibit, film screenings and more also scheduled during October.
When Trojans arrive at McCarthy Quad on Friday night for PrideFest, Mel Persell, a senior in the USC Dornsife College of Letters, Arts and Sciences, hopes they will immediately feel a sense of belonging.
"This event is going to be unapologetically queer," said Persell, assistant director of QuASA (Queer and Ally Student Assembly) and PrideFest coordinator. "It's a celebration of queerness and of LGBTQ+ History Month. We're going for a festival vibe — a place where people can dance, eat good food and just generally have a fun time."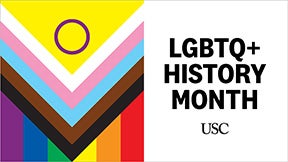 Since there are few students left on campus during LGBTQ+ Pride Month in June, October's LGBTQ+ History Month provides an opportunity for USC to celebrate and observe lesbian, gay, bisexual and transgender history in a variety of ways across campuses.
This year marks the first time PrideFest — a celebration run by students for students — will be an evening event with expanded performances. There will also be student vendors selling or displaying handmade items including jewelry, ceramics and prints.
"We wanted to create an event that showcases diverse queer student talent and expression," Persell said. "Every performer, artist and vendor is a student volunteer."
PrideFest will include welcoming remarks from USC President Carol L. Folt, who will be introduced by emcee Rae Oblivion, one of the stars of last spring's USC Drag Show last spring. Other drag performers in the lineup are USC students Daisy Darling, Willconique, Ella Mayo and Ms. Dacity. Music will also come from the band Moray, the singer Meghan Chen, and DJs Slatterose, Zainab and Mina, and Will Domke.
Timing of LGBTQ+ History Month
LGBTQ+ History Month takes place in October to coincide with National Coming Out Day on Oct. 11 and to commemorate the first and second marches on Washington, D.C., for LGBTQ+ rights in 1979 and 1987.
High school history teacher Rodney Wilson, the first openly gay public school teacher in Missouri, created the observance as Lesbian and Gay History Month in 1994 to encourage honesty and openness about being LGBTQ+ and to inspire a sense of belonging and empowerment for the community.
"This month is a reminder of the progress queer people have made and the distance there is still left to go," Persell said. "A lot of queer history has involved shame, marginalization and violence. We have made incredible progress, especially in the last 60 or so years."
This year's celebration comes amid continued widespread legislative attacks on the rights of the LGBTQ+ community in several states. The American Civil Liberties Union is tracking nearly 500 anti-LGBTQ+ bills in the U.S. including efforts to outlaw gender-affirming care for minors, anti-trans bathroom bills and anti-drag laws.
This is why the students believe PrideFest is more important than ever this year: It reminds LGBTQ+ Trojans that they are part of a long, storied history of a community that has time and again demonstrated strength, resilience and bravery.
"I am so thankful that we are even able to throw an event like this, celebrating how beautiful it is to be openly queer or trans," Persell said. "But there is still a long way to go when it comes to queer and trans issues."
Persell pointed out that the trans community has always existed but is still being persecuted in this country.
"We should be allowed to express ourselves as individuals without fear of violence or retaliation," they said.
ONE Magazine exhibit
PrideFest will be followed by Sunday's opening reception of the ONE Magazine at Seventy exhibit from the ONE Archives at the USC Libraries. The exhibit will be on display at the Advocate & Gochis Galleries at the Los Angeles LGBT Center.
ONE Magazine's inaugural issue was distributed in January 1953. The Los Angeles-based magazine published news, essays, fiction and more through December 1967. During its run, the magazine managed to survive threats from law enforcement and the federal government and build a legacy of uplifting the LGBTQ+ community and advancing its rights and visibility.
"We have fought these kinds of things before, and we came together. We still need that energy now."

— Alexis Bard Johnson, ONE Archives
"We're trying to highlight those moments that still feel relevant," said Alexis Bard Johnson, curator at the ONE Archives at the USC Libraries. "We have fought these kinds of things before, and we came together. We still need that energy now."
Among the materials on display will be the October 1954 ONE Magazine issue that became the focal point of the landmark U.S. Supreme Court case ONE, Inc. v. Olesen. The high court reversed a lower court's ruling that the magazine violated obscenity laws and upheld free speech rights with respect to homosexuality.
"There's a lot people can get out of this exhibit, including awareness of ONE and queer history," Johnson said. "People think it starts with Stonewall [an uprising in 1969], but there was organizing happening before that time. Every time I turn the pages, I notice something different or new and really appreciate the scope of the magazine and how important it was at the time."
More LGBTQ+ events in October
USC Libraries' drop-in "Queering the Map" event will take place from 11 a.m. to 1 p.m. during Coming Out Day on Oct. 11 at the university's Library for International & Public Affairs in the Dr. Joseph Medicine Crow Center for International and Public Affairs building on the University Park Campus.
The ongoing digital mapping project provides a way to collaboratively record the cartography of queer life and is open to all students, faculty, staff and community members who can contribute to the map and share their own LGBTQ+ story.
Other events during LGBTQ+ History Month include a special screening of legendary queer filmmaker Gregg Araki's 1997 film Nowhere on Oct. 11 and a screening of Dante Alencastre's documentary AIDS Diva: The Legend of Connie Norman on Oct. 19. Both films will be screened at the USC School of Cinematic Arts' Ray Stark Family Theatre.
In addition, Keck Medicine of USC is an event sponsor of AIDS Walk Los Angeles on Oct. 15, and Keck Pride will be promoting International Pronouns Day on Oct. 18 with tabling events that seek to spread awareness of the importance of using appropriate gender pronouns and creating a welcoming space for people of all genders.