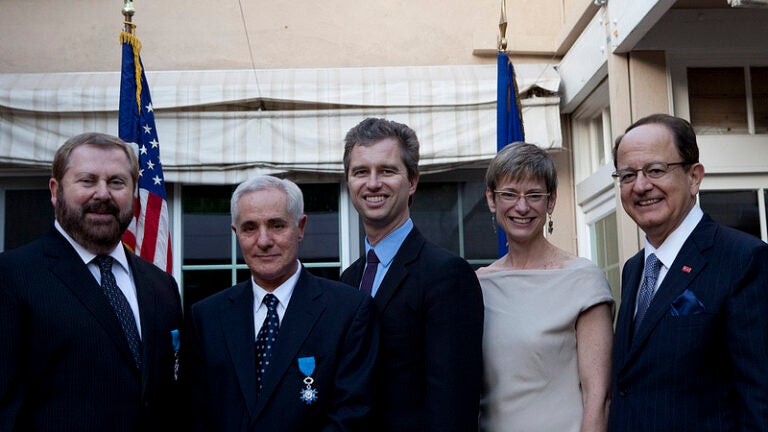 USC professors Cadenas and Davies knighted by France
Two USC professors were knighted on May 9 by an Order of the French Republic, among the highest civilian decorations awarded in France.
Kelvin Davies, James E. Birren Professor of Gerontology at the USC Davis School of Gerontology, and Enrique Cadenas, Charles Krown/Alumni Professor in Pharmaceutical Sciences at the USC School of Pharmacy, received notice of the honor earlier this year from French president Nicolas Sarkozy, Grand Master of the Order, which oversees knighthood.
"Sir Enrique" and "Sir Kelvin" were decorated as chevaliers (knights) of the l'Ordre national du Mérite (National Order of Merit). The National Order of Merit recognizes both French nationals and citizens of other countries, and serves as a parallel to the Légion d'Honneur (Legion of Honor).
"I was raised on the legends of the French knight Sir Lancelot du Lac, who traveled to England to join King Arthur's Round Table. In a sense, therefore, this is the fulfillment of a childhood dream," said Davies, who also is a professor of molecular and computational biology at the USC Dornsife College of Letters, Arts and Sciences. "In reality, almost all scientific progress is a collaborative effort, with students, postdoctoral fellows and nontenured research scientists contributing at least as much as the professors under whom they work. I should like to thank all those who have worked in my laboratory over the years, who have given so much and who have made this award possible for me."
Cadenas, professor of pharmacology and pharmaceutical sciences at the School of Pharmacy, and professor of biochemistry and molecular biology at the Keck School of Medicine of USC, said: "Today we live in a truly global community where international collaborations foster extraordinary discovery and development of solutions for problems facing our world. This great honor, bestowed on professor Davies and me, truly signifies the enduring scientific progress that our two nations have together made possible.
"I am grateful to many colleagues who have contributed to my work over the years, especially my French colleagues, Josiane and Pierre Cillard, Bertrand Friguet and Luc Montagnier," Cadenas added. "I am also grateful for the extraordinary support I have received from USC School of Pharmacy dean R. Pete Vanderveen, vice dean for research Sarah Hamm-Alvarez and Board of Councilor member Gale Bensussen, all of whom have steadfastly supported my work."
In his announcement letter, Sarkozy noted that the rank of knight was conferred on Cadenas and Davies in recognition of their services to France and to science.
Davies is among the world's leading experts on free radicals and oxidative stress in biology, and Cadenas ranks as a top scientist on the role of mitochondrion-centered processes in neurodegenerative diseases, with an emphasis on Alzheimer's disease.
In addition, both Argentinian-born Cadenas and British-born Davies have long-term ongoing research collaborations with distinguished French colleagues and together have organized several international scientific conferences in France on the biological causes of aging and age-related neurodegenerative diseases, as well as nutrient-based strategies to treat them.
Davies and Cadenas were knighted at the Résidence de France in Beverly Hills. USC president C. L. Max Nikias, USC provost and senior vice president for academic affairs Elizabeth Garrett, outgoing USC Davis dean Gerald C. Davison, incoming USC Davis dean Pinchas Cohen and Hamm-Alvarez attended the formal award ceremony.
The two knights later will travel to Paris where their honors will be confirmed and bestowed at a ceremony at the Luxembourg Palace, the seat of the French Senate.
Established in 1963 by President Charles de Gaulle, the National Order of Merit roughly is equivalent to the U.S. Presidential Medal of Freedom or to a Knight Bachelor designation in the United Kingdom. The medal of the Order, conferred on Cadenas and Davies, is worn on the left chest and features the profile of Marianne, the French national emblem of liberty and reason, and crossed tri-color flags suspended from a laurel wreath and a blue ribbon.