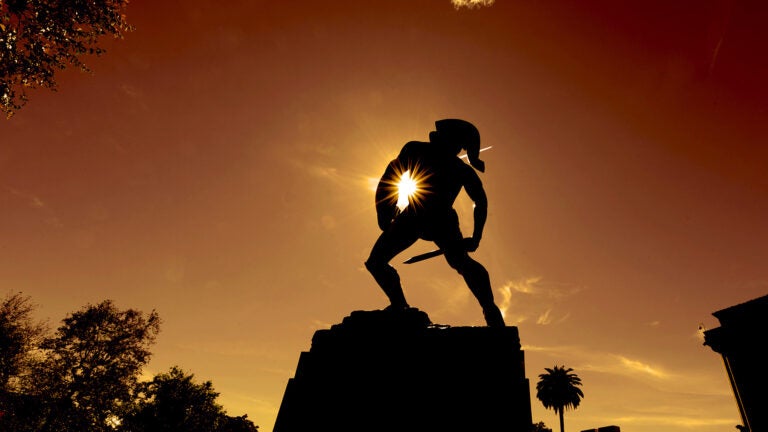 USC ranked No. 15 nationally in new, comprehensive Wall Street Journal survey
The survey's measures include student body diversity, resources for student success and graduates' ability to obtain satisfying, high-paying jobs
USC ranks No. 15 nationally in the inaugural Wall Street Journal/Times Higher Education survey of more than 1,000 U.S. colleges and universities released this week.
Other than USC, Caltech and Stanford University, no other California institution ranks among the top 25. Of 150 universities surveyed in the western U.S., USC ranks No. 3.
The new ranking uses a set of comprehensive metrics to determine whether a college offers students sufficient resources to succeed, whether students feel challenged and engaged, whether the student body is diverse and international, and whether graduates succeed by paying off their loans and are able to find satisfying, high paying jobs.
The No. 15 national ranking marks USC's highest placement to date in major higher education rankings.
Diverse environment
USC also ranks second among the top 25 national universities in the area of environment, which measures the diversity of both the students and faculty. USC's ranking in this area was boosted in part by the high proportion of Pell Grant-eligible and first generation students in its undergraduate student body.
"Throughout USC's academic ascent, we have always prioritized maintaining a student body that is representative of the country and the world at large. So over and above our impressive national ranking, the Trojan Family should take great pride in our diversity scores, which prove once and for all that academic excellence and inclusion are not mutually exclusive priorities," said USC President C. L. Max Nikias.
Future success
Other areas where USC showed strength was in the area of outcomes, where USC students reported graduation rates, salaries and their ability to repay loans in the highest percentile nationally.
"I am also thrilled to see, based on student surveys, how well our students perform after they graduate," Nikias said. "There is no doubt that our Trojan graduates chart a path to success in parallel with graduates from our peer universities, which are the very top institutions in the country."
Data from this survey was collected from a variety of public data sources as well as from a comprehensive student survey carried out by Times Higher Education in London. The rankings will be released and updated on an annual basis going forward.