USC, SCEC earthquake experts available for interviews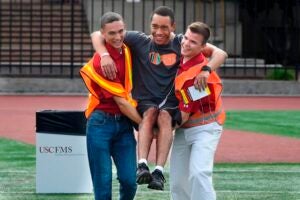 This Thursday, October 19 at 10:19 a.m., participants in the Great ShakeOut will learn how to protect themselves from earthquakes. In its 15th year, the event will draw millions of participants from across the globe who will take part in the preparedness exercises with their schools, businesses, non-profits, government agencies, neighborhoods and other organizations.
In addition to housing the recently renamed Statewide California Earthquake Center (SCEC), USC has experts from numerous related disciplines. USC and SCEC experts are available for interviews on earthquakes, in topics ranging from the physics underlying Earth movements to the financial fallout from natural disasters.
Contact: Paul McQuiston paulmcq@usc.edu or (323) 527-7770; uscnews@usc.edu or (213) 740-2215
Connect with our experts
Sylvain Barbot is an expert in geophysics (how chunks of earth move), in particular why and how earthquakes happen. He also studies earth movement from space using satellites. He is an assistant professor of Earth sciences at the USC Dornsife College of Letters, Arts and Sciences.
Contact: sbarbot@usc.edu
###
Yehuda Ben-Zion has expertise in the physics of earthquakes and faults using a variety of theoretical tools, numerical simulations and observations from laboratory experiments and the field. He is the current director of SCEC, and is a professor of Earth sciences at USC Dornsife.
Contact: benzion@usc.edu
###
Mark Benthien, director of communication, education and outreach for the Statewide California Earthquake Center, has been a part of the Great ShakeOut since its inception and coordinates ShakeOut worldwide. Benthien is available to speak about ShakeOut's history and plans for the future.
Contact: benthien@usc.edu
###
Bora Gencturk is an expert on extreme event resiliency and sustainability of civil infrastructure. He is an associate professor of civil and environmental engineering at the USC Viterbi School of Engineering.
Contact: gencturk@usc.edu
###
Vincent Lee has expertise in structure-soil interactions, seismic risk analysis and earthquake engineering. He is a professor of civil and environmental engineering at USC Viterbi.
Contact: vlee@usc.edu
###
Adam Rose is an expert in energy and environmental economics, public policy and natural hazards. He is a research professor at the USC Price School of Public Policy, and is a senior research fellow at the USC Center for Risk and Economic Analysis of Threats and Emergencies (CREATE).
Contact: Adam.Rose@usc.edu
###
John Vidale is an expert in earthquake physics, forecasting and hazards. He is a member of the National Academy of Sciences, the National Earthquake Prediction Evaluation Council and the former director of SCEC. He is a professor of Earth sciences at USC Dornsife.
Contact: seismoguy@mac.com