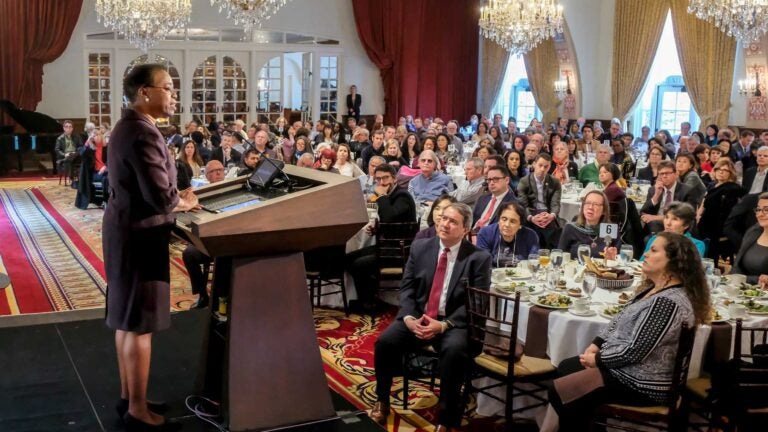 USC State of the University: 'I really believe this is a defining moment'
In the president's annual address, Wanda M. Austin praises staff and faculty accomplishments and calls for USC to cultivate a community that works together
To continue to strive for excellence, USC must continue to cultivate a community that works together, interim USC President Wanda M. Austin said during her State of the University address.
Speaking to hundreds of people at the Health Sciences and University Park campuses Feb. 12-14, Austin — appointed interim president in August — shared the ways USC has shined over the last six months as well as the ways in which it has shifted, both culturally and structurally, to meet the needs of its students, staff, faculty, alumni, and local communities.
"I really believe this is a defining moment for our university," she said.
Austin highlighted successes, from the arrival of USC's most competitive freshman class to date to the continued impact of its faculty members, who have received international acclaim for their scholarly and creative work.
She also championed the importance of the Keck School of Medicine of USC, which employs 40 percent of the university's faculty, and noted that medical research fuels innovation. In 2017, USC received the most funding of any American research university to study Alzheimer's disease.
And she mentioned the importance of staffers, from administration to parking and landscape staff, which drew warm applause from the crowds.
USC State of the University: Community engagement
USC must commit not only to excellence within its walls but also in the greater Los Angeles community, Austin said.
It's important that USC not be seen as an ivory tower, but as a powerful partner with our local neighborhoods.

Wanda M. Austin
"It's important that USC not be seen as an ivory tower, but as a powerful partner with our local neighborhoods," she said.
As examples of these partnerships, she cited the USC Leslie and William McMorrow Neighborhood Academic Initiative, which gives young people in south and east L.A. the academic boost they need to get ready for college, and the USC Good Neighbors Campaign, through which staff and faculty have donated nearly $24 million for local nonprofits, school programs and initiatives since its founding in 1994.
The university is also restoring a historic landmark, the Los Angeles Memorial Coliseum, a project that has involved $30 million worth of contracts to a diverse array of vendors, suppliers and subcontractors and is employing at least 1,500 local workers, setting many on a path to a new, lifelong career. The facility is expected to play a key role in the 2028 Olympic Games.
In light of a challenging year, she praised members of the university community for investing countless hours into efforts to create a better USC. Austin said one of her most important tasks as president has been to listen to their ideas and carefully consider their feedback. As USC looks for a permanent president, a series of listening sessions in the fall gave students, faculty and staff the opportunity to comment on what they want in a new leader.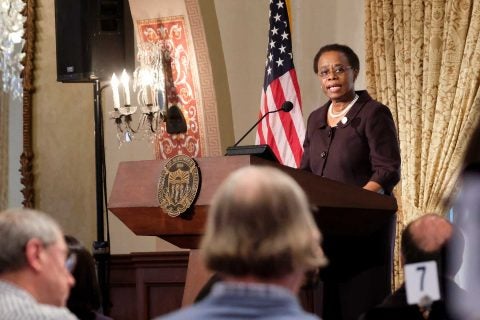 Even before the new president arrives, though, the university established the President's Culture Commission, which oversees efforts to improve accountability, culture and transparency. Those efforts include opening the Office of Professionalism and Ethics, appointing two university ombuds and creating a new senior vice president for human resources position.
USC State of the University: A year of challenges and changes
The changes come in the wake of issues faced by the university. USC Student Health has made important improvements, Austin noted. Sarah Van Orman, the former president of the American College Health Association, now leads USC Student Health and brought on accredited female gynecologists and adolescent health specialists who are also faculty members of the Keck School of Medicine. The university also bolstered student mental health and sexual violence prevention services.
Austin said these developments are part of USC's commitment to community well-being, an area that spans from mental health to workplace dynamics. She noted that she's already seen the benefits of new and existing pathways to resources. She gave the example of a recent case in which a student voiced concerns about a faculty member.
"The professor, who had always been dynamic and engaging, didn't seem to have the same energy or excitement," Austin said.
The student shared this concern anonymously through Trojans Care for Trojans, alerting staff to follow up.
"Sure enough, the professor was having a difficult time outside of USC and appreciated that someone cared enough to show concern," Austin said.
Moving forward, Austin emphasized the importance of continued listening — to staff, faculty students and the wider community — and working together as the university welcomes a new president.
"We're passionate about this university not just because we work here, but because we understand we're part of something larger and more enduring," she said. "Real change happens slowly, not just over months and years, but over decades and lifetimes."