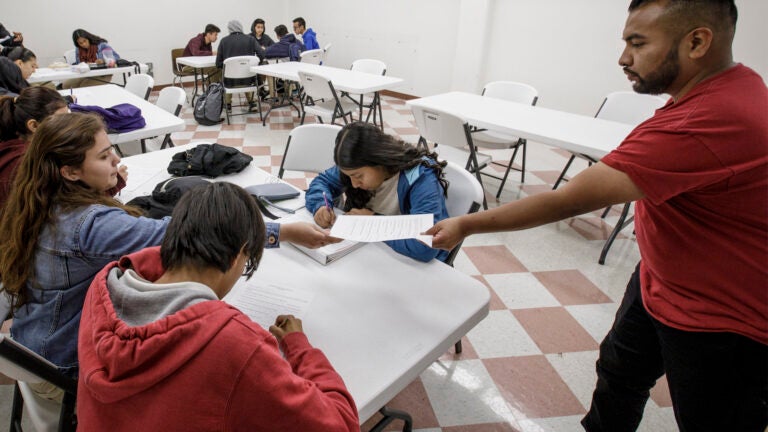 USC steps up to help LAUSD students by providing teacher scholarships
The USC Rossier School of Education takes on a critical teacher shortage at LAUSD by offering full scholarships for master's students to work in L.A. public schools.
The COVID-19 pandemic has taken a heavy toll on public school teachers, driving many out of the classroom and leaving schools with unfilled teaching jobs. Los Angeles, home to the nation's second-largest district, is no exception.
That's why USC, a neighbor and important partner for the Los Angeles Unified School District, is stepping up. Beginning in fall 2022, USC will direct $1.5 million to full-ride scholarships for 20 teachers who are pursuing master's degrees toward California teaching credentials in education from the USC Rossier School of Education.
Those teachers will train in LAUSD schools while they are in the program. After earning their master's degrees in teaching, they will take jobs in the L.A. district, helping hundreds of children with learning and teaching them to aim high.
USC President Carol L. Folt made the announcement at a recent meeting with LAUSD leaders.
Our partnership with LAUSD is critical.

Carol L. Folt
USC president
"The hardships that have been created by the pandemic have worsened conditions for so many in our schools and contributed to a massive shortage of teachers," Folt said. "Our partnership with LAUSD is critical, because it will mean USC is helping to increase opportunities for students in our communities, improve public education in Los Angeles and ensure that all children have access to excellent teachers and a high-quality education."
Burnout main cause of teaching shortage
As many as 1 in 3 teachers, burned out by COVID and distance learning and having suffered personal losses, may leave teaching earlier than they planned, according to a June survey by the National Education Association.
USC is launching the teaching shortage scholarship program for LAUSD in this extraordinary time of need, giving the scholarships to teachers who will return to the classroom after graduating.
"Combined with existing scholarships and support, this means two-thirds of the students coming in for USC Rossier's in-person, master of arts teaching program will be on full or partial scholarship. There's no other university I know of doing anything like this," said Pedro Noguera, dean of the USC Rossier School of Education and holder of the Emery Stoops and Joyce King Stoops Dean's Chair in Education.
Supporting LAUSD addresses inequality in the community
USC's investment in neighborhood education is designed to help lift communities working to overcome economic inequality.
"This partnership is just the beginning. USC today, more than ever, is committed to being an anchor institution and ensuring that every child in Los Angeles can have a quality public education," said Sam Garrison, USC senior vice president for university relations.
The scholarship announcement comes just months after the creation of another USC Rossier/LAUSD teacher preparation program designed to support urban school districts in L.A. while advancing the teachers' careers.
The new Teacher Preparation Residency is designed for eligible students from USC Rossier's Master of Arts in Teaching program who embrace the school's mission to advance educational equity and who reflect the diversity of LAUSD's communities.
In May, more than 685 teachers graduated with a USC Rossier master's degree.
The scholarships will support some teachers who work at the schools involved with the USC Leslie and William McMorrow Neighborhood Academic Initiative, or NAI, another successful program that USC operates with LAUSD.
Expanding connections with neighborhood schools to take on learning loss
From the outset, Noguera embraced NAI, USC's signature college readiness program, as a model for community partnerships. The program is intended for students who live near the University Park and Health Sciences campuses. They and their families apply to join the program in the fifth grade. Students then attend until they are seniors. The program has graduated more than 1,300 students and has a 99% college placement rate.
Some of the teachers who receive the USC Rossier scholarships for the master's in teaching program will teach at the elementary schools that feed into NAI, said Kim Thomas-Barrios, associate senior vice president of USC Educational Partnerships.
We're seeing a tsunami of benefits for LAUSD students.

Kim Thomas-Barrios
USC Educational Partnerships
"These new Rossier scholarships will ultimately strengthen the pipeline of students who are coming to the NAI program," said Thomas-Barrios. "Along with the many other programs USC has in place, we're seeing a tsunami of benefits for LAUSD students."
Noguera says the new scholarships are building on NAI and other programs at USC that ultimately support LAUSD kids and families.
"We cannot simply go back to normal; normal wasn't working, so how can we make it better?" he said. "That's what this work represents: opening the path of education to change lives."
Addressing a crisis in education
LAUSD started the 2021-22 school year with more than 500 teacher vacancies, a fivefold increase from previous years. Pandemic teaching conditions likely contributed to job-related stress, symptoms of depression, burnout and eventually, the Great Resignation in education, according to a RAND Corp. survey.
USC experts have also been investigating the pandemic's impact on schoolchildren.
Stay-at-home mandates to minimize the spread of the coronavirus forced 1.5 million K-12 students in Los Angeles County to online classes. It was a struggle: 1 in 4 households in L.A. County early on lacked internet connectivity.
For children, the shift from the classroom to distance learning at the onset of the COVID-19 exposed and widened a learning gap, according to a USC study of 1,971 low-income L.A. families. The phone survey was conducted by researchers at USC Rossier and USC Annenberg School for Communication and Journalism from June 8 through Aug. 21, 2020.
Many families struggled financially as a result of COVID shutdowns in 2020, but school remained a major concern for them. Low-income families ranked their children's education as their greatest COVID-era challenge — above income and having enough food, according to a survey of 724 adults and 365 children ages 9 to 17 by the Center for the Changing Family at the USC Dornsife College of Letters, Arts and Sciences. The survey was conducted from June 2020 to April 2021.
A new leadership role for the USC Rossier School
By coming together, neither USC nor LAUSD will be starting from scratch, notes Laila Hassan, a USC Rossier professor focused on implementing research-based parent involvement programs across urban schools. The partnership blends knowledge and resources to pave the path for greater success for L.A. teachers, students and their families.
"We can't underestimate how the pandemic has affected these children. They have lost two years in traditional classrooms," Hassan said. "For institutions like USC and LAUSD to come together like we are in partnership — that's a pretty bold move."
Noguera believes the partnership has an even greater opportunity to address disparities in L.A., where nearly 1 in 5 residents live in poverty, according to Census data.
Schools are at the crossroads of society's toughest problems, serving students from all income levels and addressing social issues including hunger through meals programs and providing afterschool programming that many working parents otherwise could not afford private care.
"As a major institution we have a role to play," Noguera said. "We change lives by eliminating barriers."
USC's Saúl García and Ron Mackovich contributed to this story.