USC celebrates trailblazers at Women's History Month kickoff
Monthlong observance begins with virtual event including President Carol L. Folt and some of the university's own Trojan trailblazers.
As the first woman to permanently lead USC, it was only fitting that President Carol L. Folt kicked off Women's History Month by praising the trailblazers who came before her.
From tennis legend Billie Jean King to former USC associate athletic director Barbara Hedges, Folt highlighted women whose accomplishments have made opportunities possible for future generations.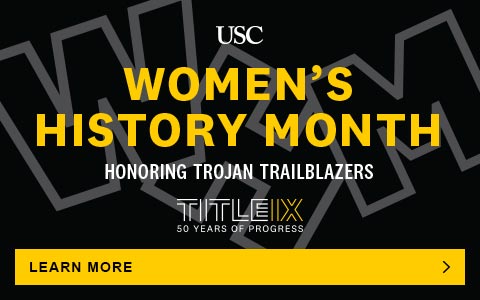 "It's time to reflect, to celebrate and to uplift our trailblazers — past, present and future," Folt said during the virtual event launching the university's Women's History Month observance.
For the past year, the university has celebrated the 50th anniversary of Title IX ­­­— the federal civil rights law prohibiting discrimination on the basis of sex in any educational program or activity that receives financial assistance from the federal government. ­The USC Trailblazers series highlights women who have forged their own paths to success both at USC and in their professional pursuits. One such trailblazer is Julie Rousseau, USC's associate athletic director, who spoke at Wednesday's event.
In her remarks, Rousseau highlighted activists such as Fannie Lou Hamer, Eleanor Roosevelt and Sojourner Truth.
"As we end Black History Month and begin to celebrate Women's History Month, I recall the names of the many women who have made significant contributions to the history we are honoring today and throughout the month of March," Rousseau said.
Students, alums among speakers at USC Women's History Month kickoff
Recent USC graduate Lennon Torres also spoke. While at USC, Torres helped the USC Kaufman School of Dance become a more inclusive place for transgender and nonbinary people by changing gendered language in dance through a gender-inclusive guidebook. Torres said this experience helped launch her career in advocacy.
"I was assigned male at birth and I am a proud transgender woman," she said. "Women's History Month should also recognize — and really does recognize — all of the amazing contributions that all different types of women have really given and really pushed for."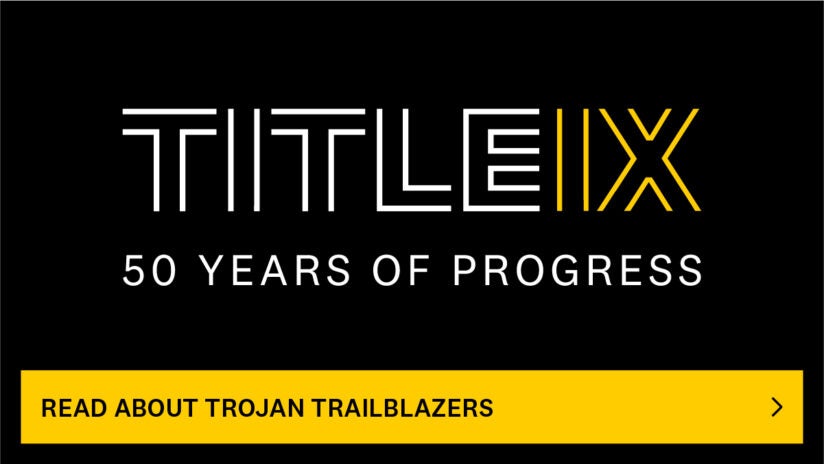 Wednesday's event also featured several current USC students discussing the impact of Title IX and the university's efforts to continue its mission. One student athlete, Christina Crum, talked about her work with the USC Trojan Athletic Senate on branding and promoting women's athletics through the USC Women of Troy Instagram page.
"When I got to USC, I saw how much media coverage the football team was getting, and I decided I wanted to equalize the playing field for the female athletes," Crum said. "I want USC to be a place that empowers women in athletics as role models for the next generation of female athletes."
Outside of athletics, Donna Elliott ­— professor of clinical pediatrics and medical education, vice dean for medical education and chair of the department of medical education at the Keck School of Medicine of USC — spoke about pioneering women in medicine.
USC Women's History Month kickoff includes family stories
Elliott's mother was one of three African American women in her class in the Los Angeles County Hospital nursing program. She went on to work in operating rooms before starting her own business. Elliott said her mother's words and actions inspired her to work harder and challenge the status quo. At this point in her career, she hopes she can do the same for the next generation of women entering the field.
"I hope my accomplishments, my actions and my words inspire other women to lead, to dream big, to not shy away from challenges and to look beyond the usual and to discover what can be," Elliott said. "I hope that women can be recognized as the leaders, the scholars and the trailblazers that we are."