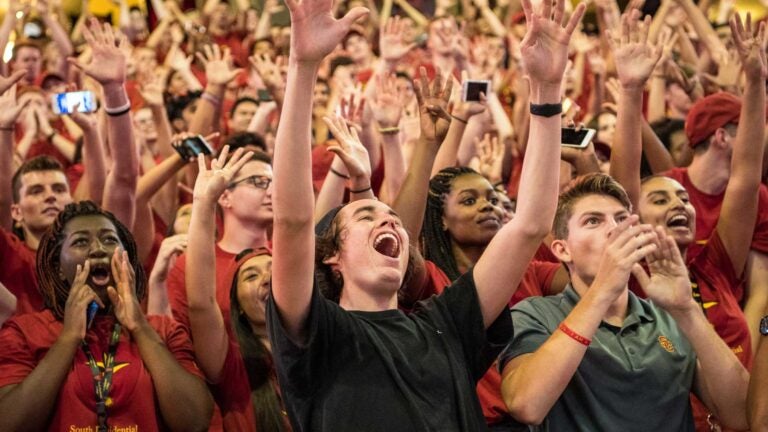 USC's freshman class sets record: More first-generation students than ever
The incoming class also has the highest average test scores in USC history, and it's the most selective class, too.
The Trojan Family grew by 3,358 when the fall semester began, and many of those incoming students are first in their families to attend college. Almost 17 percent of the class of 2021 are first-generation college students, according to the USC Office of Admission.
About two-thirds of the class are students of color. The incoming class also has the highest average test scores in USC history.
"As the numbers show, our fall freshman class is the highest achieving and the most diverse in USC history," said Provost Michael Quick. "What the numbers don't show is that these students are a remarkable group of motivated, innovative individuals who will take on the toughest challenges of the coming decades.
"We have every expectation that we are developing scholars who will be their generation's leaders. We could not be more thrilled that they have chosen to join the Trojan Family."
More high achievers saying 'yes' to USC
Never before have so many applied to USC. A record 56,675 applications were received, while USC's first-year admission rate hit a new low of 16 percent.

Of those offered admission, a record-high 37 percent accepted — up more than 3 percentage points from a year ago.
The average test score for first-time students was in the 96th percentile, versus last year's, which was in the 95th percentile. Nineteen percent of this year's freshman class earned straight A's throughout high school. The average unweighted grade-point average is 3.76 on a 4.0 scale — and well over 4.0 if weighted.
Making a USC degree affordable
The university increases funding for financial aid each year, and the net cost of a USC education has dropped for a considerable number of students.
"Our commitment to our students can be seen in the robust financial assistance we offer — and in the declines in the net price of tuition many of them pay," Quick said. "In four years, the net price of tuition has dropped nearly 14 percent for those whose families earn between $75,000 and $110,000. That's a strong signal of our support to our students — financially as well as academically. This is a commitment that we honor and will work to maintain."
With one of the most abundant financial aid pools in the country, USC provides more than $330 million in scholarships and aid. About 22 percent of the 2017 entering first-year class received a merit-based scholarship from USC, and over 60 percent received some form of financial assistance.
USC practices need-blind admission, referring to a student's ability to pay, is not considered in the admissions process and all demonstrated need is met.
From close by and far away
For the second year in a row, Foshay Learning Center in South Los Angeles is the most represented high school in USC's freshman class, with 21 students. Foshay is less than a mile from the University Park Campus. Foshay was followed by Palos Verdes Peninsula High School, Troy High School, Torrey Pines High School and Corona Del Mar High School.
The class has at least one student from all 50 states. The majority, 41 percent, are from California, followed by New York, Texas, Illinois and Washington. Several notable geographic areas, including the Bay Area, New York City and Washington, D.C./Baltimore, sent more first-time students to USC than ever before, according to USC Admission.
Nearly 14 percent of this year's class are international students — among the largest in USC's history. The 462 students represent 46 countries. Most are from China, followed by India, Canada, South Korea and Taiwan.