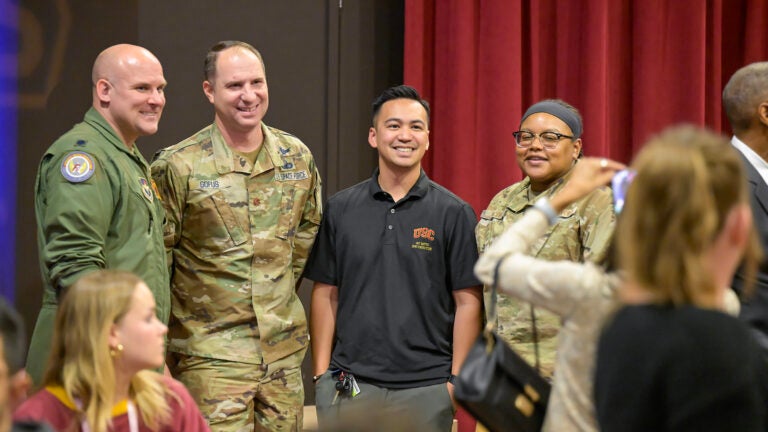 USC's military and veteran community bonds over legacy of service
More than 250 Trojans enjoy camaraderie and share stories during USC's Veterans Day event.
U.S. Army veteran James E. Bogle, who led troops in combat in Iraq during a 25-year military career, arrived at Tommy's Place on Thursday afternoon to a pleasant surprise: The University Park Campus venue was filled with more than 250 people who had gathered for USC's Veterans Day event.
"This is an amazing turnout," Bogle said as he welcomed the crowd and made introductory remarks. "The untold story of an event like this is that this is actually a love story. This is a story of people who love their country enough to volunteer to serve."
Bogle — a two-time Trojan alumnus — is now program director of the Master of Business for Veterans degree program at the USC Marshall School of Business. He is also an advisor on campus military and veteran initiatives.
"Thank you very much for the love that you have demonstrated already for your country and for the love that you have together here," he said. "I would encourage you to remember the sentiment, the warmth and the values that brought you into the service and bring them here to USC so that we can continue to create impact through our service."
After Bogle's opening thoughts, a virtual program featuring members of USC's military and veteran community played on the giant screens at Tommy's Place — followed by a Southern barbecue lunch that included brisket, tri-tip, sliders and chicken from Craft by Smoke and Fire.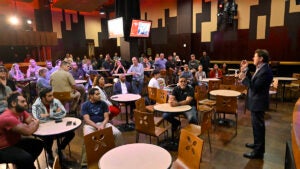 A strong military tradition at USC
In her recorded remarks, USC President Carol Folt pointed out that more than 400 members of USC's faculty and staff are veterans, as are 1,400 current students. In addition, thousands of Trojan alumni have served, and more than 4,500 officers from USC's ROTC programs have been commissioned into the armed forces.
"It is truly a place for connection and camaraderie, and that spirit does not end once you leave USC," Folt said. "Wherever your journey takes you, you're always a part of the Trojan Family."
Folt reminded the audience that USC's commitment to the military and to its people before, during and after their service goes back more than a century to when the university became a training school for Army officers during World War I. The tradition continues with degrees, scholarships and research dedicated to USC's veterans and military community.
USC also offers resources such as the Veterans Association at USC, which helps student veterans, active-duty students and ROTC students realize their full academic potential with support services, professional development workshops and philanthropic activities.
Veterans Resource Center: an important hub
Many of those attending the viewing party mentioned the Veterans Resource Center — which had more than 3,200 visitors last year — as an important anchor in their student life.
Among them was graduate student Jonathan Tam of the USC Viterbi School of Engineering, who wrapped up a six-year stint in the U.S. Navy in 2021 and began work on a master's degree in cybersecurity this fall.
"It has felt pretty welcoming," Tam said as he waited in line for lunch. "You can connect with other veterans, hear their stories and get their perspectives."
Standing nearby was USC Marshall senior Sean Lee, who had attended USC for two years before following in the footsteps of his father and grandfather by joining the U.S. Marine Corps in 2018. Lee resumed his studies at USC last year after serving for four years.
Lee appreciates the resource center, where, he said, "everyone welcomes you with open arms." He also values the guidance he gets on what to do not only as a student, but also when it comes to issues like navigating the U.S. Department of Veterans Affairs.
He also believes his experience in the military has made him a better Trojan.
"I'm a lot more responsible with my time," Lee said. "I've been exposed to a lot of great people and good leadership in the military, and I try to bring that into the classroom and into any work project. I'm surrounded by amazing people here too."
Also in line was USC Marshall junior Nea Ocampo, who spent more than four years in the U.S. Navy. She said she immediately felt a part of a close-knit Trojan military community when she started school.
"We have really bonded doing group work and hanging out together," Ocampo said. "Veterans are always tight."
Sharing an 'unbreakable bond'
Among the veterans featured in the virtual program was USC Marshall alumnus Ahmed Adeyemi, who spent more than a decade in the U.S. Marines working in telecommunications. He pointed out that veterans have "an unbreakable bond" due to their shared experiences.
"It's about those moments when you find strength to go on, not for your own sake, but for your brothers or sisters standing beside you," Adeyemi said. "It's a network of individuals who have faced adversity together, learned together and persevered together."
Adeyemi, now a doctoral student at the USC Rossier School of Education, acknowledged that many veterans face challenges as they transition back into civilian life.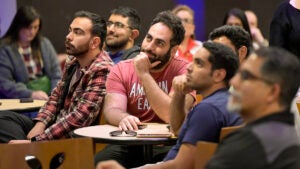 "It can be a profound change," he said. "It's the duty of the society to recognize the value of veterans and support the transition. The legacy of service is not just the responsibility of veterans; it's a shared responsibility to our entire community."
Military service runs in the family
For several of the veterans who shared their stories on video, the military is part of a family tradition. Among them was retired U.S. Air Force Lt. Gen. Stayce Harris, an alumna of the USC Viterbi School of Engineering and a new member of USC's Board of Trustees. Harris was born into an Air Force family and said she grew up wanting to be just like her veteran dad.
"He went to work every day wearing a light blue shirt and dark blue pants," she said. "Every two years we moved around to what I thought was a new and exciting location around the globe."
Harris went on to become the first African American woman to achieve the rank of lieutenant general in the Air Force during more than three decades of tandem careers with the military and United Airlines.
"My most fulfilling and grateful moments have been for the opportunity to serve alongside my fellow airmen, joint partners and military allies worldwide," she said.
USC Viterbi junior Elle Barker, the advocacy liaison for the Joint Assembly for Military-Associated Students, is the child of two Air Force veterans. She said her parents encouraged her to push her limits both in and out of the classroom.
"For me, a legacy of service characterizes the place I stand in my family's history," said Barker, who is studying aerospace engineering. "I carry the mantle of dedication to my country forward just like my parents did before me. I continue my family's legacy of service, and I seek to contribute to that legacy within the Trojan Family."