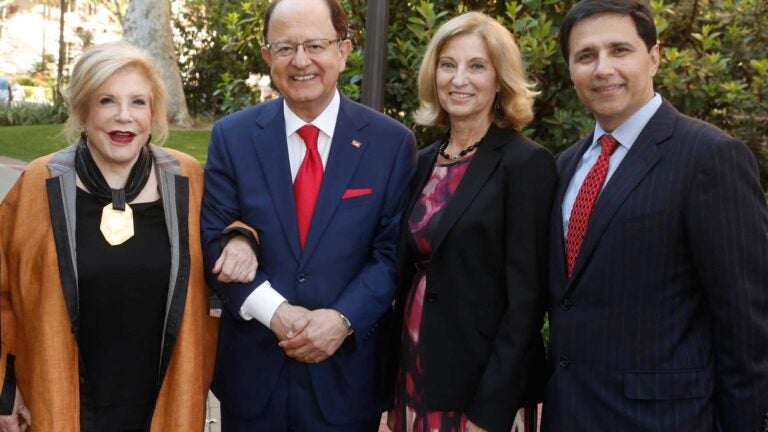 Wallis Annenberg, Mark Humayun among honorees at Academic Convocation
The 36th annual event recognizes outstanding students and faculty, as well as the university's most dedicated supporters
USC Trustee Wallis Annenberg and University Professor Mark Humayun were among the Trojans honored April 17 as students, faculty and administrators celebrated the university's 36th annual Academic Honors Convocation.
The event, at Town and Gown on the University Park Campus, honored students and faculty in their disciplines, as well as the most dedicated supporters who have helped build the university.
Annenberg, USC's longest-serving trustee, was honored with the prestigious University Medallion, awarded very selectively to those who have made major contributions to the university. She is only the fourth recipient of the honor; the first was her father, Walter H. Annenberg, with whose support the USC Annenberg School for Communication and Journalism was established. She is chairman of the board of the Annenberg Foundation, which in 2010 announced the generous gift that built Wallis Annenberg Hall.
Humayun, co-director of the USC Gayle and Edward Roski Eye Institute and director of the USC Institute for Biomedical Therapeutics, received the 2017 Presidential Medallion. Humayun was awarded the nation's highest award for achievement in technology, the National Medal of Technology and Innovation, during a ceremony at the White House in May.
Also honored at the event were:
Distinguished Professor
Aimee Bender
Inderbir Gill
University Professor
Shang-Hua Teng
Phi Kappa Phi Faculty Recognition Award
Janet Hoskins
Paul K. Newton
Mark Schroeder
Doris K. Sung
Faculty Lifetime Achievement Award
Stanley Azen
Richard B. Chase
James R. Kincaid
Aristides Requicha
Provost's Mentoring Award
Nandini Rajagopalan
Chris Sampson
USC Associates Award for Excellence in Teaching
Karla Heidelberg
Mikel Henry Snow
USC Associates Award for Creativity in Research
Thomas A. Buchanan
Dana P. Goldman
USC Associates Award for Artistic Expression
Morten Lauridsen
Viet Thanh Nguyen
Emma Josephine Bradley Bovard Award
Samantha Cioppa
Christina Deirmenjian
Jennifer Frazin
Elizabeth Kanovsky
Rachel Levine
Erin Mills
Cooper Nelson
Madeleine Sampson
Shayna Sharim
Richelle Smith
University Trustees Award
Jordan Kondo
USC Provost's Award
Tae Hyup Ha
Marisa Inada
Jungwon Min
Camille Patrao
Joseph Uhm
Christian Wagner
Phi Kappa Phi Student Recognition Award
Max Kapur
Jotheeswari Kothandaraman
Brian Pak Yan Leung
Darshana Mini
Phi Beta Kappa Undergraduate Awards
Jordan Kondo
David Velasquez
Rockwell Dennis Hunt Award
Yingfei "Fiona" Wang
University Outstanding Teaching Assistant Award
Jenna K. Ross
Saurov Syed
Kamia Smith
Rhodes Scholars
Oscar De Los Santos
Jung Kian Ng
Schwarzman Scholars
Jack Huebner
Matthew Prusak