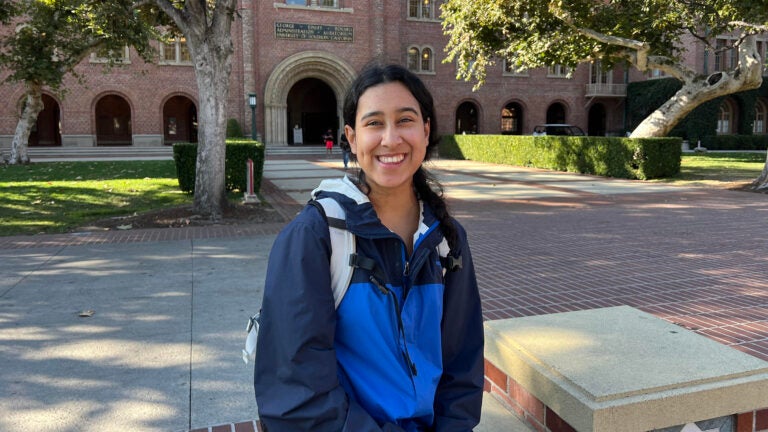 For USC fall transfer students, becoming a Trojan is a dream fulfilled
More than half of USC's 1,335 new transfer students attended a California community college last year. USC remains a leader among top private research universities in enrolling transfer students.
Solana Marquez, one of 1,335 newly enrolled transfer students who began classes at USC this fall, says she feels deeply happy and proud to finally be a Trojan.
"USC had been my dream," the junior from the USC Viterbi School of Engineering said. "When I was unable to attend coming out of high school, it was really hard."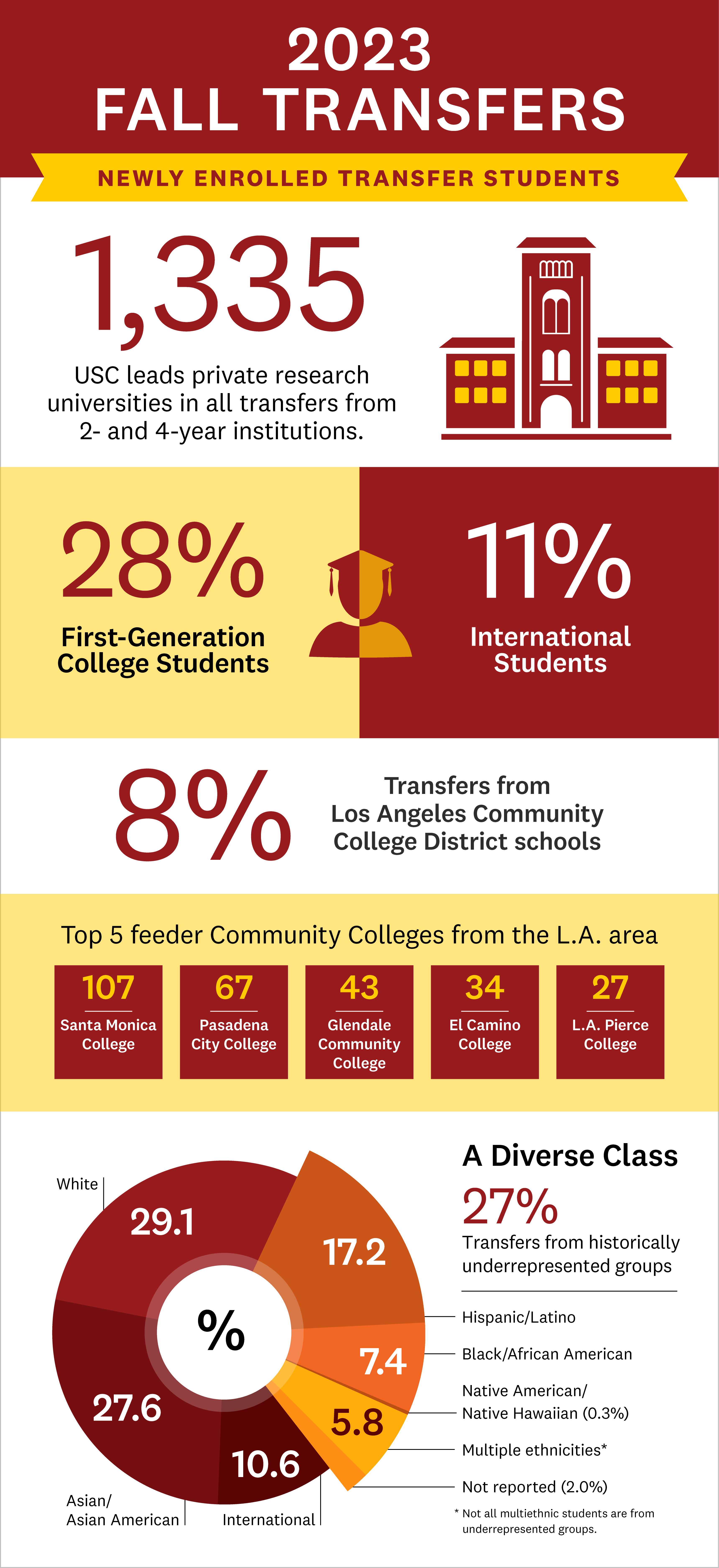 As a Latina, Marquez is also part of the 27% of new transfer students who are from ethnic groups that have been historically underrepresented in American higher education: 17% Latino, 7% Black, and 6% who identify with two or more ethnic groups, some of which are underrepresented. In addition, Native American and Native Hawaiian students make up 0.3% of the transfers.
Based on national data from the federal government, USC leads all private research universities when it comes to enrolling transfer students.
USC's Office of Admission reports that the transfer class comes from approximately 300 different colleges and universities, with 52% transferring from a community college in California and 8% coming from schools within the Los Angeles Community College District.
"Even though we are a private institution, we are working for the public good and taking care of students in our own backyard," USC Dean of Admission Timothy Brunold said. "We are continuing to prioritize transfer students and they have long been important to USC."
Santa Monica College sent the largest number of new students (107) to USC, followed by Pasadena City College (67), Glendale Community College (43), El Camino College (34) and Los Angeles Pierce College (27).
"We are continuing to prioritize transfer students and they have long been important to USC."

— Timothy Brunold, USC dean of admission
Meanwhile, 13% of new transfer students came from a University of California or California State University school, with most students coming from the University of California, Santa Barbara; the University of California, Irvine; and the University of California, Riverside.
"Each year, we have enrollment goals to meet, and we always hold room for transfer students, which is a little different than at some colleges," Brunold said. "We are proactive, and transfers are a permanent part of our enrollment mix."
The road to USC for transfer students
Marquez applied to USC while in high school, dreaming of attending her father's alma mater. But she also applied to the University of San Francisco just in case — and was accepted to both schools. In a difficult decision based on finances, she agreed to go to school in San Francisco.
After her freshman year, Marquez decided that she wanted her bachelor's degree in computer science to be from USC and that she would take whatever steps necessary to make that happen. She moved back home and enrolled at Rio Hondo College in Whittier. She took the classes she needed, earned a merit-based scholarship and was able to move into Troy Hall and begin her junior year at USC this fall.
"I'm so glad I'm here," she said. "They have a great computer science program, and it has the collaborative environment I was looking for."
In addition to her classwork, Marquez has been attending career fairs and Trojan Talks, both hosted by the Career Center. She has also found it invaluable to be paired with a mentor through the USC Viterbi Center for Engineering Diversity, which assists in the recruitment, retention, and graduation of people from minoritized backgrounds pursuing engineering degrees.
"There are not a lot of women, especially Hispanic women, in my major, and I'm really proud that I have been able to get to this point," she said, mentioning that USC has many resources for minorities in STEM that she's been able to take advantage of.
"A big goal of mine is to inspire others like me to be able to do what I'm doing here."
USC transfer students: Being first-generation
Antonio Espinoza-Espino, a sophomore in the USC Dornsife College of Letters, Arts and Sciences, transferred to USC after spending his freshman year at the College of the Sequoias in Visalia, Calif. He is among the 28% of fall transfers who are first-generation college students. USC defines first-generation college students as those whose parents do not have four-year degrees.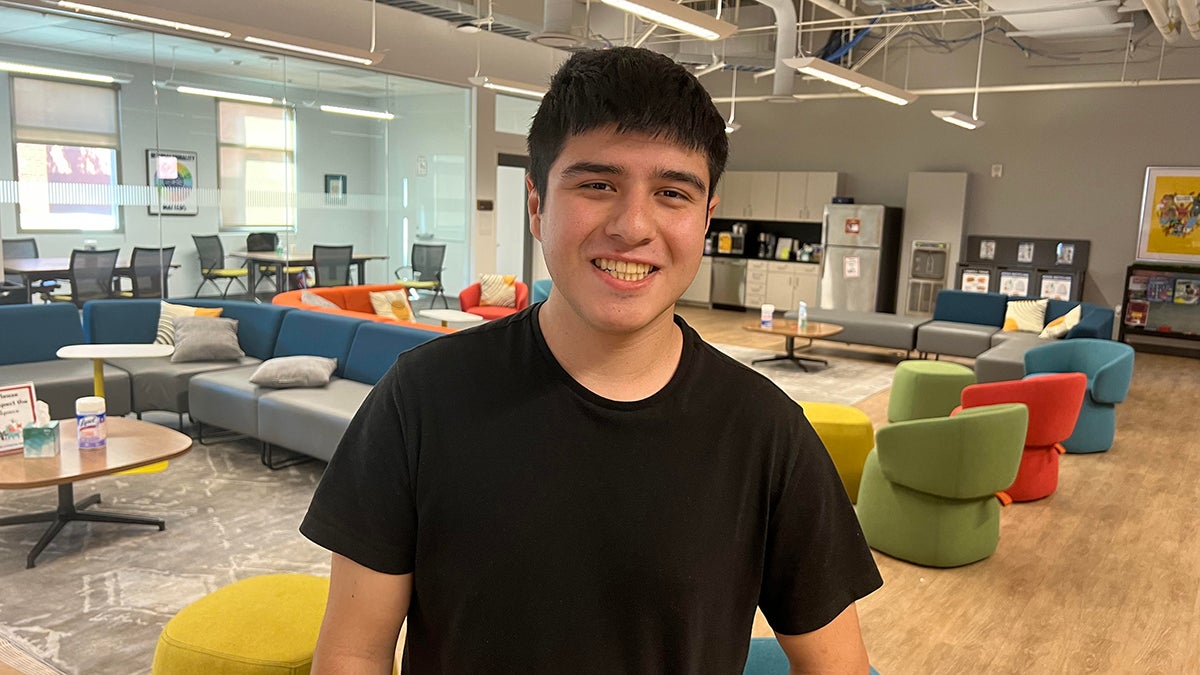 "I was really wanting to come here," Espinoza-Espino said last week after attending a late afternoon meditation session for transfer students at the First Generation Plus Success Center. "My parents were overjoyed for me when I got accepted because I didn't have the grades for a school like USC out of high school."
Espinoza-Espino grew up in a rural area of Central California and said that after some initial "culture shock," he has been able to embrace life as a Trojan.
"The school spirit here is amazing," he said. "I've never experienced anything like it. I've been going to the football games, and the energy is just contagious."
Attending the same meditation session was USC Dornsife junior Keri Carter, a first-generation student who attended Harold Washington College in Chicago for two years before transferring to USC.
"I appreciate that there was an orientation specifically for transfer students," Carter said. "It made me feel like they care about us. I also liked [New Student] Convocation. It was really fun, and the speeches were thoughtful."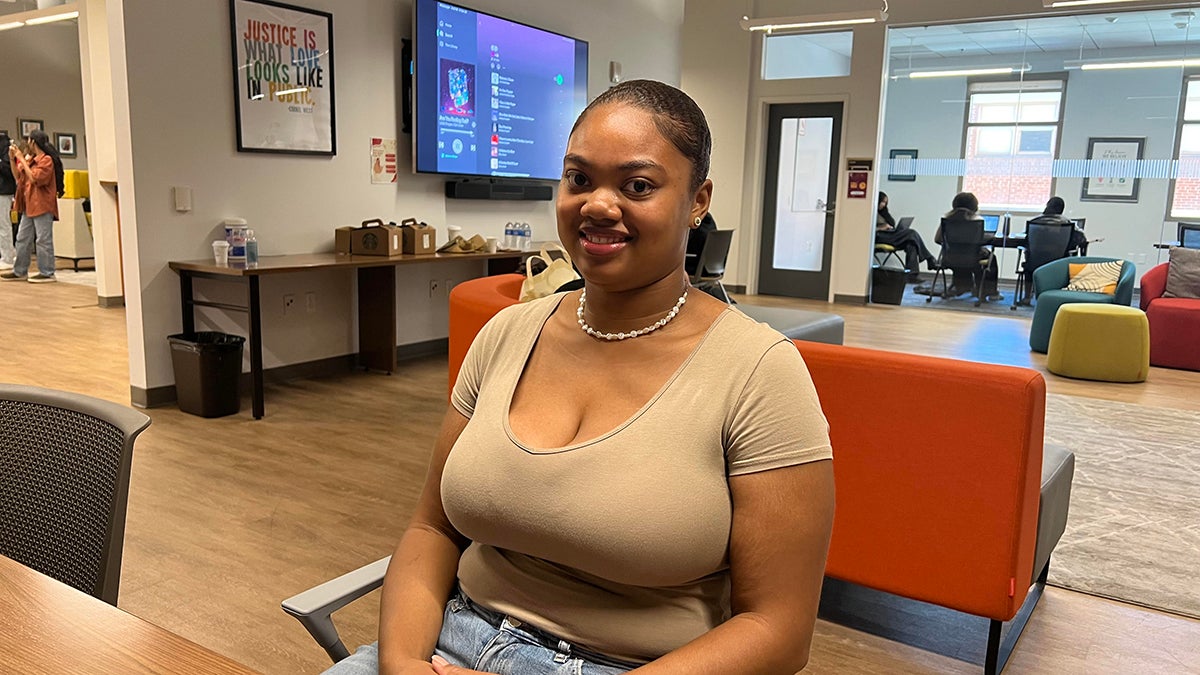 The meditation session is one of several events the Transfer Student Assembly has held this fall as they work to bridge the gap between transfer students and the greater USC community.
"There are definitely unique things that transfer students face," said Alejandra Delacruz Hong, director of Student Equity and Inclusion Programs' Trojan Success Initiatives. "We want them to know that they have not lost out. There's plenty of time for them to get internships and for them to build their skill set and their professional network while they're with us."
Persistence can pay off
USC Dornsife sophomore Lina Urquiza is among USC's newest transfer students who were able to enroll after having previously been denied admission.
Urquiza spent her freshman year at UC Irvine, after she wasn't accepted to USC. She studied hard and got an on-campus job, but she remained determined to be a Trojan.
"At first, I was just disappointed in myself," Urquiza said about her initial rejection. "But then I was like, 'Well, I really want to end up there!' So, I spent the entire year proving that I deserve to be here academically."
She has spent the past two months happily navigating Trojan life with her three roommates, who are also transfer students.
"I'm appreciating my time here even more because I have less time here," Urquiza said.
The average college grade point average of USC's fall transfer students was 3.80, with 90% having a GPA higher than 3.50 and 28% having a 4.00 in college. Brunold said this is particularly impressive because making the academic transition from high school to college can be challenging.
"Clearly, these new students already know what it takes to earn an A grade in a college class," Brunold said. "This leaves me optimistic for the future prospects of this group."